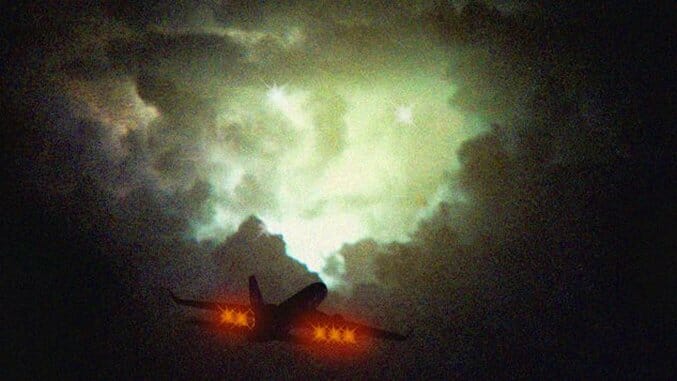 Musical mainstays are dubbed as such for a reason. Indie favorites like Arcade Fire and pop queens like Lana Del Rey both released albums in July 2017 and, unsurprisingly, found both critical acclaim and positive responses from fans. While most of our highly-rated albums from last month came from widely recognized musicians, there are a few surprises. So below, check out five records from July that Paste reviewers gave the highest ratings.
5. Lana Del Rey, Lust for Life
Rating: 8.3
There are a thousand things that set Lana Del Rey's fourth album Lust for Life apart from the rest of her contemporaries. Accompanied by what sounds like an orchestra played entirely by ghosts, her use of electronic trappings never feel overwhelming or fake. Instead, their sparse beauty elevates her haunting vocals. But Del Rey's real talent is subversion. On "Love" she sings "Look at you kids with your vintage music/Comin' through satellites while cruisin'" For a quick second, you might think that this is one more judgmental bitch about to tell a guy at a bar that she's not like "those other girls," like Katy Perry on "Chained to the Rhythm." But by the end of the song, you realize she's grouped herself in with these girls. "It doesn't matter if I'm not enough/For the future or the things to come/'Cause I'm young and in love."
At 72 minutes, the album's 16 tracks feel bloated and sluggish at times and the hip-hop contributions by A$AP Rocky and Playboi Carti are ill-conceived; reminiscent of Christina Aguilera's tribute to a Marilyn Monroe poster, Back to Basics. But despite a handful of missteps, Del Rey continues to reinvent and redefine herself in new and captivating ways, and Lust For Life is just one more step in that profound and lovely evolution. —Libby Cudmore
Read the full review here.
4. Shabazz Palaces, Quazarz: Born on a Gangster Star/Quazarz vs. the Jealous Machines
Rating: 8.5
Shabazz Palaces' new, two-album drop on Sub Pop Records, Quazarz: Born on a Gangster Star and Quazarz vs. the Jealous Machines, exemplifies the band's evolution and builds on it to fascinating effect. The project is a work of Afro-futurist science fiction, born of Octavia Butler's novels and Sun Ra's astral jazz. The two albums tell the tale of Quazarz, an intergalactic emissary sent to earth to interact with its locals by way of music. He emerges with observations about hip-hop's evolution from boom-bap to mumble rap, race in America and our collective dependence on technology. While two distinct parts, both installments of Quazarz attest to Shabazz Palaces' inventiveness and imagination, and reveal new layers upon each listen. After all, creative thinkers like Ishmael Butler and Tendai "Baba" Maraire often do feel like aliens stuck on earth. —Nastia Voynovskaya
Read the full review here
3. Arcade Fire, Everything Now
Rating: 8.8
Arcade Fire's fifth album Everything Now is a fascinating look at the inherent danger of technological oversaturation and the detachment that comes with it. It's no better explained than in the Saturday night/Sunday morning pairing of "Infinite Content" and "Infinite_Content." Each hovers around 100 seconds; the former is a garage-punk stomper, the latter a lazy country shuffle, but both share the same lyrics: "Infinite content/We're infinitely content/All your money is already spent on it." Musically, Everything Now finds Arcade Fire revisiting the dancier sounds of Reflektor through the prism of '70s disco, both Swedish gloss (the title track) and New York City grime ("Signs Of Life"). Still, the feeling that we have everything at our fingertips and have no idea what to do with it all is the overarching narrative of Everything Now. And when the album is played on "repeat," segue perfectly into one another, morphing Everything Now into a mobius strip of (you guessed it) infinite content. —Scott Heisel
Read the full review here
2. Lo Tom, Lo Tom
Rating: 8.9
Lo Tom is comprised of scene veterans David Bazan (Pedro the Lion, Headphones) on vocals and bass, Jason Martin (Starflyer 59, Bon Voyage) on guitar, TW Walsh (The Soft Drugs, Pedro the Lion) on guitar and background vocals and Trey Many (Velour 100, Starflyer 59) on drums. Their eight-song self-titled debut captures the sound of four friends (and frequent bandmates) using the collective tools of their shared trade as the ruse to hang out and have a little fun over two weekends of recording sessions. While the "let's just get together, press record and see what happens" schtick can be overly romanticized and often guilty of delivering diminishing returns, Lo Tom proves that in the right hands, it can produce pure magic reminiscent of the alt-rock-fueled '90s and glossed-up, genre-shifting '00s. —Will Hodge
Read the full review here
1. Sheer Mag, Need to Feel Your Love
Rating: 9.1
The first official full-length album by Philadelphia-based punk/DIYers Sheer Mag finds the band trying to navigate the leap from underground heroes to rock 'n' roll rat-race participants. They picked killer cover art for Need To Feel Your Love, gave the thing an actual name and released 12 songs that match the fire and quality of those EPs, even as they've shed some lo-fi grime. Resistance and love are common themes across the LP, each with their own vibe. Tunes like "Meet Me in the Street" decry "silver spoon suckers" against serrated AC/DC-style guitars, while "Turn It Up," with its brick-thick riffs and shout-along chorus, basically sounds like Sheer Mag turned a room full of pumping fists into a song. Overall, the band broadens its horizons without losing what made 'em so promising in the first place. That's always a tricky line to walk, and Sheer Mag does it with gritty grace. —Ben Salmon
Read the full review here