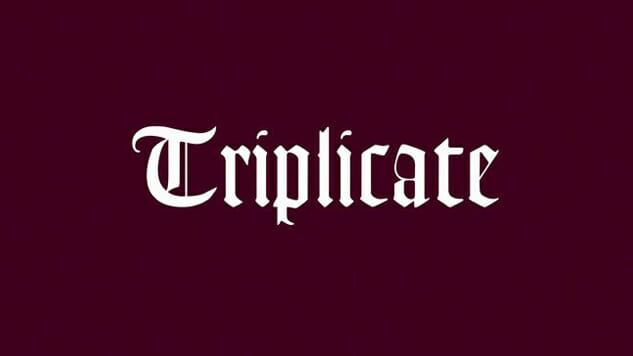 Let's get the initial irony out of the way: Bob Dylan, arguably the greatest contemporary songwriter in history, suddenly has fixation with covering the classics. This obsession has already extended to two complete volumes, 2015's Shadows in the Night and 2016's Fallen Angels, and this month, he'll release Triplicate, a three disc set in which he covers more of the timeless music created by the great songwriters of the '30s and '40s.
Looking back at Dylan's career, it's clear that his desire cover other people's material isn't anything new. His eponymous debut was mostly made up of outside material, while his attempt to pay homage to others via Self Portrait was widely maligned when it first appeared in 1970. But considering his own catalogue is among the most covered in pop music history, it does seem somewhat incongruous that he's so inclined to cover others so frequently. Nonetheless, here are 13 unlikely songs recorded and performed by Dylan that were originally penned by others.
13. "Must Be Santa"
Bob Dylan may be the last person we'd ever imagine serenading our kids at yuletime, given his gruff delivery (not to mention the that slightly sinister look he's effected with a creepy pencil-thin mustache of late). Yet, 2009's Christmas in the Heart is a rare glimpse into Dylan in a more light-hearted mood. "Must Be Santa," a song first released by Mitch Miller in 1960, conveys a corny sentiment, but Dylan's giddy delivery is a hoot and a well-needed respite.
12. "Not Fade Away"
Like many performers of his generation, Dylan isn't shy about throwing in a cover or two during his concerts, which generally tend to have a ramshackle vibe to them anyway. "Not Fade Away" might not be the most original choice (it as, after all, a fairly standard rock 'n' roll favorite), but it does seem to fit the tone he sets during his shows. Besides, this Buddy Holly song was a staple of The Grateful Dead's throughout their career, and since the two entities were mutual admirers, it does make sense that Bob would favor the same songs.
11. "The Boxer"
Self Portrait was one of the most baffling and bizarre turns in Dylan's career that consistently kept the public guessing. And while most would agree that none of the tracks spread across those two discs measure up to the originals, in retrospect, one can't help but admire Bob's desire to do them justice, even when he fails. Likewise, given this tattered tale by Simon & Garfunkel, Dylan's parched delivery somehow seems fitting. Yes Bob, like the ill-fated fighter at the heart of this song, you've often been dismissed during your career, and yet you still keep battling back.
10. "Young at Heart"
There's something uncommonly appropriate about Dylan's decision to cover this particular Frank Sinatra standard, given the fact that at 76, Dylan's still clearly young in both in heart and mind. That allows him to sing the song with certain sentiment and a knowing conviction that ought to serve all ageing Dylan devotees well.
9. "Big Yellow Taxi"
Described by many as a collection of outtakes from Self-Portrait, Dylan was essentially a collection of covers put together by Bob's record company without his permission. It's little wonder then that the selections are dubious at best. Still, there's something quirkily amusing about hearing Dylan sing about the authorities coming to take away his old man. Irreverent, yes. But given the nature of this tune, we think Joni Mitchell just might approve.
8. "House of the Rising Sun"
While "House of the Rising Sun" became a rock classic courtesy of The Animals' venerable version, Dylan's take on the song relays it in a way that's faithful to the original intent. Soulful and profound, it boasts an earnest and incisive delivery that affirmed Dylan's devotion to folk and traditional music in all its various forms.
7. "Froggy Went A Courtin'"
A contender for the oddest song Dylan's ever covered, "Froggy Went A Courtin'" is as elementary a folk song as one could ever possibly imagine. For many people, it's the first song they ever learned to play. Nevertheless, Bob plays it straight, turning this simple verse and refrain into a tune that any traveling troubadour could sing with pride.
6. "Baby, Let Me Follow You Down"
Culled from his eponymous debut, this song was revived by Dylan during his portion of The Band's The Last Waltz, re-imagined for the occasion as a furious rocker. However, Eric Von Schmidt's version of this traditional folk tune takes on a more folk-blues style, which was synonymous with Bob's early beginnings. Even so, it set an auspicious standard, a determined entry that helped sow the initial Dylan brand.
5. "Stack A Lee"
Described in his self-penned liner notes as a song that says, "no man gains immortality from public acclaim," "Stack A Lee" is a well-worn tale about a respected individual's fall from grace. Dylan sings in true hootenanny style, with only voice and guitar providing accompaniment. Earnest and authentic, Bob does justice to Mississippi John Hurt's original on this World Gone Wrong-era cover .
4. "Autumn Leaves"
If it weren't so evident that Bob is indeed playing it straight, it would be easy to view these attempts at emulating oldies like this French classic as little more than pure satire. And yet, with his crafty croon and heartfelt indulgence, it's also clear that Dylan's love for these songs is absolutely sincere. When Shadows in the Night first appeared, even his staunchest fans were dumbstruck and filled with absolute disbelief. Regardless, the fact that Bob was able to pull it off managed to stifle the doubts.
3. "Hard Times"
Dylan delivers this familiar classic solely with his parched vocals and a single acoustic guitar. The sparse instrumentation helps make this cover from Good As I Been To You among the most tender tunes in his repertoire. Although many artists have covered "Hard Times," no one has done so with more credibility and conviction than Bob.
2. "Some Enchanted Evening"
One of the most beautiful songs in the popular music lexicon, this song, originally from the Rogers and Hammerstein musical South Pacific, is an enduring classic—one rendered with all the tenderness and devotion its composers intended. Yes, it's still somewhat odd to find Dylan so fixated on these standards set-ups, but given his earnest delivery, it's entirely understood.
1. "Free Bird"
We know. We're as dumbfounded as you are.