Bob Dylan's Website Acknowledged His Nobel Win, Then Removed It
Photo by Christopher Polk/Getty
Music
News
Bob Dylan
So Bob Dylan has been rather quiet since winning the most prized award in all of literature. He has yet to publicly acknowledge winning the Nobel Prize in Literature and the Nobel committee has given up trying to get in touch with him, though they did get a friendly response from "his closest collaborator," whoever that may be. So far the only acknowledgements of the historic win from Dylan's camp have been a post to his social media that simply stated that he had won, with no comment from Dylan, and a retweet from President Barack Obama's official Twitter post congratulating him on the win.
That is, until Spin pointed out via screenshot that Dylan's official website had posted an acknowledgement of the award in the description of Dylan's new book The Lyrics: 1961-2012.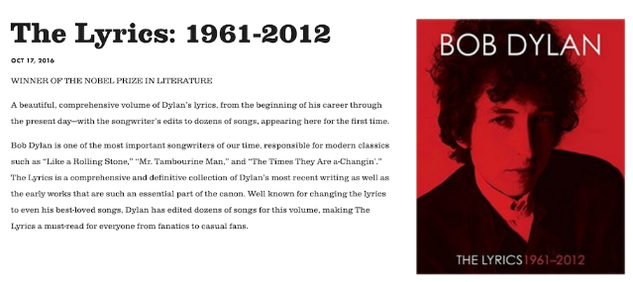 The problem is that if you follow that link to the page, the Nobel headline isn't there anymore. In fact, if you search Dylan's website, the word "Nobel" only appears in two places: one is listing a Chinese Nobel Peace Prize winner and the other is from 2011 saying that Dylan is often in talks to win the Nobel Prize in Literature.
So that means, for one reason or another, the award win acknowledgment must have been taken down from the page. Dylan certainly doesn't run his own website or his social media, but it's still a strange series of events since you'd expect the honor to be all over the page selling a book that contains the lyrics that won him the prize in the first place.
Is this still just the notoriously reserved Dylan being his usual self, or is it possible he's actively avoiding association with the award? Unless Dylan comes out with a statement, we may just have to wait to see if he shows up to accept the award on Dec. 10 to hear his thoughts.