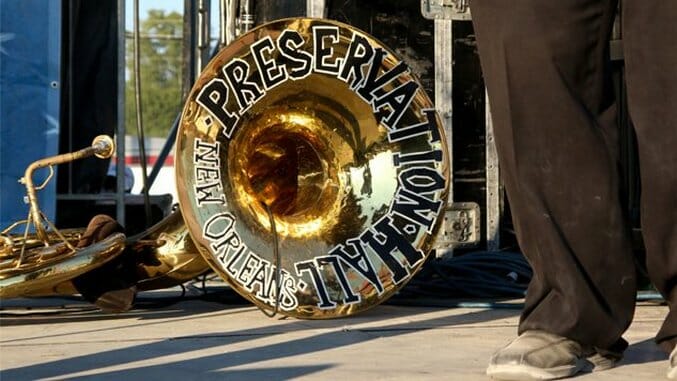 Relentlessly joyful and fun, brass bands have filled streets and rallied the spirits of the dejected, fearful or oppressed throughout history. As Al Jackson, the curator at Treme's Petit Jazz Museum explained, brass instruments—trumpets, trombone, sousaphone, and later saxophone—came to the states from Europe through imperialism and once on the ground, merged with African musical ideas brought over with slavery. It is this mixing of Afro-Creole traditions with German and French military instrumentation and regalia that makes the quintessential New Orleans-style brass band sound. These brass bands are often referred to as "second lines," as they follow behind the group of people in a procession.
As time has passed, the brass band form has not only persisted, but evolved. While many contemporary brass bands still stick to the traditional repertoire and classic collection of instruments, many take the tradition and modernize it by incorporating pop music, funk, R&B and even other musical cultures. Some enlarge the ensemble, others eliminate certain instruments. Here then are 10 of the best contemporary brass bands that recognize and modernize the rich second line tradition.
1. Kinfolk Brass Band
This group calls itself the hardest working band in New Orleans, and sure enough, they're everywhere in the city playing processions, concerts, and festivals like incomparable New Orleans Jazz and Heritage Festival. Though they've only been a group since 2005, the band is comprised of long-time New Orleans musicians like Byron "Flee" Bernard, who's been on the brass band scene since the 1980s. Kinfolk put together various traditions, from Mardi Gras Indian flair to modern jazz riffs, giving them a very distinct sound. And yet, they still dress in their version of the military uniform and play much of the standard repertoire like "Lil Liza Jane," showing their knowledge of the style's roots.
2. Lucky Chops
An example of the brass band tradition beyond New Orleans, Lucky Chops of New York makes it their mission to bring life back to the music industry. Though the band is made up of the classic brass and reed instruments, they steer away from the "The Saints Go Marching In" and specialize in pop music covers like Adele's "Hello" or The Beatles, "Helter Skelter." They also incorporate a drum set, making them less procession-ready than the typical brass band, and more like a modern rock group. Still, they've got that blistering brass bad energy. Also, they've brought their excitement to YouTube with clever and fresh music videos that appeal to the Millennial general. This is a creative reimagining of a tradition that is usually hyper local and community based. With Lucky Chops, you can bring a brass band to you, as opposed to the other way around, which has been the norm for the last century.
3. Funky Dawgz Brass Band
This Connecticut band has through-the-roof energy and still channels the spirit of New Orleans, while incorporating the striking sounds of hip hop, funk and electronica. The result is an explosive 10-piece group that can hold its own at EDM-heavy festivals as well as in a parade or funeral procession. Another progressive trait of this band is the diversity of its members, for the New Orleans brass band style began as a vital part of the black community. The Funky Dawgz Brass Band also enhance and uphold tradition by touring inner city schools across the country. As their bio says, "The Funky Dawgz aim to connect, engage, inspire and rejuvenate music education." In that way, they are keeping alive the spirit of supporting, expanding and enriching the immediate community, the lifeblood of the brass band tradition.
4. Red Baraat
Brooklyn's Red Baraat takes the brass band tradition and merges it with Bhangara, a form of Punjabi folk music. In that way, the band's leader, Sunny Jain, infuses the classic brass sound with the staccato drum beat from his dhol, a double-headed Indian drum. The combination of brass ideas from New Orleans and the Balkans with melodies and instruments with Bhangaran roots seems to heighten the energy. And the crossover doesn't limit them, either, but makes them more versatile. They tackle funk, soul and originals all with their own unique driving syncopation and melting pot sound.
5. No BS! Brass Band
We named the No B.S.! Brass Band a Best of What's Next a while ago, and the band impresses with its creative covers of pop hits like "Thriller" that make you just want to get up and dance. They also include vocals with their brass band stylings, making the group feel almost like Parliament Funkadelic or Chicago on slow-burning, funky songs like "Run Around." Every member of the 11-piece band is conservatory-trained and they've been known to wander into free jazz territory, where they show off their major chops, and transform what a second line brass band can be.
6. Trème Brass Band
Named for one of the oldest neighborhoods of New Orleans, Trème brass band is honoring one of the most music-rich neighborhoods in the city. In fact, many trace the birth of brass bands and early jazz to the area specifically. The Trème Brass Band pays tribute to history by staying close to home both literally and musically. The band performs has had a long-standing residency at d.b.a. in New Orleans and employs legendary New Orleans musicians like trumpeter Kermit Ruffins, saxophonist Elliott Callier and trombonist Corey Henry. It has also supported helped raise up new talent. For instance, legendary vocalist and bass drummer "Uncle" Lionel Batiste played with the band for many years and inspired many of the current members. Featuring some of the best brass players in the city, honoring multiple generations of musicians and wearing military-style captain hats emblazoned with the name of their seminal neighborhood, Treme Brass Band is essential brass band listening.
7. Hot 8
Together for more than 20 years, they are among the oldest brass bands from New Orleans. They were founded by sousaphone player Bennie Pete in 1996, and have continued ever since, sounding of joy and triumph despite the loss of four founding members and the trauma of hurricane Katrina in 2009. After they were separated and displaced from their homes after the hurricane, the band began to tour the United States raising money for the city and victims. The turmoil in their hometown and the threat to their rich community inspired the band to learn more about the history of the brass band style so they could preserve it. As a result, the band did, "a series of concerts in which the band included traditional songs and explored long-forgotten concepts like three-part trumpet harmonies and volume shifts." Clearly, Hot 8 knows their history but that doesn't keep them from having a good time! They sprinkle their music with funk, R&B, rap and the local style bounce, characterized by call and response, Mardi Gras Indian chants and good ol' booty shaking.
8. Preservation Hall Jazz Band
Sticklers wouldn't consider the Preservation Hall Jazz Band a brass band, but instead an early traditional jazz band. And yet, the tipping point between brass band and early jazz band is so vague, and this group is so historically important and impressive, they had to make the list. For more than 50 years, the Preservation Hall Jazz Band has captivated audiences inside Preservation Hall, and throughout the world. Chock full of humor, camaraderie and living history, the very experience of going to see the Preservation Hall Jazz band feels like a religious baptism, an indoctrination into real New Orleans culture. The band has a rotating cast of members and they tour 150 days a year, but the best way to see them is in Preservation Hall in the heart of the French Quarter. They do lean more in the jazz direction, so anticipate more improvisation and extended solos, but they are too vital a contributor to the brass band tradition not to include.
9. Dirty Dozen Brass Band
The philosophy of the Dirty Dozen Brass Band, according to member Gregory Davis is as follows: "It ends up being like a pot of gumbo—you drop in a little okra, drop in a little shrimp, you drop in some crabs. Before you know it, you've mixed in all these different ingredients and you've got a beautiful soup. That was our approach to music early on and it still is today." The septet is just about to come up on its 35th anniversary, making it one of the longest standing brass bands playing today. Additionally, their inclusion of jazz, Afro-Cuban and Caribbean flavors makes their signature sound and accounts for their ability to cover a Rihanna song and then turn around to play the classic "Lil' Liza Jane." For their versatility, longevity and quintessential sound, Dirty Dozen Brass Band is integral listening.
10. Rebirth Brass Band
The Rebirth Brass Band is perhaps the best-known New Orleans-Style brass band throughout the country because they tour extensively, were recently featured on the HBO series, Treme, and are just downright good. Formed in 1983, they are another legacy brass band committed to the classic sound and one of the first to think of incorporating funk and hip hop. In fact, they single-handedly inspired many of the other brass bands on this list to merge the brass tradition with other styles. Tight and free at the same time, Rebirth Brass Band knows how to inspire a party and how to carry on a legacy by adapting to the times. As the progenitor of the more modernized brass band sound, Rebirth has been important to the survival of the style.