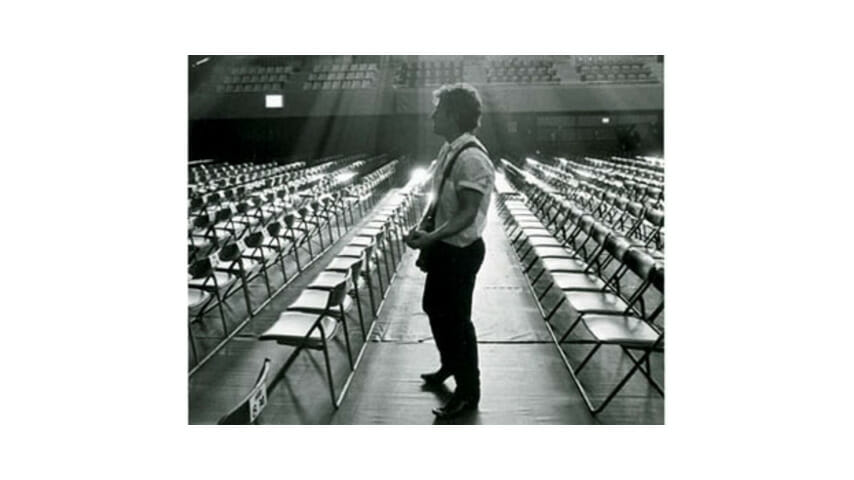 Bruce Springsteen's Devils & Dust is split between detailed character studies accompanied by somber, sometimes sleep-inducing music, and up-tempo tracks that only occasionally transcend lyrics that are sui generis Springsteen—you know, rising above, falling behind, shadow and doubt, that sorta thing. Sometimes the whole thing feels a bit more like an intellectual exercise than something from the artist's heart.
You could say the same thing about Springsteen's last mostly acoustic album, 1995's The Ghost of Tom Joad, and come to think of it, a lot of people did. But when the Boss took to the road for a solo tour following the album's release, he not only redefined those songs but even recast anthems like "The Promised Land" and "Darkness on the Edge of Town" in a completely new light. Those shows were as electrifying in their own way as his legendary performances with the E Street Band.
So it comes as no surprise that the songs from Devils & Dust come alive in concert, even if this 9,000-seat venue—the Continental Airlines Arena, cut in half by a curtain—wasn't particularly well-suited to a solo affair. But Springsteen is one of the few artists capable of making even a stadium feel intimate, and the performance was more like an acoustic version of an E Street show, covering more ground emotionally and musically than he did on the Joad tour.
If anything, it's the most musically adventurous show he's ever put on. Opening with "My Beautiful Reward," from the underrated Human Touch album, and closing with a cover of Suicide's "Dream Baby Dream," both performed on pump organ, Springsteen made it clear that he's still interested in challenging both himself and his audience. As easy as it would've been for him to spend the whole night with an acoustic guitar and a harmonica, most of the night's high points found him outside of his comfort zone.
The most shocking transformation came during "Reason to Believe" off of 1982's Nebraska. In its original acoustic-guitar form, it's hard to tell whether the song is a testament to faith or a bemused dismissal of it. Now, it's something else entirely. Playing harp and singing into a bullet mic (think Little Walter), his right boot providing stomping rhythm, Springsteen turned the song into a bitter blues, punctuating his Howlin' Wolf-style vocals with a harmonica riff that echoed Muddy Waters' "Mannish Boy."
The haunting gem, "Paradise," followed, from 2002's The Rising. Beginning on electric piano, then switching to the grand, Springsteen told two stories, one of a young Palestinian girl who blows herself up in a marketplace and the other of a 9/11 widow in the brown hills of Virginia, both of whom have found the paradise they once believed in to be empty.
"Lonesome Day" and "The Rising" were as anthemic in their acoustic incarnations as they were in their full-band versions, and "Land of Hope and Dreams" revealed itself as a folk-soul classic, with Bruce beckoning all to join him on a train full of saints and sinners.
The night wasn't all heavy, though. Springsteen introduced "Part Man, Part Monkey" with a hilarious monolog about evolution—"Here in New Jersey, we don't just believe in evolution, we're counting on it. It's our only hope."—and ran down a litany of pop songs about mothers from Tupac to the Doors before a lovely rendition of "The Wish," a quite personal paean to his own mother. And the Cajun-style version of "Ramrod" that opened the encore was just goofy, with Springsteen giggling and prancing from one side of the stage to the other. It was the kind of ecstatic release that Devils & Dust only hints at.