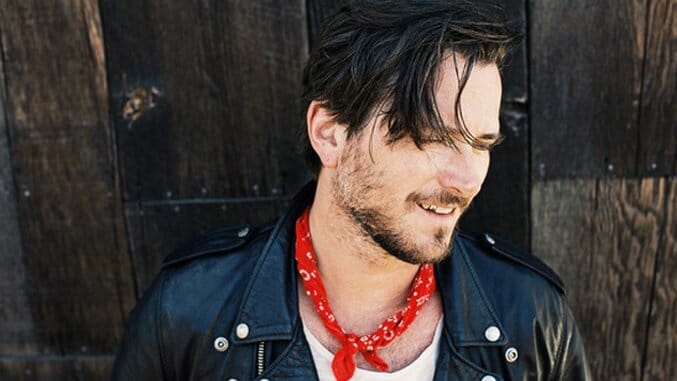 If this list were to include every song Butch Walker ever wrote or produced it would start to look like the guest list at an award show after party. A tenured and respected member of the music community, Butch Walker's name is often brought up in conjunction with some "bigger" named artists he's produced for or in reference to his banjolin performance alongside Taylor Swift at the Grammy's.
While those are interesting and important accolades aimed at his production/songwriting career, his impassioned work as a solo artist needs no namedropping for validation. It's clear, based upon a long sustained cult following and countless sold out shows around the world, that his best songs are the ones he didn't give away. As such, it's important to differentiate between Butch Walker the producer and Butch Walker the artist.
In addition to being a charismatic storyteller, Walker's genre-defying catalogue spasms between pop rock, Americana and punk, but in the end, he just calls it all rock 'n roll. His albums are drenched in smart social commentary, heartbreaking nostalgia and hooks that quickly squirrel their way into your psyche. Plus, the man can truly navigate a break up ballad. To celebrate the release of Stay Gold this Friday, his eighth studio album featuring Ashley Monroe and Suzanne Santos (Honey Honey), in loose order, here is a list of the 21 best Butch Walker songs.
21. "She Likes Hair Bands"
It's endearing when Walker's southern twang creeps into his rock 'n roll—like Sid Vicious in a pair of Stetsons. After grazing over a few albums, it won't take long for someone to discern the multitude of allusions to the '80s in his catalogue; it's clear he has vivid memories of a time period he craftily encapsulates in songs like this one.
20. "Vessels"
This record is fueled by a lot of sadness and loss, but so many of the melodies are conversely uplifting, offering resilience in the turmoil. Here Walker's singing about the dissolution of a relationship with a chorus that repeats "We don't get along anymore" while the instrumentals encourage a cheerful head-bob.
19. "Mixtape"
This song is an homage to the now (mostly) retired romantic tradition of burning mixes on physical CD/cassettes as a sign of affection. Sending a Spotify playlist just doesn't quite have the same affect. It's a love letter after its time.
18. "Here Comes The Heartache" Ft. Pink
Chronicling the agonizing stages of dissolution in a relationship, Walker enlists Pink to carry the chorus with him. It shows how the work of Butch the songwriter and Butch the producer can sometimes overlap, too.
17. "Stay Gold"
Afraid of Ghosts is cloaked in so much ornate sadness, fueled by the death of Walker's much beloved father. While that record remains one of his most intimate offerings, Stay Gold is his emotional recovery, bursting at the seams to get back to himself like a kid reeling into recess. The title track is a reminder to stay positive and stay aware in a mixed up world.
16. "Race Cars & Goth Rock"
At a live show Walker once called this song, "the one two, fuck you" offering the audience permission to use it as their anthem. The pissed off answer to a bruised ego, it's witty post '90s pop rock.
15. "Going Back/Going Home"
Sitting down to ruminate after losing his home to wildfires in Malibu, it seemed as though introspection really suited Walker on this record. Even on primarily plucked tunes like this one, there's a pause that allows the weight of his loss to regurgitate sincere awareness in his songwriting.
14. "Father's Day"
Any fan knows, Butch Walker loved his dad, as evidenced by the many comical dad shout-outs at shows, his constant adulation and references in many of his songs. Tracks like this one and "Coming Home" (off the Peachtree Battle EP) that serve as tributes to big Butch Walker Sr. are especially sad, but this one is particularly beautiful with Ryan Adams' strong grip and Bob Mould on guitar as Walker sings, "You don't become a man until you lose your dad you see."
13. "Let It Go Where It's Supposed To"
Butch Walker never tried to hide hints of his southern drawl, but roots music didn't find its heavy influence on his sound until his later records; A style that really suited him as a storyteller. Here is an example of his full embrace of Americana, an upbeat ode to acceptance inspired by his late father.
12. "The Weight of Her"
This album had so many gems; Butch brought out his Petty/Springsteen side with Dixieland sing-alongs and uplifting anthems to romantic recovery like this one. He sings about protecting oneself from the inclination to assimilate in order to find affection. Walker often weaves in some spoken word to his songs and here he laments, "And what am I supposed to talk about with you anyway? I graduated the year you were born. And I don't wanna have to drive around and listen to your burned CDs through your shitty car speakers of every band you think you discovered. It's just gonna make me feel insecure."
11. "21+"
A song about small town suffocation, soft and melancholic Americana merges with Walker's heady croon here. The dance of keys and steady pronunciation of the drums mounts the emotion parallel to his low humming "oooos" (not unlike The Shins, in fact) and it's tied off beautifully with Johnny Depp on guitar.
10. "Too Famous To Get Fully Dressed"
The title hints at the song's subject matter, a hard eye roll at the overthought malaise of looking cool while trying desperately to hide it. His vocals are pronounced amid a steady, punching guitar line that weaves its way between the build up of audible growling, catchy "la, la, la's," "ooh, ooh, ooh's, and "ahh's."
9. "Sober"
In the early to mid-2000s emo music was often associated with eyeliner, barely discernable screaming and a lot of apathy. Walker's first solo record, aptly named, Left of Self Centered and his follow up, Letters were emo records for pissed off intellectuals, They were ahead of their time, sans all the aesthetic fringe; "Sober," is one of the earnest highlights from that introduction.
8. "Bullet Belt"
"Bullet Belt" was co-written by Walker's longtime friend, Michael Trent of Shovels & Rope; the duo even went on to include the track on its recent covers album, Busted Jukebox Volume One. Gritty and growling straight out the gate, it saunters around spoken word punk rock, pausing only to melt into its catchy chorus.
7. "Descending"
Impressively written in 10 minutes, via a textual parlay with Grammy-winner Ashley Monroe, "Descending" is another example of Walker's sonic dexterity. It's a delicate duet sung over somber piano pangs that he was able to tone down without losing any of the richness found on tracks with grander instrumentals.
6. "The 3 Kids In Brooklyn"
One of Walker's many talents is absorbing the scene around him—not as a touristic bystander, but as a visiting member of any given city's subculture. Here is a dynamic, storytelling tune that narrates his experience with Brooklyn's hipster culture.
5. "Synthesizers"
Off his second record as Butch Walker and the Black Widows, here lies the strength in his communion with killer pop rock production and industry commentary. After years in the biz, Walker has a strong awareness of where he fits in and where he refuses to budge, he sings, "I didn't name my band after an animal / I don't have any feathers or neon clothes." It should also be noted that the video includes a revisited version of Matthew McConaughey as David Wooderson from Dazed and Confused.
4. "Taste of Red"
One of the many iterations of Butch Walker's sound, The Let's-Go-Out-Tonites were a play on Bowie's The Rise and Fall of Ziggy Stardust and The Spiders from Mars. This entire record was a snarky, fun amalgamation of Walker's '70s and '80s influences and his modern take on the glam rock sound. "Taste of Red" is a cryptic lust letter, fittingly, preceded by James' "Laid" during live renditions.
3. "Best Thing You Never Had"
While it demonstrates a younger, more formative sound, "Best Thing You Never Had" is possibly the most well known song among early followers. A blazoned, bitter ode to unrequited love with its heavy emotional leaning, this song sounds suited for it's early 2000s release, but remains a fan-favorite sing-along.
2."ATL"
Much of this record discusses places, scenes, arrivals and departures, so it's fitting that the song with the most locale devotion was aimed at his home base in Atlanta. Completely stripped, save for the tiptoe of piano, there's visceral adoration in his voice as he sings about the city he loves most of all.
1."Bed On Fire"
If "Best Thing You Never Had" was Walker's adolescent anthem of masochistic romance, "Bed On Fire" is the matured version, musically and otherwise. Forging his propensity for aching romantic introspection and powerful bridges and choral build ups, it's engulfing, both simultaneously raging and sensual.