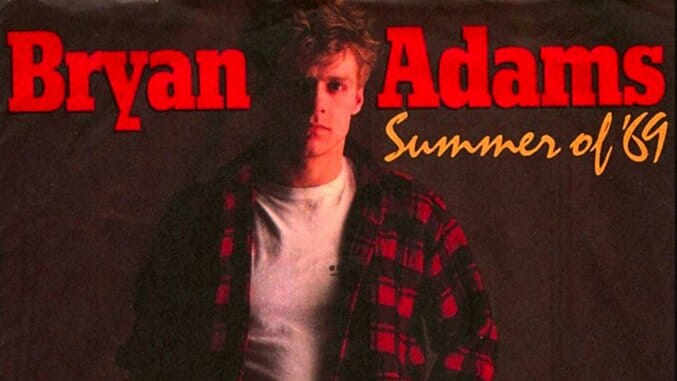 With the highly anticipated Fourth of July weekend steadily approaching, people around the U.S. are putting the finishing touches on their patriotic weekend plans. Be it a camping excursion, beach trip, or just a backyard barbeque, America's Independence Day is often seen as the zenith of summer—24 hours of carefree, sunny shenanigans and debauchery. And in the typical American fashion, our celebrations have a tendency to blow all other countries' nationalism out of the water.
Today, however, is actually Canada Day, the national independence day of our northern neighbors. So in fairness and deference to them, and in an effort to start our own festivities early, here are 14 Canadian songs worthy of a playlist to celebrate Canada Day.
1. "Run Away With Me," Carly Rae Jepsen
The girlish charm of "Call Me Maybe" did not last long for Carly Rae Jepsen, but only because her synthy new '80s sound blares with a lively conviction that silenced all her critics. A prime example of her new sound is on her robust call for adventure "Run Away With Me" off of 2015's underappreciated Emotion. Jepsen worked with a large roster of producers including Dev Hynes, Ariel Reichstag, and Vampire Weekend's Rostam to reclaim lovelorn vintage pop for modern day radio. Over ebullient saxophones and pulsing synths, Jepsen proclaims she ready to leave, and we're packing our bags as we run out the door with her.
2. "heartsigh," Purity Ring
Originally intending to make music for haunted houses, the witchy electro-pop of Edmonton's' Megan James and Corin Roddick may seem like a poor choice for a summer playlist. But what makes Purity Ring so enticing is the way they pair lush, dreamy instrumentation with haunting production and peculiar lyrics. "heartsigh" finds Purity Ring in their most pop-driven element as the synths and drums soar higher than ever as James' lyrics still lends a subtle air of creepiness into their brightest song, "Only lonely / Hidden breath beneath the floor / Only only /Where your tears drip from the drawers."
3. "Flesh without Blood," Grimes
Grimes released the ethereal and unearthly "Flesh without Blood" with a bewildering video featuring the mastermind that is Claire Boucher as some kind of demonic Marie Antoinette character, which can only be expected by the performer at this point. On "Flesh without Blood," Grimes exerts her hardest efforts in her career, learning guitar, keys, ukulele, drums, and violin for her ingenious Artangels, all of which blend into her extraterrestrial synth-pop for an entirely new sound truly out of this world. With a newfound confidence, the song is an assertive kiss-off, as Boucher's whispering coos sound strong over the airy electronics, "If you don't need me, just let me go." With such a vision and presence as vast as Boucher's, "Flesh without Blood," acts an evident landmark in her career as she ventures into such alien territory with her music.
4. "Too Good," Drake
The 6 God Drake and pop's reigning badass Rihanna have yet to make a disappointing collaborative song. On their latest song for Drake's 2016 album Views, we see a private flame kindle between the two as Drake sings "These days I don't know how to talk to you." Following their other provocative 2016 collab "Work," the chemistry between the two artists charges this intimate dance-floor filler. Platonic, romantic, or otherwise, Drake and Rihanna are a yin and yang of emotion (Drake) and conviction (Rihanna), which come together into this passionate, swaggering banger.
5. "Help, I'm Alive," Metric
The Canadian synth rockers Metric defined indie rock in 2009 with the chilling, robotic hum of singer Emily Haines on Fantasies. Like a Stevie Nicks for the digital age, Haines poetry is short, concise, but fulfilling, but Metric's slick new wave swagger balances sensual heat and chilling synths that undulates throughout the songs burning question, "Can you hear my heart beating like a hammer?" (Hint: we very well can.)
6. "Leather Jacket," Arkells
On the Ontario alternative rock band Arkells' third album High Noon, the band introduces sonic complexity and an orchestral eminence that only supplements the band's hard-hitting, catchy brand of pop rock. On "Leather Jacket," the Arkells master an old form of storytelling in their songwriting that instills a genuine rock 'n' roll spirit into their Springsteen-esque anthem.
7. "Banner," LIGHTS
Toronto synth pop soloist LIGHTS has managed to redefine her icy electronic sound from album to album. On 2011's Siberia, LIGHTS incorporated elements of dubstep and EDM into her quirky Nitendo bit-pop, but composes a proud anthem on "Banner" that is soaring and confident, waving high above her entire discography. Brandish your maple leaves by putting on this uplifting track, "Lift it up like a banner."
8. "The Way You'd Love Her," Mac DeMarco
The British Colombia-born, Alberta-raised indie slacker Mac Demarco's 2015 mini-album Another One, is a hazy, heavy collection of psychedelic jangle pop that sounds best when alleviating steaming summer humidity. "The Way You'd Love Her" is an endearing, lusty romp of Demarco's untroubled but downtrodden slacker rock. Writing strictly love songs for his album, "The Way You Love Her" is particularly affectionate, affable, and fuzzy, both in it's production and warm affection.
9. "California," Joni Mitchell
The angelic coo of Joni Mitchell sounds heavenly throughout her magnum opus Blue. Juxtaposed with her California dreaming is the Canadian singer's confessional poetry, admitting her lost love in her newfound home, "Oh will you take me as I am, strung out on another man, California, I'm coming home." Mitchell is an anomaly in the way she makes such complicated chords and tunings sound so humble. Yet, it's the beyond-her-years wisdom that let Mitchell emote her deepest spirits and most intelligent guitar strumming without being overwhelming. That sunshiny breeze is welcoming for those on both side of the country line.
10. "Atop a Cake," Alvvays
With a penchant for old college jangle rock and dream, dusty C-86-inspired indie pop, the Toronto dreamers are both chilly and hazy on their surf rock "Atop a Cake." As such, the song acts as a symbolic blend of summer heat and Canadian chill. Singer Molly Rankin demands an answer, "How can I lose control when you're driving from the backseat," but it is evident that she already has complete control.
11. "Stop Desire," Tegan and Sara
Tegan and Sara's fan base followed them dedicatedly through their transformation from folky alt-rockers to '80s pop songstresses and even garnered more recognition with the polished synth-pop of 2013's Heartthrob. The Canadian twins continued strong with their new pop smarts and let their personal lives take center stage on their latest album Love You To Death. As '80s as ever, the duo recall the bubbling energy of Tiffany with an indie rock song structure, making for a buoyant, professional shimmer to their pop wit that makes for a song as catchy as it is driving.
12. "Wild Things," Alessia Cara
This young R&B artist makes music for the young misfits still looking for anything to call their own. While Cara's cool, independent swagger on 2015's quiet hit "Here" was refreshing, "Wild Things" is welcoming, joyful, and proud, and years more assured than artists twice her meager 19 years. The uplifting handclaps and open piano drive Cara's animated soul in her vocals, making for an anthem for the other and allowing anyone (or any nation) to let go and embrace their individualism. O Canada, indeed.
13. "I Feel It All," Feist
The Nova Scotia baroque-folk songstress Feist ruled the indiesphere in 2007 with her warm, emotive album The Reminder. Besides being known as the girl in the iPod commercial with her indie hit "1234," the reminder also featured a summery storytelling on "I Feel It All." In a moment of breezy sureness and bliss, Feist seems confident in her confession that she will only hurt herself, admitting, "I'll be the one to break my heart," in a jaunty ballad for ephemeral summer love.
14. "Summer of '69," Bryan Adams
The Ontario rocker has big shoes to fill with the nickname of the Canadian Bruce Springsteen, but his "Summer of '69" continues to end up on every Canadian and American summer playlist more than 30 years after its release. Considering the song's sexual innuendos or not, "Summer of '69" is a staple of Canadian patriotism in Adam's nostalgic anthem to the good old days. The song soundtracks any summer adventure perfectly on either side of the border. If we Americans and Canadians can all agree on one thing, it's "Summer of '69."