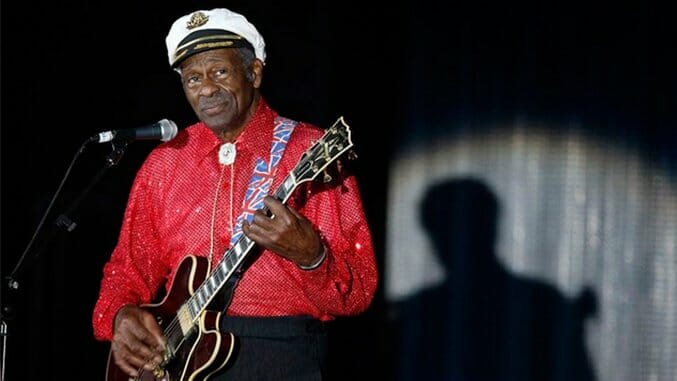 They say that age is a state of mind. For some ageing musicians, the only state of mind they ever had to be concerned with was that state of mind that was chemically induced. They also say that 50 is the new 40, that 40 is the new 30, and that 30 is the new 20, so can't it also be said that 80 is the new 70 and 70 is the new 60? Or does even matter? Today, musicians are rocking well into their 70s, with a significant number into their 80s. If rock 'n' roll was once the pursuit of the young, then clearly the rules have changed. Youth may progress the form and creation of music, but the energy and exuberance expressed by those of the older generation remains unabated. With ""Oldchella serving as a recent reminder (and in honor of Leonard Cohen's passing yesterday), here 20 musicians who are still thriving in their twilight years.
1. Chuck Berry
Age: 90
If any rocker set the template for rock 'n' roll, it's the indomitable Chuck Berry. While he may not be able to do his famous duck walk as well as he used to, he's still making music. On his 90th birthday last month, he announced a forthcoming new album, Chuck, due for release next year. Dedicated to Themetta Berry, his wife of 69 years and featuring help from his two children, Charles Jr. and Ingrid, it will mark his first new record in 38 years. He still lives near St. Louis and continues to perform at least once a month, at a restaurant called Blueberry Hill where he retains a residency every Wednesday. To paraphrase a title from one of his classics, catch him while you can.
2. Tony Bennett
Age: 90
Having just entered his tenth decade, Tony Bennett remains as active as ever, teaming with Lady Gaga, maintaining a busy touring schedule and still managing to hold on to his persona as a king of croon. Indeed, he's singing as well as ever. Yours truly shared a limousine ride with him 25 years ago when he was a youthful 65, and found him to be one of the nicest members of the showbiz elite one would every encounter. You might have left your heart in San Francisco, Mr. Bennett, but you've stolen ours in the interim.
3. Harry Belafonte
Age: 89
Although he's retired from performing, Belafonte remains as busy as ever, as both an activist and an advocate. He helped organize the USA for Africa campaign/supergroup and continues to play a principle role in civil rights up through the present day. A committed artist and humanitarian, his name will forever be enshrined among those who not only talked about change, but actually helped make it happen.
4. Burt Bacharach
Age: 88
After turning out a series of chart-topping barroom ballads in the '60s and '70s, Bacharach went on to work with any number of contemporary stars, even making an album with Elvis Costello that surprised many folks and impressed even more. A recently released live DVD aptly entitled A Life In Song serves as a remarkable reminder of the indelible impression Bacharach has left on modern music.
5. Fats Domino
Age: 88
Although he's not nearly as active as he once was, the man who originally recorded "Blueberry Hill," "Ain't That a Shame" and "I'm Walkin" turned his barrelhouse piano style and New Orleans heritage into his own singular success. The esteem in which he is held was personified by the 2007 album Going Home: A Tribute to Fats Domino, which featured such stars as Paul McCartney, Willie Nelson, Neil Young, Norah Jones and Elton John singing his songs and echoing his praises.
6. Loretta Lynn
Age: 84
Still the reigning queen of classic country, Lynn isn't content to rest on her accomplishments. She just released her first Christmas album, White Christmas Blue, a follow up to the stunningly successful album she released last year, Full Circle, which featured guest appearances from Willie Nelson and Elvis Costello. Just over a decade ago she returned to the spotlight with Van Lear Rose, produced by her pal Jack White. It found her reaching a new plateau and forever enshrined her as an eternal superstar. More than a Coal Miner's Daughter, she's one of the parents of modern Americana.
7. Yoko Ono
Age: 83
Once known as the woman who broke up The Beatles, Yoko has outlasted her critics and gained new respect for her lingering influence on experimental music and avant-garde attitude in general. She's gained new respectability since her husband's murder, with any number of artists, from The B-52's to Lene Lovich, citing her influence on their own endeavors. Yes, she's still outrageous, but no one can doubt that she's as ambitious as ever.
8. Willie Nelson
Age: 83
Willie may remain irascible, but his prodigious outflow of new albums shows he's also in a motivated mindset. Who says pot can kill your ambition? Willie's made music in practically every genre known to man, and he still tours relentlessly in his smoky bus. "On the Road Again" is about more than the music. It's his mantra, as well.
9. Petula Clark
Age: 83
An exceptional chanteuse, Clark's claim to fame began in the '60s with such songs as "Downtown" and "Don't Sleep in the Subway." Still performing before adoring masses worldwide, she remains elegant as ever. Her 2011 remake of "Downtown" paired her with the Irish band the Saw Doctors. While they sang her praises, she still sings like a songbird.
10. Jerry Lee Lewis
Age: 81
One of rock's most enduring elder statesman, Lewis was also one of its rowdiest. Along with Little Richard (now retired), Lewis made the piano an ideal platform for onstage theatrics. A brawler and a bad boy, he made international headlines when he married his underage cousin; he personified the image of the unrepentant rocker. His latest album, Rock and Roll Time, featuring an array of special guests, attests to the fact the The Killer is still cool.
11. Wayne Shorter
Age: 83
One of the most influential jazz musicians of all time, Shorter was hailed by The New York Times as, "probably jazz's greatest living small-group composer and a contender for greatest living improviser." Having played with both Miles Davis and the great fusion band Weather Report, he recently put together a new outfit named Mega Nova with bassist Marcus Miller and drummer Cindy Blackman Santana.
12. John Mayall
Age: 82
Mr. Mayall, long considered the father of British blues, has grandfathered many of England's most prodigal sons —Eric Clapton, Mick Taylor, Peter Green, Mick Fleetwood and Jack Bruce among the very many. In fact, had it not been for Mayall and his band the Bluesbreakers, many of these acclaimed artists would have found a far more difficult route to the top rungs of success. Now rapidly approaching his 83rd birthday, he still tours relentlessly and, equally impressively, still blows a mean harmonic on his classic "Room to Move." Once a purveyor of porn, we can only wonder if age has slowed him down in that arena as well.
13. Bobby Bare
Age: 81
One of the original outlaws of modern country music, Bare's devotion to cause remains undiminished, so much so that his son Bobby Bare, Jr. continues in that tradition, too. Sr.'s most recent album, Darker Than Light, was his first album in seven years and features some spirited covers. It's proof that despite his age, he still retains contemporary credence.
14. Sam Moore
Age: 81
The surviving member of one of the greatest soul duos ever, Sam and Dave, Moore is not only active, but seemingly at the peak of his powers. A member of the Rock and Roll Hall of Fame, the Grammy Hall of Fame and the Songwriters Hall of Fame, he's still knocking them dead in his live performances. Hold on, he's still coming.
15. Buddy Guy
Age: 80
What a guy, that Buddy Guy. One of the few remaining true blues icons, he's still out on the road, showing the same grit and confidence in his fretwork as he did when he famously chummed around with Jimi Hendrix. Eric Clapton once declared, "Buddy Guy was to me what Elvis was for others." Stevie Ray Vaughn added his own accolades, stating, "Without Buddy Guy, there would be no Stevie Ray Vaughan." That list could certainly be expanded to include any number of other luminaries as well.
16. Kris Kristofferson
Age: 80
Despite reports of his failing health, Kristofferson still managed to release an album last year entitled The Cedar Creek Sessions. He hasn't announced plans to retire any time soon, although he has made it clear that he's living up to this lyric, borrowed from Leonard Cohen's song "Bird on a Wire," which he requested to be imprinted on his tombstone: "Like a bird on the wire / Like a drunk in a midnight choir / I have tried in my way to be free." His renegade persona lives on.
17. Bill Wyman
Age: 80
Having just reached a crucial milestone, Rolling Stones bassist Bill Wyman proves that age has nothing to do with endurance. The fact is, the guy looks a lot better than he did back in the day when the Stones were widely derided and called the ugliest band ever. Nevertheless, Wyman was considerably older than his contemporaries even early on; when the Stones hit their prime in '65 and '66, he was already nearly 30, an old age in an era of youthful exuberance.
18. Ringo Starr
Age: 76
As hard as it is to imagine there's a Beatle who is 76 (Macca doesn't make this list because he's still under 75), it's also hard to imagine that Ringo is also a great grandfather! Nevertheless, it's all peace and love as far as he's concerned, and his All Starr band is still stable 30 years on.
19. Bob Dylan
Age: 75
At an age when most senior citizens have long since retired, Dylan continues to tour relentlessly, pausing only to take time to accept his recently awarded Nobel Prize for Literature. If he has a bucket list, it's near impossible to imagine what remains on it. His only concession to age are his recent recordings of standards, but given his amazing collection of signature songs, we'll forgive him for taking a pause from any current compositions.
20. Charlie Watts
Age: 75
We're singling out Stones drummer Charlie Watts because at the ripe old age of 75, he represents the transition from youthful insolence to distinguished reserve. Really though, it's more an excuse for us to mention that at this point, the combined age of all four charter members of the Stones is nearly 190. The '60s may have passed, but the 70-somethings survive.