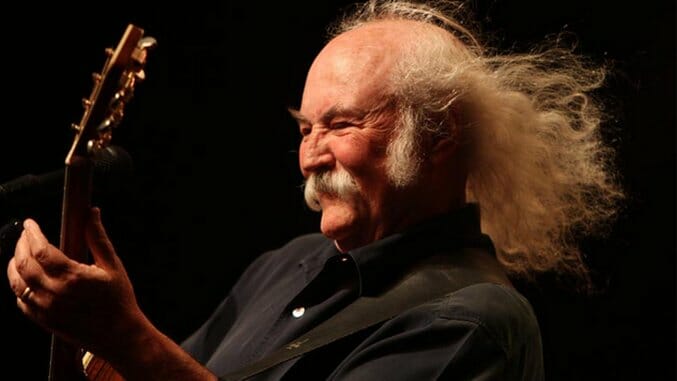 To paraphrase a lyric by David Crosby's on-again/off-again band mate Neil Young, it's (never) better to burn out, because once you do, it's likely you will fade away. Crosby has experienced both scenarios, and one threatened to cause the other to occur. For the better part of the 1970s and '80s, he stumbled about, plagued by severe substance abuse, becoming—by his own admission—wasted on the way. He squandered his talents, alienated his friends and band mates, and eventually became zombie-like, a sad remnant of his former self. Had he not spent time in a Dallas jail after finding himself destitute, drugged out and without anywhere to turn, he likely would have been left to his own devices and ultimately succumbed to self-destruction.
Of course, that would have been a tragedy, especially for a musician who was in the front lines of the burgeoning folk rock era of the mid-'60s. The songs he wrote and recorded with the Byrds became classics, and his gift for harmony revolutionized the way voices could be locked in unison. Yet even early on, his irascible personality led to his discharge from that first band of brothers, and from there to the subsequent union of Crosby, Still, Nash and occasionally Young. That band had its own share of interpersonal squabbles, and crusty personalities, and as Crosby's dependence on crack cocaine intensified, his alienation from his band mates was further exacerbated.
By the end of the '70s, Crosby was living on the fringe personally and creatively. His efforts with Graham Nash gave him a second lease on life, as did his later collaboration as part of CPR, the belated reunion with his long lost son James Raymond. Nevertheless, his individual career floundered for years; after his debut solo album in 1971, If Only I Could Remember My Name, Crosby took another 18 years to release its follow-up, Yes I Can. His last album, 2014's Croz was more than 20 years removed from its predecessor, but with the announcement of a new album called Lighthouse, due out October 21, he again seem to finally be on track.
For all his flaws and foolishness, Crosby saved himself by his love of music and the spirit of song. "I started out a solo folkie singing in coffee houses," he told this writer prior to the release of Croz. "As I slowly began to write, I started singing my own songs. And very often when you start out that way, you're singing in bars. You have people drunk out of their nut and yelling 'Hey, do you know 'In-A-Gadda-Da-Vida?' It's a hell of a school to learn in, but it was very good for me actually. I'm very glad I did it."
Considering his entire career trajectory and various projects, here are 13 of the greatest compositions by David Crosby.
13. "What Are Their Names"
Crosby's bouts of paranoia became an integral part of his perspective throughout much of the late '60s, as first evidenced at the famed Monterey Pop Festival in the summer of 1967, when he famously stood in for Neil Young and played with Buffalo Springfield. However, the tipping point may have come earlier in the festival with the Byrds, as he took center stage and espoused his theory that JFK's assassination four years earlier was indeed a conspiracy that was being hidden from the American people. The Byrds' "Everybody's Been Burned" and CSN's "Almost Cut My Hair" and "Long Time Gone" also reflected his suspicion that The Man had him in his sights. But this song, released on If Only I Could Remember My Name questions the government and The Man in pleading terms" about peace for mankind."
12. "Music Is Love"
Many of Crosby's early songs began as simply a slow meandering melodies stemming from a stoned drift that had a trance-like effect on listeners. This simple celebration of song, culled from If Only I Could Remember My Name, evolved from a jam with Nash and Young. And while it's more hippie happenstance, it still has an ethereal charm all its own.
11. "Wooden Ships"
Written with Stephen Stills and Jefferson Airplane's Paul Kantner, this classic CSN song picks up on another of Crosby's favorite themes—that of living in a utopian world where communal collaboration is the key to survival. Those purple berries sung of in this musical dialogue may well be a symbolic analogy for LSD (it famously came in purple tabs on various occasions), but the essence of sharing while living off the land made this a signature showstopper for both CSN and the Airplane, as well.
10. "Almost Cut My Hair"
A startling admission on 1970's CSN album Déjà Vu, Crosby's willingness to shed his follicles ("It's getting kinda long") is really just another admission of his fear of being followed by an unseen adversary, as expressed in the line about "looking in the mirror and seeing a police car." When he was sent away to prison, those long locks were shed in the process, but these days, with his wispy white hair and benign, grandfatherly visage, we can all celebrate the fact that his freak flag still flies.
9. "Eight Miles High"
It's hardly surprising that at the time, certain radio stations banned "Eight Miles High" beause of its alleged drug connotations. However all Byrds involved—Crosby, Roger (then Jim) McGuinn and Gene Clark—insisted that this Fifth Dimension track was nothing more than a travelogue describing their initial impressions of England. Still, the lyrics were full of psychedelic suggestion ("Eight miles high and when you touch down, you'll find that it's stranger than known"). Crosby's fascination with the new and strange music of Ravi Shankar and John Coltrane also had a marked influence on the sound, an otherworldly quality that set it apart from anything that came before or, for that matter, has been heard since.
8. "Laughing"
Another track from If Only I Could Remember My Name, "Laughing" is a trippy ode to acid rumination that hints at some deeper meaning. Crosby claims it was inspired by George Harrison's conversations with the Maharishi. But ultimately, it's the ambiance and not the attitude that allows the song to succeed. It also helped to have a back-up band that was a '60s music devotee's dream team—Jerry Garcia, Bill Kreutzmann and Phil Lesh of the Dead providing the instrumentation, with Joni Mitchell supplying backing vocals.
7. "Triad"
Crosby never made a secret of his love of debauchery and he became a steadfast support of the hippie ideal, of which so-called free love was always an inherent part. When he offered this to the Byrds for inclusion on The Notorious Byrd Brothers. McGuinn and bass player Chris Hillman were so shaken by Crosby's willingness to contest society's norms that they forbade its inclusion. It too became another one of the final factors in the band's decision to hand him his walking papers (although Crosby would later insist the decision was his entirely). Still, the song was not lost; Jefferson Airplane chose to cover it for on Crown of Creation, giving Grace Slick reason to interpret it with a particularly seductive style.
6. "The Lee Shore"
Crosby's love of sailing served more than one purpose, and the times he spent on his beloved boat provided him the inspiration for many of his best songs. "I love the sea," he once said. "I love sailing because it's a lodestone; it's a thing that keeps me in touch with the real world. On the boat, the ocean doesn't know who you are." While being out at sea gave him the freedom to plot his course away from civilization and its inherent hassles, it also provided the dreamy and descriptive imagery that colored his music and melodies. "Lee Shore," from CSN's 4 Way Street is an ideal example—a tale of breezy enchantment and discovery so vivid, it's almost possible to smell the salt air and hear the waves lapping against the hull. As far as Crosby's catalogue is concerned, this combination of lyric and melody has never been bested.
5. "Long Time Gone"
This CSN song is Crosby's ultimate anthem—a rigorous retort to those who would feel content with keeping the status quo. "Speak out against the madness," the singer urges, decrying the Nixon-era acrimony as the Vietnam War waged and protests became increasingly more pronounced. This was a time when it was Us against Them, the Counter Culture at odds with Middle America, the Freaks versus the Straights. It all came to a head at Kent State, and this particular song, laced with Crosby's passionate plea, was later echoed in his anguished wail at the conclusion of Neil Young's own "Ohio."
4. "Renaissance Fair"
According to Crosby himself, this song was inspired by the hippie, freewheeling vibe that all but dominated the youthful landscape throughout the mid and late '60s—the fairs, festivals and the gatherings of the tribes. It also happens to be one of the best examples of the Byrds at their best with soaring melodies, seamless harmonies, and far-flung imagery that transports the listener to another time and place.
3. "Carry Me"
Drawn from the circumstances surrounding his last hospital visits to his mother as she faced her final gruelling battle with cancer, "Carry Me" is one of the most beautiful songs of Crosby's cannon. The sense of liberation, of setting oneself free from these earthly bonds, becomes anthemic in its own way, its chorus an uplifting call to arms, a beckoning for every restless spirit yearning to separate from the bonds of Mother Earth and soar towards new heights, if even in a metaphysical sense.
2. "Guinnevere"
Crosby wrote "Guinnevere" for the three woman with whom he first formed his strongest bonds—Joni Mitchell, Christine Hinton and Nancy Ross. Crosby produced Mitchell's debut album and the two had a torrid affair before she became involved with Graham Nash. Christine Hinton was the love of his life but died tragically in a head-on car crash, a psychological trauma from which he never fully recovered. Ross was his love interest before them all, although Crosby declined to name her as his muse. She left him for Gram Parsons, but her penchant for drawing pentagrams on the wall lives on in the lyric.
1. "Déjà Vu"
In every sense, this song takes Crosby back to the beginning, to a life lived before as well as one entrenched in the here and now. The title track to Crosby, Stills, Nash and Young's first album, its lovely scat singing, seamless harmonies and otherworldly ethos ("And I feel like I've been here before") makes this more than merely a song, but a defining encounter.