Listen to One of Ella Fitzgerald's Great Performances, From 1953
On Feb. 7, 1953, the First Lady of Song visited the legendary Storyville club in Boston.
Photo: Getty Images
Music
Features
Ella Fitzgerald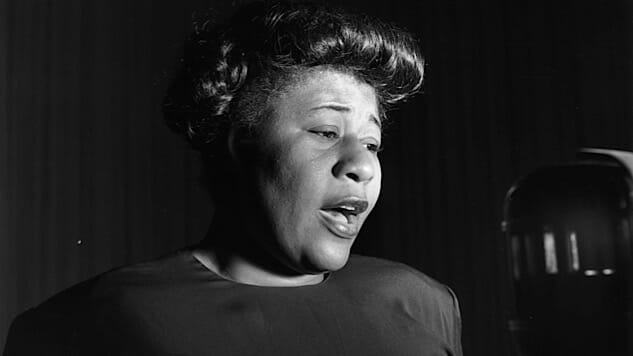 Did you know that Paste owns the world's largest collection of live music recordings? It's true! And what's even crazier, it's all free—hundreds of thousands of exclusive songs, concerts and videos that you can listen to and watch right here at Paste.com, from Dizzy Gillespie to The Kinks to Public Enemy to HAIM. Every day, we'll dig through the archive for the coolest recording we have from that date in history. Search and enjoy!
In 1950, 25-year-old jazz-loving entrepreneur and Boston native George Wein opened a nightclub in the Copley Square Hotel. He called it Storyville. Named for the historic section in New Orleans where prostitution was confined by city ordinance and where pioneers like Jelly Roll Morton played piano in the bordellos, Wein's Storyville was an instant success. The room was inaugurated in late September 1950 by the Bob Wilber Septet, and the place was packed every night afterward. The following year, Wein relocated to a larger room in the Hotel Buckminster on Kenmore Square, near Fenway Park. He once again hired clarinetist Wilber to inaugurate the new room in the first week of February 1951. During that year, Wein booked such stars as boogie-woogie piano pioneer Meade Lux Lewis; jazz piano virtuoso Art Tatum; tenor saxophonist Stan Getz; iconic jazz singer Billie Holiday; pianists George Shearing and Erroll Garner, and legendary soprano saxophonist Sidney Bechet. By 1952, he was booking stars like Dinah Washington and Sarah Vaughan, and by 1953, the club was operating in the black.
Read: The 14 Best Ella Fitzgerald Songs
On Feb. 7, 1953, Ella Fitzgerald appeared at Storyville during a precarious period between record deals—after her classic Decca period from 1935 through the late 1940s and before her popular and longstanding relationship with the Verve label from 1956 to 1967. After putting the finishing touches on her first number on opening night of a weeklong engagement at Storyville, the First Lady of Song launches into an earthy rendition of "Why Don't You Do Right?," a blues tune from the 1930s that was popularized in 1942 by Peggy Lee. She has a false start due to some uncontrollable giggles at the outset, but once back on track she deals in urgent tones with jazzy accompaniment from pianist Hank Jones as she sings, "Why don't you do right like some other men do /Just get out of town and get me some money too." Midway through, she begins to take liberties with the tune in her liquid, interpretive phrasing and finishes with a flourish along with her regal backing trio.
Shifting to an easy, midtempo swing mode, with the great Count Basie drummer Jo Jones on brushes, Ella and her fellas ease into a hip rendition of the Tin Pan Alley tune "Mean to Me," replete with her unparalleled bop-fueled scatting.
The second part of this radio broadcast features the Jo Jones Quartet, with Storyville impresario Wein taking over for Hank Jones at piano. He and Jones are joined by bassist Jimmy Woods and trumpeter Ruby Braff on jaunty, swinging interpretations of three Tin Pan Alley nuggets: "Please Don't Talk About Me When I'm Gone," "Pennies from Heaven" and "Sometimes I'm Happy," all of which are underscored by Jones's inimitable touch with brushes and features some particularly soulful playing by the Louis Armstrong-influenced trumpeter Braff. And Wein more than holds his own as a first-rate accompanist and soloist in his own right.