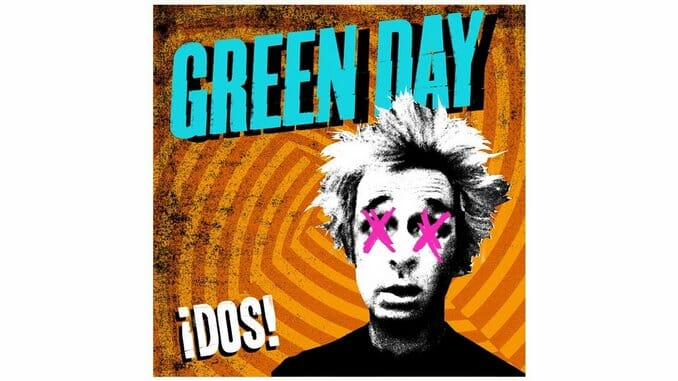 "I'm too sick to throw up," sings Billie Joe Armstrong on "Lazy Bones," a hard-hitting gem on Green Day's 10th studio album. "Everyone keeps talking, and they can't shut the fuck up." More-so than Uno!, the first of the band's 2012 trilogy, Dos! bears the strain of a man—and a songwriter—crying out for help. In light of Armstrong's current bout with alcoholism (and the band's subsequent tour cancellation), lyrics like these take on a stirring, uncomfortable new slant. "I don't want your sympathy," Armstrong snarls on the same track, as Mike Dirnt's propulsive bassline sizzles over an infectious Tre Cool drum blast, "I just want to get some peace of mind." On "Lazy Bones," that confessional spirit adds urgency to the band's power-chord crunch. Elsewhere, though, there's a troubling lack of focus.
Green Day have always excelled at genuine juvenile stupidity—for Christ's sake, it's what defined Dookie's brilliance. But that pissed-off, horny teenage spirit feels awkward on the very-literal "Fuck Time," in which Armstrong romances a prospective lay with the offer "I want to fuck ya till you're blue in the face" (Ladies, get in line!) over raunchy power chords and a boogie-woogie chorus. "Make Out Party" is disposable delinquent garage-rock, crammed with adolescent party references (spin-the-bottle, truth-or-dare), though it's momentarily rescued by the rhythm section, who transform the track with a funky coda. Most offensive is the electro-pop scourge of "Nightlife," which features rapper Lady Cobra's ridiculous faux-sexy rap-croon and cheap drum programming.
When Armstrong lets his guard down, the results are outstanding: "Stray Heart" is a Beatles-styled rush, Armstrong soaring to his falsetto over classic-pop chord changes; "Wow! That's Loud" is a hair-blowing power-pop singalong with a skyrocketing guitar figure from Jason White. But the album's true heartbeat is closer "Amy," a stripped-down guitar-vocals ballad dedicated to fallen soul icon Amy Winehouse. When Armstrong asks, with raw, first-take intimacy, "Did you tattoo a lucky charm to keep you out of harm's way?" it's the sound of one troubled soul reaching out to another, desperate for answers. It's a much-needed dash of poignancy on an album that too often buries its emotions.