Greta Van Fleet Goes Record Shopping with Paste
Watch the young rockers with stadium-sized ambitions load up on new sounds.
Photo: Getty Images
Music
Features
Greta Van Fleet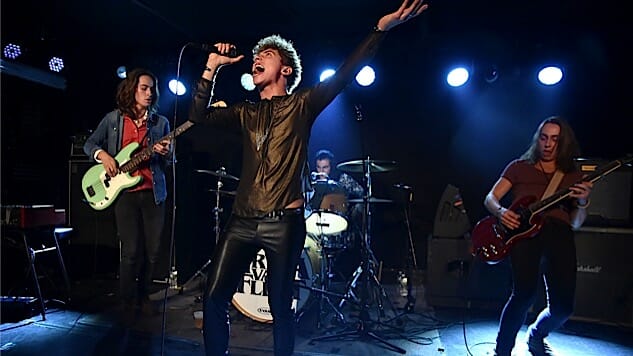 Frankenmuth, a small town in Michigan of just under 5,000 people, doesn't have much going on. It boasts a famous covered bridge and a respectable Oktoberfest festival, and it also happens to be the hometown of Greta Van Fleet, the barely-out-of-their-teens, '70s-indebted rock outfit that could be labeled the past, present and future of rock 'n' roll all rolled into one. Their debut EP Black Smoke Rising, released in April, kicks off with a roadhouse guitar riff and Joshua Kiszka's high-flying Robert Plant wail on "Highway Tune," immediately pegging Greta Van Fleet as a band with stadium-sized aspirations.
On a recent afternoon in Greenwich Village, the group—which comprises Kiszka on vocals, his twin Jake Kiszka on lead guitar, younger brother Sam Kiszka on bass, and Danny Wagner on drums—popped into Generation Records along with Paste to pick up some new vinyl, offering a glimpse into their influences and obsessions.
When choosing records, the boys mainly stuck to the classics—like Neil Young's Decade and the Rolling Stones' Through the Past, Darkly: Big Hits Volume Two—which seemed fitting for a band that always has one foot firmly planted in the Led Zeppelin blueprint of wailing rock. There were some overlaps among picks, including lots of blues legend Lightnin' Hopkins and early Bob Dylan. In a nod to their beginnings as a family act, some choices were obviously steeped in nostalgia. Explaining why he picked out a copy of the 1961 Robert Johnson compilation King of the Delta Blues Singers, Sam Kiszka described the blues-based bond that holds Greta Van Fleet together. "This," he said, "is the stuff we were listening to before we were even born."
Joshua picked up a copy of Howlin' Wolf's Moanin' in the Moonlight
Some grabs were more surprising, though still within the strikezone of 20th-century classics. Along with psychedelic pop band Love's Forever Changes, Joshua walked away with Ennio Morricone's soundtrack for the 1966 film The Good, the Bad, and the Ugly. Wagner took home a copy of Fleet Foxes' Helplessness Blues. In all, Greta Van Fleet's collective taste reflected their strength as a band: the ability to recall the greats while bringing forth the energy of the future.
On the verge of becoming a household name, Greta Van Fleet are on tour now, so catch them before they're too big for the theater in your town.
GRETA VAN FLEET 2017 TOUR DATES
October
14: Austin (The Parish)
15: Grand Prairie (97.1 the Eagle Presents Freaker's Ball)
19: Los Angeles (The Troubadour)
20: Los Angeles (Moroccan Lounge)
21: Sacramento (Monster Energy Aftershock)
23: Portland (Hawthorne Theatre)
24: Seattle (Tractor Tavern)
25: Spokane (The Knitting Factory)
29: Los Angeles (Troubadour)
30: Los Angeles (Troubadour)
November
30: Chicago (Lincoln Hall)
December
1: Peoria (WIXO Nutracker 20 X-Mas Show)
2: Omaha (Sokol Auditorium)
5: New York (The Bowery Ballroom)
12: Johnson City (Capone's)
14: Saint Lous (Delmar Hall)
15: Lawrence (Granada Theater)
16: Des Moines (Wooly's)
18: Nashville (Mercy Lounge)
28: Detroit (St. Andrews Hall)
29: Detroit (St. Andrews Hall)
30: Grand Rapids (The Intersection)