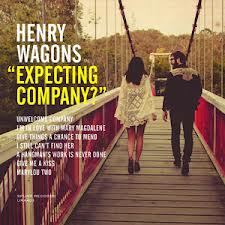 "I'm in love with Mary Magdalene!" Henry Wagons bellows early on his new duets EP, Expecting Company? Of course he is. The Australian singer approaches country music not as a musical genre, but as a cultural milieu to be exploited for its dark amorality. As on previous album with his band Wagons, the keys are uniformly minor, the subjects dark and gritty, the stakes always Biblical. The song "I'm in Love with Mary Magdalene" features guest vocals by Sophia Brous, who plays Nancy Sinatra—or at least Nina Lizell—to his besotted Lee Hazlewood, but the effect is more comical than grave. There's something about Wagons' earnestness that punctures his posturing. Listening to Expecting Company? is like watching a little kid play dress-up in a blood-spattered nudie suit. He's trying so hard, but he just can't pull it off.
Lord knows it's not his partners' fault. Wagons has good taste in vocal foils. The Kills' Alison Mosshart struts through "Unwelcome Company" like she's Tura Satana in Faster Pussycat Kill Kill, and Robert Forster, formerly of the Go-Betweens, lends "I Still Can't Find Her" its shaky gravity. Typically, they diffuse Wagons' spaghetti-western morbidity, but poor Patience Hodgson can't rescue the clownish "A Hangman's Work Is Never Done," which literalizes gallows humor without actually being very funny. The EP ends with a whimper, as Wagons revives "Marylou Two" off his band's previous album, Rumble, Shake and Tumble. It's a whisp of a song, over before you know it and an unceremonious end to an album that tries so hard to demand your attention.
For all his Little Nicky Cave mannerisms and melodramatic protestations—this is a guy who probably believes that Johnny Cash really did shoot a man in Reno just to watch him die—Wagons commits the cardinal sin of being dull. On Expecting Company? he's so busy inking LOVE and HATE on his knuckles that he forgets to write actual songs, so what we're left with is an EP full of hollow gestures. But at least it's an EP instead of an LP.