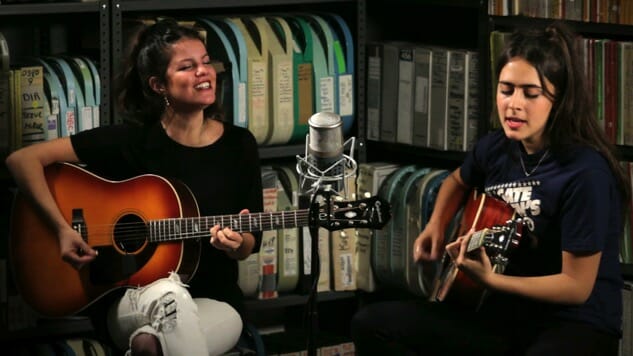 Madrid's lo-fi garage pop sensation Hinds stopped by the Paste Studio recently to perform a couple of songs from their debut album, Leave Me Alone, which dropped on January 8 via Lucky Number.
Hinds (FKA Deers until 2014) formed in 2011 as a duo featuring vocalist/guitarists Carlotta Cosials and Ana Perrote and eventually became a foursome with the addition of bassist Ade Martin and drummer Amber Grimbergen.
Prior to the release of their first album, the quartet had already supported the likes of The Vaccines and The Black Lips in 2014 and embarked on a full world tour in 2015.
Watch Hinds' performance of "Bamboo" above and "Garden" below, and be sure to snap up Leave Me Alone, out now. Also, don't miss Hinds on their "Leave Me Alone" World Tour.