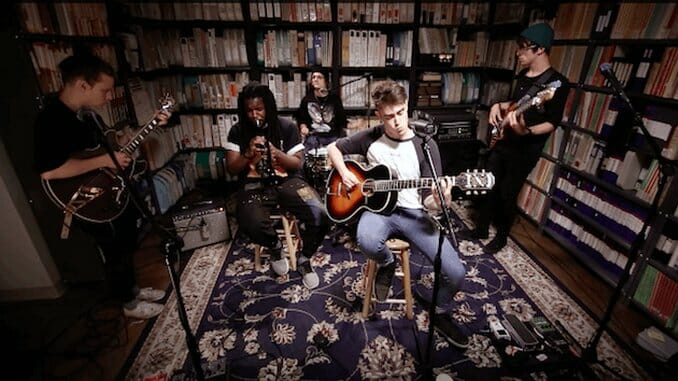 The years following high-school graduation can be tumultuous, but for the guys in Hippo Campus, who formed at the Saint Paul Conservatory for Performing Artists in St. Paul, Minn., four years ago, life seems as comfortable and fun as ever. The four-piece, which was featured as a Best of What's Next back in 2015, visited the Paste studio last week to crack some jokes and perform songs off their debut LP, Landmark.
Hippo Campus performed three new tracks, "Way It Goes," "Western Kids" and "Boyish," showcasing a nimble pop-rock sound that recalls Vampire Weekend and Ra Ra Riot. While the initial creation of the tracks on Landmark was similar to that of the group's successful EP Bashful Creatures, lead singer Jake Luppen shared that the band's recording process has evolved in the few years they've been together. "We still kind of wrote the same way, with the four of us in a room," he said. "What changed was that we would bring the songs into the studio, and then we would kind of mess with them or rearrange them in the studio."
For their current tour, Luppen, guitarist Nathan Stocker, bassist Zach Sutton and drummer Whistler Allen have been joined by another Saint Paul alumnus: trumpeter DeCarlo Jackson, a friend and former bandmate of some of the Hippo Campus members, who has joined the band on tour. At the Studio, mellifluous horn, paired with Luppen's opera-trained, rich falsetto, made for a soulful, honeyed sound.
"We never played small rooms, we were just hugely popular from the get-go," joked Sutton.
Having toured the world and gained the popularity they joke about, one has to wonder how the band's members always have so much to laugh and smile about. "It's the best job I ever had," Sutton answered simply. "It's easy to be happy if you're having fun."