Honey Lung Share Blistering, Tender New Single "Nothing"
Photo by Timothy Casten
Music
News
Honey Lung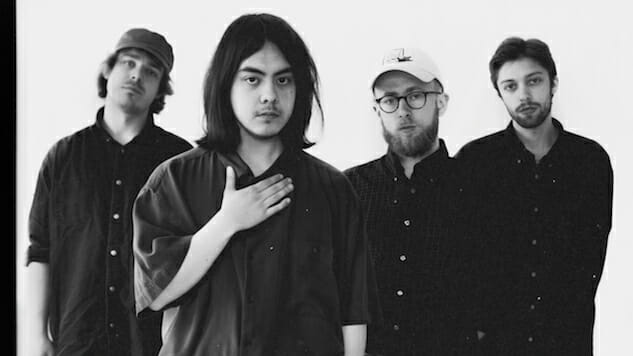 London rock quartet Honey Lung have shared a new single "Nothing," their first new music since their Memory EP, released earlier this year via Brooklyn's Kanine Records. The single comes with an accompanying video with animation by Callum Scott-Dyson at CSD Videography. Paste premiered Honey Lung's previous single "Export The Family," which you can revisit here.
Opening with light acoustic strums and sedating, backwards guitar whooshes, "Nothing" strikes like quicksilver with a guitar riff for the ages. Besides the riff's obvious stickiness, the juxtaposition between the tender and the blistering is what makes this track a winner. Lead singer Jamie Batten's vulnerable lyrics, trustworthy lead vocals, and gentle xylophone touches coalesce with layers of supercharged, hooky guitars. Lyrically, this song is where the imperfections of a relationship come to a head. We're ultimately left at a crossroads—should gut emotions be overlooked to preserve the relationship or should they never be compromised?
"Everything is coming into focus," the band says of their new release. "We know what we are and where we are going. 'Nothing' has been the closest we have come to creating the sound in our heads."
Honey Lung made their first stateside trip earlier this year to perform at Austin's South By Southwest, where they also recorded an exclusive live session for Paste.
Listen to "Nothing" and watch Honey Lung's Paste session from SXSW 2019 below. Scroll down to view their upcoming tour dates, and you can purchase their Memory EP on 12-inch vinyl here.
Honey Lung Tour Dates:
November
29 – Southampton, U.K. @ Heartbreakers
30 – Leeds, U.K. @ Headrow House
December
01 – Manchester, U.K. @ Jimmy's
03 – Edinburgh, U.K. @ Sneaky Pete's
04 – Bristol, U.K. @ Crofters Rights
05 – London, U.K. @ Boston Music Room