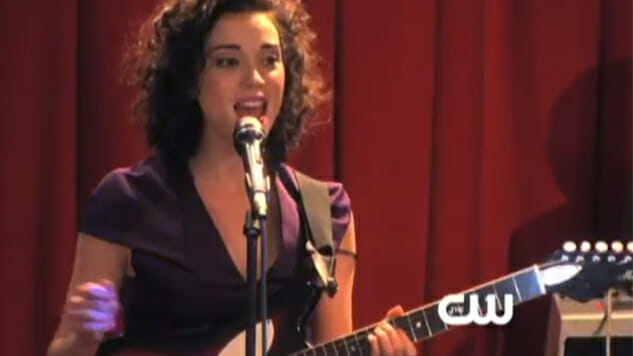 Before they changed your life (and launched a few thousand eye rolls), the Shins were just a lowly indie band name-dropped by Rory Gilmore. And oh, how far they've come: The once-unknown rockers are on the verge of releasing their fifth album, Heartworms, on March 10.
Of course, The Shins, weren't the first and certainly aren't the last band to get a big one-up thanks to the small screen. Numerous acts have gained listeners and popularity thanks to mentions or performances on popular TV shows. Here's a rundown of 10 classic TV name-drops of indie rock bands.
1. The Shins
Show: Gilmore Girls
James Mercer and co. eventually graced Gilmore Girls with a live performance (which later culminated in an awkward kiss between Rory and Paris, because SPRING BREAK!), but previously, the group made their debut via Rory's headphones. In Season One, the new-to-prep-school young Gilmore sat at lunch, alone, listening to "Know Your Onion!" off the Shins' debut. The group may have gone on to change Zach Braff's life in 2004's cult classic film Garden State, but Rory totally knew them when back when the show started in 2000.
2. St. Vincent
Show: Gossip Girl
Considering Josh Schwartz, executive producer of Gossip Girl, was also behind The O.C., it's not surprising Manhattan's elite were inclined to drop a name or two. One of the most uncomfortably obvious was courtesy of Dan Humphrey during Season Five's Valentine's Day episode. "Hey, look who I saw racing through the lobby as I was listening to St. Vincent," he says (typically) to no one who cares. Fortunately, the excellent Annie Clark performed not one but two songs, "Cruel" and "Cheerleader," the latter of which leading a bowtied and be-scarfed Chuck Bass on a seduction mission.
3. Death Cab for Cutie
Show: The O.C.
Even if you didn't watch The O.C., chances are you knew about the Death Cab for Cutie association. Indie poster boy Seth Cohen had a literal poster of the band in his bedroom (still a major swoon for those of us harboring unrequited nerd-love) and spared no opportunity to inexhaustibly profess his love. When Death Cab did finally perform at local club/Marissa Cooper's lair of bad decisions, the Bait Shop, Cohen didn't arrive until the show ended. And to think, back then he couldn't even relive the night through Snapchat.
4. The Unicorns
Show: How I Met Your Mother
Of all the left-field TV name-drops, this one feels the furthest. Sure, The Unicorns had a brief indie darling moment circa the early 2000s, but Ted Mosby going all fangirl about the group on a less-than-hip CBS sitcom in 2010 felt misplaced. In fairness, Rachel Bilson, otherwise known as Seth Cohen's girlfriend, did guest star on the episode, though, lending just a hair more indie clout.
5. Björk
Show: Gilmore Girls
Though countless bands were name-dropped during this show, only one artist had the dubious honor of inspiring a snowwoman. In Season Two, Rory and Lorelai build what is apparently supposed to resemble an Icelandic-looking icon as part of a Stars Hollow snowman competition. Later, Jess astutely observes the creation, "kinda looks like Björk," which Rory confirms, duh, that's what they were going for.
6. The Flaming Lips
Show: Beverly Hills 90201
This performance spawned a number of great moments. The most-annoyed-ever Donna Martin asserting, "I can't take waiting around for this 'mystery band;'" Valerie introducing them as, "the cool, the crazy, the fabulous Flaming Lips!;" Square Steve correctly identifying, "it's not Michael Bolton." Penny for their thoughts on what "jelly" means.
7. Sonic Youth
Show: Gossip Girl
Once upon a time, Rufus Humphrey's sad forgotten '90s band opened for, as Blair's maid Dorota affectionately refers to them, "the Sonic Youths." It doesn't explain much about why 20 years later, the band was called as last-minute entertainment for Rufus' wedding to the billionaire Lily van der Woodsen, but sure. We're going with it. For the wedding dance, Sonic Youth threw back to "Starpower" off 1996's EVOL, and as an added bonus, Kim Gordon officiated the wedding thanks to, "a sketchy service on the Internet." For anyone who cries "sellout," it should be noted Gordon was, in fact, a fan of the show in real life.
8. Sleater-Kinney
Show: The L Word
This is mostly a straightforward performance of Sleater-Kinney's song "Jumpers," but it's worth including simply for the ludicrous 2006 fashions and for Shane holding up her flip phone.
9. The Violent Femmes
Show: Sabrina the Teenage Witch
Sabrina the Teenage Witch nabbed a number of in-the-moment stars, namely the likes of Britney Spears and *NSYNC, but The Violent Femmes guest spot felt the most random. And, in retrospect, it was a little pervy. After traveling to Boston to meet the band, a spell causes frontman Gordon Gano to fall in love with Libby, and he ends up inviting the teenager to his hotel room. Luckily, that never happened (we think).
10. The Smashing Pumpkins
Show: The Simpsons
Even if The Smashing Pumpkins weren't exactly considered indie when "Homerpalooza" aired, it gets all the points for one infamous interaction: "Billy Corgan, Smashing Pumpkins." "Homer Simpson, smiling politely."