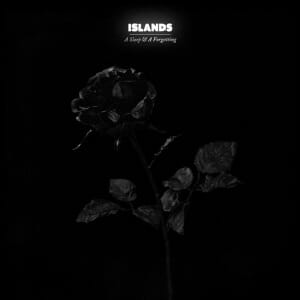 It's said that Phil Collins would never have left Genesis and ventured out on his own if his relationship with his first wife hadn't crumbled. If Adele's boyfriend hadn't smashed her heart, her hit 21 may have never have made its way to the top of the charts. And Beck's tear-jerking and game-changing Sea Change was recorded after he split with his girlfriend of nine years.
For Islands frontman Nick Thorburn, the band's latest album, A Sleep & A Forgetting, is about more than a breakup. It's about completely losing a way of life and having to start all over again. He started writing it on Valentine's Day last year after breaking up with his longtime partner, leaving his New York home and moving to Los Angeles. He started messing around and writing songs on a piano he found in his new abode—and a year later came Islands' fourth record.
Fans of the group's last effort Vapours may be sorely disappointed. The mood of the new album is a little more Elliott Smith, a little less like The Unicorns. That's not to say that A Sleep & A Forgetting is a bad album. Thorburn pours his soul into tracks he says were recorded live in less than two weeks with help from bandmate Evan Gordon. Heartbreak and pain provide the backbone for much of the record, but Thorburn's approach to loss is somewhat playful. For those who need to cry a little bit this Valentine's Day but don't want to listen to dirge-like pianos over sobbing vocals, Thorburn's musings are a step up from the standard, simply-too-sad breakup track. He says this record is his "warped" interpretation of soul music, courtesy of a "white kid from Canada."
He pulls from his experience with Ryan Kattner of Man Man and Joe Plummer of Modest Mouse in side project Mister Heavenly. Songs such as "Hallways" revisit their signature mix of dark musical elements and doo-wop, doom-wop. It sounds upbeat at first but the point becomes clear as soon as Thorburn begins singing — "I miss my wife/I miss my best friend/every night/I miss my home/I miss my own bed/my old life."
This is par for the course for the rest of the record. But even if you're not in the mood for depressing songs about the end of a relationship, A Sleep & A Forgetting is worth a listen or two. "Never Go Solo" is one of the catchiest songs on the record with a toe-tappable piano intro and one of the catchiest choruses I've heard in a bit.
Middle-of-the-road, soulful "No Crying" provides a transition to more somber fare, including Thorburn's inspired tribute to Buddy Holly's widow Maria Elena Holly titled "Oh Maria" and album closer "Same Thing," where Thorburn proclaims "there's no one in this world I could ever love again." The pain in his voice is enough to make you want run to him and give him a big hug.
Though the subject of A Sleep & A Forgetting is one of the most common human experiences, the album is not a generic tribute to a breakup. It's an inspired look at the grieving human heart. And one of the best Islands records so far, to boot.