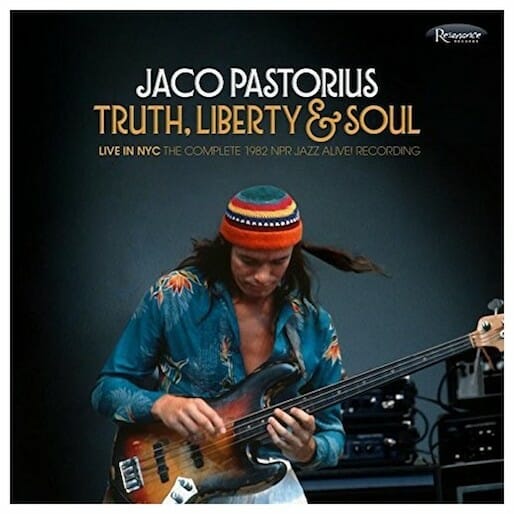 Great lost recordings are hard to come by, particularly in situations like those of Jaco Pastorius. Approaching obscurity upon his tragically early passing, the pioneering bassist's legend has only grown with time, particularly because he's exactly the type of figure classic jazz needs in its fight for mindshare among youth increasingly unfamiliar with the form. Pastorius was a rock star, an innovator, a flamboyant comet recognized by disciples who range across all genres (including his loudest supporter, Robert Trujillo of Metallica). All too convenient, then, that a full performance of a rare live outing reveals itself so many decades later. So the immediate question that presents itself is: "How great a find do we have here?"
In and of itself Truth Liberty & Soul is a fantastic performance. But better still, it provides a counterintuitively good look at what was special about Jaco. Those who primarily imagine Pastorius as a searing fusion pyromaniac may at first be surprised by the classicist reverence of the big band-oriented performance captured here. In 1982, his focus was on the direction he had taken on his Word of Mouth album, where the then-contemporary tropes of fusion gave way to an interest in playing with horns in traditional structures. While this performance in particular was studded with some of New York's greatest horn-players, the gentle interplay with Toots Thielemans' harmonica and Othello Molineaux's steel drums show him in a different mode than the foot races he attempted with fellow Trio of Doom member John McLaughlin.
With its spare moments and occasional jaunty covers, though, this set aptly captures so many of Jaco's main points of style: his elegant use of harmonics, the fluidity of his basslines, his ability to tear off with speed and then return to quiet, beautiful tones. Like his work with Joni Mitchell or his better moments with Weather Report, the stretches of restraint are often truly the way into his virtuosity. It's also just a good listen; you don't need to understand the math or theory of his playing to appreciate the variety of his choices or the thoughtful way he interacts with every other instrument in the mix. For those looking for a way into Jaco, Truth Liberty & Soul isn't the only document you need, but it's a very good start. For those already converted, it really does constitute an essential discovery.