Jason Isbell and the 400 Unit Announce New Album Weathervanes
Photo by Danny Clinch
Music
News
Jason Isbell
Jason Isbell is back with a new album, Weathervanes, his sixth with his Muscle Shoals band the 400 Unit—Sadler Vaden, Jimbo Hart, Derry deBorja and Chad Gamble—and his ninth overall since leaving the Drive-By Truckers.
The band released the first single "Death Wish" from the new album, written and produced by Isbell and due out June 9 via Southeastern Records/Thirty Tigers. "Did you ever love a woman with a death wish / Something in her eyes like switching off a light switch," he sings to open the driving Southern rock song with beautiful strings by Morgan O'Shaughnessey. "Everybody dies but you gotta find a reason to carry on."
The song flips the script on Isbell's own experience reaching rock bottom with alcohol and drugs in 2012 and finding support and intervention from those who loved him. The song addresses depression from the standpoint of a person who loves someone that's struggling. "I don't want to fight with you baby," he sings, "but I won't leave you alone."
"There is something about boundaries on this record," Isbell said in a statement. "As you mature, you still attempt to keep the ability to love somebody fully and completely while you're growing into an adult and learning how to love yourself."
Written and produced by Isbell and recorded at Nashville's Blackbird Studio, the album features Isbell's wife Amanda Shires, harmonicist Mickey Raphael, Sylvia Massy, Ian Rickard and O'Shaughnessey.
Watch the lyric video for "Deathwish" and check out the album cover, tracklist and tour dates below.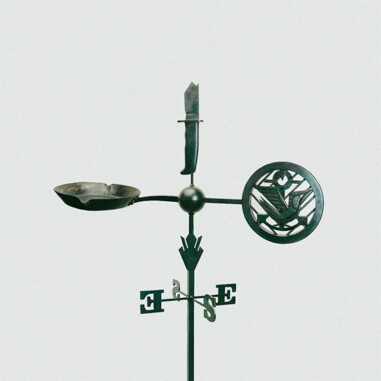 Weathervanes Track Listing:
"Death Wish"
"King of Oklahoma"
"Strawberry Woman"
"Middle Of The Morning"
"Save The World"
"If You Insist"
"Cast Iron Skillet"
"When We Were Close"
"Volunteer"
"Vestavia Hills"
"White Beretta"
"This Ain't It"
"Miles"
Jason Isbell and the 400 Unit's Tour Dates:
3/1 – Calgary, AB / Jack Singer Concert Hall *
3/2 – Edmonton, AB / Northern Alberta Jubilee Auditorium *
3/4 – Kelowna, BC / Kelowna Community Theatre *
3/5 – Vancouver, BC / Queen Elizabeth Theatre *
3/6 – Victoria, BC / Royal Theatre *
3/8 – Boise, ID / Morrison Center +
3/9 – Jackson Hole, WY / Jackson Hole Center for the Arts +
3/10 – Bozeman, MT / The Elm +
3/11 – Billings, MT / Alberta Bair Theater +
3/12 – Rapid City, SD / The Monument – Fine Arts Theatre +
3/14 – Joliet, IL / Rialto Square Theatre +
3/15 – Joliet, IL / Rialto Square Theatre +
4/5 – Sydney, AUS / Enmore Theatre (with Allison Russell)
4/6 – Melbourne, AUS / Palais Theatre (with Allison Russell)
4/8 – Tyagarah, NSW / Bluesfest **
4/22 – Miramar Beach, FL / Moon Crush: Seascape Beach Resort **
4/28 – Cincinnati, OH / Andrew J Brady Music Center ^
4/29 – Cincinnati, OH / Andrew J Brady Music Center ^
4/30 – Scaly Mountain, NC / Bear Shadow Music Festival **
5/2 – Omaha, NE / Orpheum Theater ^
5/3 – Morrison, CO / Red Rocks Amphitheatre #
5/4 – Morrison, CO / Red Rocks Amphitheatre #
5/6 – Salina, KS / Stiefel Theatre ^
5/7 – Lubbock, TX / Helen DeVitt Jones Theater at The Buddy Holly Hall ^
5/9 – Dallas, TX / The Factory in Deep Ellum ^
5/11 – Austin, TX / Austin City Limits Live at The Moody Theater ^
5/12 – Austin, TX / Austin City Limits Live at The Moody Theater ^
5/13 – Austin, TX / Austin City Limits Live at The Moody Theater ^
5/14 – Little Rock, AR / The Hall ^
6/15 – Fayetteville, AR / JJ's Live (with Adeem The Artist)
6/16 – Kansas City, MO / Boulevardia **
6/18 – Indianapolis, IN / WonderRoad Festival **
6/22 – LaGrange, GA / Sweetland Amphitheatre ~
6/23 – Birmingham, AL / Avondale Brewing Company ~
6/24 – Birmingham, AL / Avondale Brewing Company ~
6/25 – Ann Arbor, MI / A2SF **
6/29 – Palo Alto, CA / Frost Amphitheater %
6/30 – Quincy, CA / High Sierra Music Festival **
7/1 – Bend, OR / Hayden Homes Amphitheater %
7/2 – Canby, OR / Clackamas County Fairgrounds %
7/4 – Bonner, MT / KettleHouse Amphitheater %
7/5 – Seattle, WA / Woodland Park Zoo %
7/6 – Spokane, WA / Martin Woldson Theater at The Fox %
7/9 – Dillon, CO / Dillon Amphitheater %
7/11 – Tempe, AZ / Marquee Theatre %
7/14 – Los Angeles, CA / Greek Theatre %
7/15 – Paso Robles, CA / Vina Robles Amphitheatre %
7/16 – Las Vegas, NV / Encore Theater at Wynn Las Vegas %
7/26 – Harrisburg, PA / Riverfront Park ~
7/27 – Boston, MA / Roadrunner ~
7/28 – Port Chester, NY / The Capitol Theatre ~
7/31 – Huntington, NY / The Paramount ~
8/1 – New Brunswick, NJ / State Theatre New Jersey ~
8/2 – Washington, D.C. / Wolf Trap ~
8/4 – Toronto, ON / Massey Hall ~
8/5 – Lewiston, NY / Artpark Mainstage Theater ~
8/8 – Richmond, VA / Brown's Island ~
8/9 – Salem, VA / Salem Civic Center ~
8/12 – St Augustine, FL / The St. Augustine Amphitheatre &
8/13 – North Myrtle Beach, SC / House of Blues &
w/ Kathleen Edwards
^ w/ Amythyst Kiah
w/ Angel Olsen
% w/ Deer Tick
~ w/ S.G. Goodman
& ??w/ The Baseball Project