Jay Z to Drop Tidal-Exclusive New Album 4:44 This Month
Photos by Jamie McCarthy/Getty
Music
Features
Jay-Z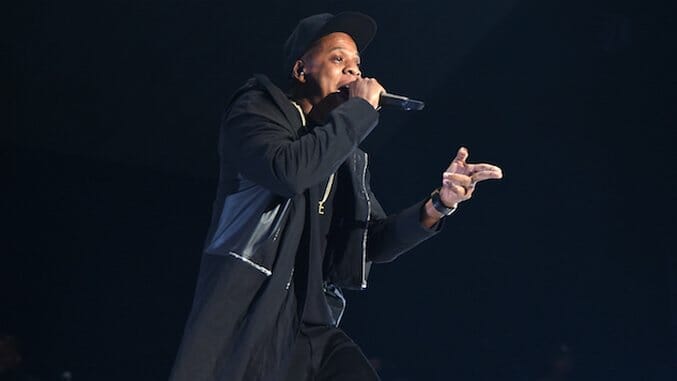 After weeks of speculation over Tidal's "4:44" ads, Jay Z has confirmed he has an album on the way at the end of this month.
Mysterious ads teasing "4:44" began appearing on music websites and all over major cities a few weeks ago. Many began to hypothesize Jay Z was teasing new music, but a trailer for a film starring Mahershala Ali, Lupita Nyong'o and Danny Glover that aired during the NBA Finals seemingly dispelled the theories.
woke up to 4:44 ads all over the city,
THIS IS REAL LIFE. pic.twitter.com/fbkKp1OVFo

— vic. (@victoriaklover) June 17, 2017
This was until a new trailer for the film with a snippet of a new Jay Z track was released, announcing that "4:44" is also the name of the rapper's forthcoming album. It is unclear whether 4:44 is a visual album or if the film accompanies the album in a different way, but both projects are set to release June 30.
The album is the first exclusive release to come from Tidal's partnership with Sprint. 4:44 will be available exclusively on Tidal and to new and existing Sprint users, who are receiving a complimentary six-month Tidal subscription. Sprint acquired a third of the streaming service earlier this year.
The hip-hop mogul has had a pretty eventful month, becoming the first rapper to be inducted into the Songwriter's Hall of Fame and reportedly welcoming twins into the world this weekend.
Watch the 4:44 trailer, featuring a snippet of new track "Adnis," below.
.@S_C__ x '4:44' album x 6/30 https://t.co/mM3hBjHr84#TIDALXSprintpic.twitter.com/zwaUlFrbwx

— TIDAL (@TIDALHiFi) June 19, 2017
.@S_C__ '4:44' https://t.co/mM3hBjHr84#TIDALXSprintpic.twitter.com/dZIddQsz5t

— TIDAL (@TIDALHiFi) June 19, 2017