Kate Nash Returns With New Single and Video "Life in Pink," From New Album Yesterday Was Forever
The album is due out on March 30
Images via Kate Bellm, Girl Gang Records
Music
News
Kate Nash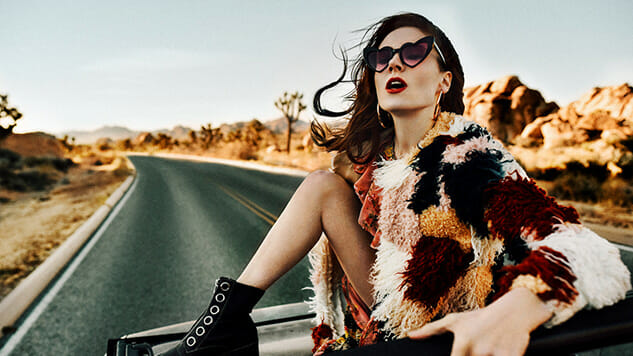 After some time away from music, English singer-songwriter Kate Nash makes a full-fledged return to form with the release of her new single and video "Life in Pink." The first single is the introduction to her forthcoming new album Yesterday Was Forever, due for release on Mar. 30.
With this new single, Nash keeps her trademark quirky blend of bubblegum pop and garage rock by mixing light, fluffy melodies with distorted guitars against bright production. But the effervescent production masks a serious subject in Nash's lyrics: mental health. Nash starts the song by singing, "I think about death all the time / Do you think that's morbid / I'm not like other girls / Don't get me started." Those lyrics only get darker as Nash's gentle, gritty vocals croon, "When you're in my head / I wish was someone else / Mad at me again? / And that's not even what I said / What's wrong with me?" Nash manages to capture the raw honesty of dealing with mental health issues in a day and age where understanding for them is still largely absent.
The single's video, directed by HOLYCHILD, works as both the antithesis and perfect visual companion for the song. The VHS lo-fi visual sees Nash hallucinating in a straitjacket in a bed-and-breakfast-like mental institution as she is frolicking around the properties with two humanoid bunny friends. Things only get trippier as the visual takes the mental illness theme to new heights. "The concept of the video is balancing the sane and what I'm told are 'insane' parts of my brain and how I think you need a balance of the 2 to really make it in this life," Nash said of the video, adding, "Somehow we have to meet in the middle, dance and laugh and be free and full of love. Hope you relate."
Yesterday Was Forever follows the same raw honesty as "Life in Pink" as Nash delves into a diary from her teenage years. Nash spoke on the mental highs and lows of those writings, saying, "It's so extreme. Pages of depression I'd forgotten about. I was intense!" Nash hopes her cathartic exploration can help others remarking, "It's really painful to look at yourself in the mirror, square yourself in the eye and go, 'I like you and I'm OK with being me.' But it's so important and it's fucking liberating when you do."
Yesterday Was Forever is Nash's first musical release since last year's Agenda EP and her first full album since 2013's Girl Talk. She recently appeared on a BuzzFeed list of "33 Singers That Only Exist In The Memories Of British Millennials," an oversight that she did not take lying down. Along with new music, Nash will be on her North American tour starting Apr. 4 in Vancouver before concluding her run in New York on May 2.
Over the past few years, Nash has put music to the side to focus on acting, with roles in films like Greetings from Tim Buckley and Powder Room. But her biggest role to date has been Rhonda "Britannica" Richardson from the acclaimed hit Netflix series GLOW.
With a more honest Nash, fans can look forward to what else she has in store for the future. See the "Life in Pink" video below along, with Nash's upcoming tour dates and her 2013 Daytrotter Session.
Kate Nash North American Tour Dates:
April
04 – Vancouver, British Columbia @ Imperial
05 – Seattle, Wash. @ The Showbox
07 – Portland, Ore. @ Hawthorne Theatre
09 – San Francisco, Calif. @ The Fillmore
10 – Los Angeles, Calif. @ The Fonda Theatre
12 – Santa Diego, Calif. @ The Observatory – North Park
13 – Santa Ana, Calif. @ The Observatory OC
14 – Phoenix, Ariz. @ Crescent Ballroom
16 – Salt Lake City, Utah @ The Depot
17 – Englewood, Colo. @ Gothic Theatre
19 – Minneapolis, Minn. @ Fine Line Music Cafe
20 – Chicago, Ill. @ Park West
21 – Detroit, Mich. @ Majestic Theatre
23 – Toronto, Ontario @ Mod Club
24 – Montreal, Quebec @ Theatre Fairmount
25 – Boston, Mass. @ Royale
26 – Philadelphia, Pa. @ Theatre of Living Arts
28 – Atlanta, Ga. @ Buckhead Theatre
29 – Charlotte, N.C. @ The Underground
30 – Washington, D.C. @ 9:30 Club
May
02 – New York, N.Y. @ Irving Plaza