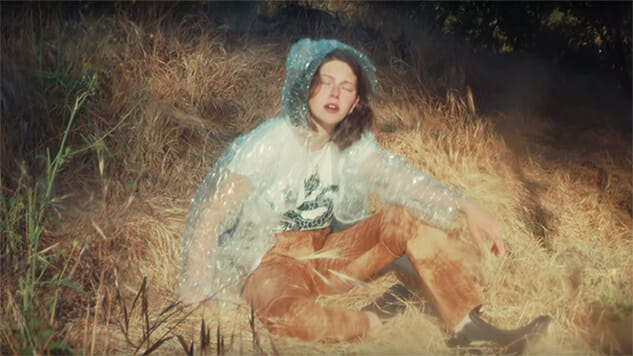 Back in March, Harry Styles tweeted, "I love it when we play 1950," something fans assumed to be an angsty and cryptic love note. Turns out, the words were lyrics by 19-year-old Mikeala Straus—better known as her stage name King Princess—from her song "1950." King Princess is the first signee to Mark Ronson's label Zelig Records, and she released her debut EP Make My Bed in June.
Continuing on her journey to pop stardom, the Brooklyn-based singer released a video for the penultimate song from that EP, "Holy," on Friday. The video features the artist striking various religious poses and demanding love of a divine sort from her significant other. "Honey, on your knees when you look at me / I'm dressed like a fucking queen and you're begging, 'please,'" she sings as stained glass-reminiscent light reflects off of her face. "I rule with the velvet tongue / And my dress undone /And I'll get you lost but I'm having fun."
She also makes a whole lot of outfit changes throughout the video, including one very interesting bubble-wrap hoodie that we'd like to try on to see if we could pull it off. We probably couldn't.
Straus' breakout single "1950" has already amassed over 100 million streams on Spotify, solidifying the artist as one to watch for. You can watch the video for "Holy" below.