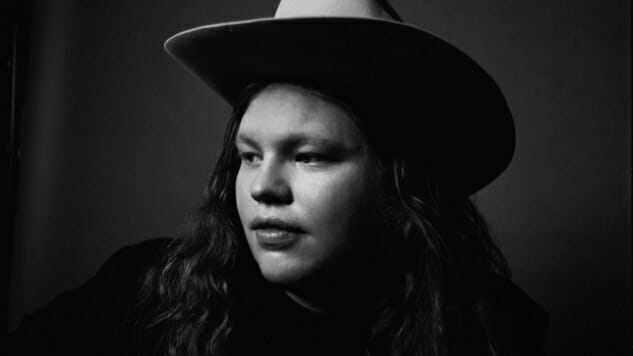 Daily Dose is your daily source for the song you absolutely, positively need to hear every day. Curated by the Paste Music Team.
Marcus King may not look like a particularly hardened blues musician, but the first cut off the young South Carolina songwriter's debut solo record shows a man who's earned his keep in life. "The Well" is the raucous lead single from El Dorado and—with some production flare from Black Keys frontman Dan Auerbach—King channels the stern souls of his blues predecessors in a track that packs a ferocious bite.
Although "The Well" has Dan Auerbach's creative thumbprint across its production, King's blues-rock prowess is undeniably his own. The song opens with a blazing riff that carries through the track, broken up by King's musings on a life of hard Southern labor. While the guitar pushes along a repeated blues lick, King's exceptional voice is the main attraction. He's only 23 but has the whiskey-ravaged pipes of someone that's seen their fair share of juke joints. "Wasn't no easy street where I come from," he sings in one of the song's breaks, "There wasn't no sleep until the work was done."
Though he's of an emerging generation of blues musicians, King's solo debut reaches back into the earliest days of electric blues. The album's studio personnel only solidifies the vintage sound, with contributions from veteran studio drummer Gene Chrisman and keyboardist Bobby Wood—who've recorded with the likes of Elvis and Dusty Springfield. With Dan Auerbach behind the boards, the resulting sound is one that's as reverential as it is innovative.
Auerbach has only praises to sing for King, who's clearly left an impression on the modern blues titan:
Marcus is known by so many as a phenom guitar player, and rightfully so. He's regularly the best player in the room, hands down. I was equally blown away by the way he can sing—so effortless, so soulful, straight from the heart. He's a naturally gifted writer too, which was clear right away. Everything for him is so innate—that's why he can always go right to the heart of a song and connect in a deeper way. He's really one of a kind and I'm proud I got to work alongside him on this record.
El Dorado is set to release Jan. 17 next year on Fantasy Records and can be preordered here. You can listen to "The Well" below and find album details and tour dates as well.
El Dorado Track List:
1. Young Man's Dream
2. The Well
3. Wildflowers & Wine
4. One Day She's Here
5. Sweet Mariona
6. Beautiful Stranger
7. Break
8. Say You Will
9. Turn It Up
10. Too Much Whiskey
11. Love Song
12. No Pain
Marcus King Tour Dates:
October
31 – Kansas City, MO – The Truman
November
01 – Wichita, KS – Orpheum Theatre
02 – Columbia, MO – The Blue Note
03 – Omaha, NE – Slowdown
05 – Fayetteville, AR – George's Majestic Lounge
07 – Birmingham, AL – Iron City
08 – Mobile, AL – Soul Kitchen
09 – Memphis, TN – Minglewood Hall
10 – St. Louis, MO – The Pageant
12 – Bloomington, IL – Castle Theatre
4 – Cincinnati, OH – Bogart's
15 – Indianapolis, IN – The Vogue
16 – Louisville, KY – Mercury Ballroom
17 – Milwaukee, WI – Turner Hall
19 – Grand Rapids, MI – The Intersection
21- Iowa City, IA – The Englert Theatre
22 – Minneapolis, MN – Varsity Theater
23- Madison, WI – Majestic Theatre
December
03 – Macon, GA – Macon City Auditorium – Marcus King Solo,
05 – Knoxville, TN – Bijou Theatre
06 – Durham, NC – Carolina Theater
07 – Pittsburgh, PA – Mr. Smalls Theatre
08 – Washington DC – 9:30 Club
10 – Philadelphia, PA – Theatre of Living Arts
12 – Detroit, MI – St. Andrew's Hall
13 – Columbus, OH – Newport Music Hall
14 – Chicago, IL – Thalia Hall
15 – Chicago, IL – Thalia Hall
17 – Cleveland, OH – House of Blues
18 – Toronto, ON – Danforth Music Hall
19 – Buffalo, NY – Town Ballroom
20- Northampton, MA – Calvin Theatre & Perf Arts Center
21 – New York, NY – Beacon Theatre
January
07-12 – Jam Cruise 2020 – Marcus King solo, Miami, FL, United States
24-28 – Panic En La Playa Nueve, Puerto Alvaro Obregon, Mexico
April
10-12 – Byron Bay Bluesfest. Tyagarah, Australia