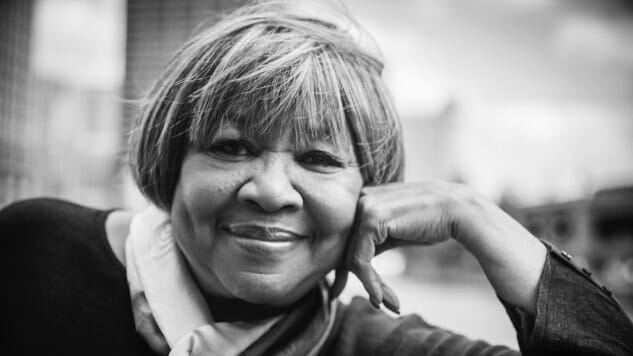 Daily Dose is your daily source for the song you absolutely, positively need to hear every day. Curated by the Paste Music Team.
If All I Was Was Black, set to be released this week, will be Mavis Staples' third album-length collaboration with Jeff Tweedy of Wilco, and its new single—the first to prominently feature Tweedy—is a wonderful showcase of their chemistry.
In the face of a tumultuous country beset by racial strife and political division, Staples and Tweedy are fighting back the only way they know how on If All I Was Was Black: not with anger or anxiety, but with love and togetherness. Fittingly, "Ain't No Doubt About It" is a heartwarming duet, with Staples and Tweedy trading verses about the power of friendship to push away worries. "Ain't no doubt about it / I'll always be your friend," the duo sings in unison. "Ain't no doubt about it / I can count on you till the end."
Staples spoke to her deep-seated bond with Tweedy in a statement:
Our comfort together, the sound and feel of family, fighting the same fight. We want the same things for our country and for the world. Tweedy is a genius—he's passionate about his art and his poetry, he's got no filter and will tell you just what he thinks. He's just upfront and real. Whatever's on his mind, he'll drop it, and I appreciate that about him.
"Ain't No Doubt About It" follows If All I Was Was Black's uplifting title track, shared by Staples in September, and "Little Bit," released a month ago, which a press release described as "a cautionary anthem of all the ways in which those regarded as suspicious have to weigh their actions just to survive day to day." Staples and Tweedy also debuted "Build a Bridge" on The Late Show last week, accompanied by bandleader Jon Batiste.
If All I Was Was Black is out this Friday, Nov. 17, and available for preorder here. Listen to "Ain't No Doubt About It" below, and check out both a 2011 interview with Staples and a 1994 performance of hers further down. You'll find the full details of If All I Was Was Black right here.