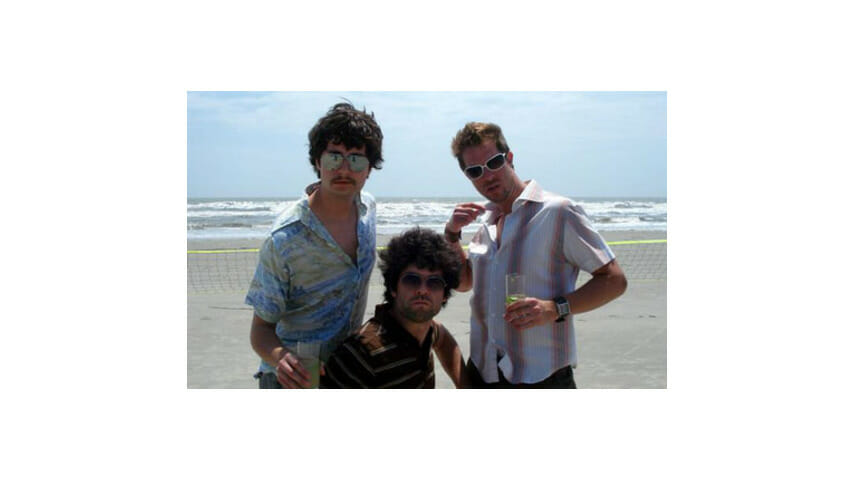 [Above: Y O U at the beach, apparently.]
Trae Vedder of ATL band Death On Two Wheels perched on a stool with an acoustic guitar and an accompanying keyboardist throughout a rare unplugged set that met a full room, but not very much attention. It was too low-key for the party atmosphere that comes hand-in-hand with Pop Death Squad's free Big Trouble In Little Five Points show each month. Vedder himself was in good humor, cracking jokes and wailing out songs in his own gravelly tenor as the audience chatted inattentively and crowded the bar, preparing for the dancing they were about to do.
When Y O U and the PleaseRock Review hit the stage (the latter adding a full horn section and two female backup singers to the regular line-up) the crowd was ready for what has become the city's most famous alias rock ensemble. Boasting several alter-egos like The Tupperware Party (when they play as a cover band– "Keeping it airtight!") or Three Dog Stevens (for strictly comedic purposes) as well as the most fabulously-tailored stage suits around, they appear as everything from yacht rockers to HomestarRunner.com hair metal band Limozeen. (Check out their split 7″ with Strongbadia emo band, Sloshy).
All appearances aside, a Y O U performance never disappoints. Frontman Nicholas Niespodziani has a truly astonishing vocal presence, venturing all the way out into the falsetto stratosphere and back. And what's more, everyone on stage always looks like they're having a blast. How could they not, considering the very enjoyable (though, granted, somewhat predictable–cheesy, even) versions of traditional funk, blues and R&B song structures they utilize? During this performance, Paste:Local friend Adam of local music blog and podcast Have You Heard labeled them "neo-motown." Perfect. It's not unexpected or groundbreaking, but Y O U's music is impeccably-executed and plain fun, with an unrivaled sense of humor.
This particular set was composed of almost exclusively new material from an upcoming release, though it concluded with a cover of U2's "With or Without You"– a Tupperware Party classic, apparently, redone in their own funky style. It was hard not to giggle at the entire crowd screamed the last chorus of the song in unison.
It was a hard act to follow, but if anyone was up for it, it was Athens, Ga.'s Modern Skirts. Having recently enjoyed success touring Europe (and even opening for R.E.M. in Amsterdam), the Paste 4 To Watch alum played a selection of the songs to appear on their sophomore release, coming this Fall. The set was about half and half, new (slightly unhinged) material like "Radio Breaks" and "Motorcade" (produced by Mike Mills) mixed with classics like "N.Y. Song" and "My Lost Soprano." The piano-driven pop rock filled the room and had those of us for whom the Skirts were a college obsession wailing along with them.
"Okay, we're going to play the hit now," frontman Jay Gulley announced before launching into "Pasadena." "We've played it about a million times, but we're going to do it again." The rendition that followed left no doubt that, although their new material already seems more innovative and perhaps more complex, "Pasadena" is their most compelling work, the ostenato backup vocal parts driving the melody forward, well-paced and emotionally honest.
With a grin at the only pitch he missed all night, Gulley and the other Skirts finished off their set with "My Bully" for their encore, the perfect power-pop ending to a thoroughly entertaining show.
Related links:
Band of the Week: Y-O-U
Modern Skirts – "Pasadena" (Video of the Day)
PopDeathSquad on MySpace