The Post-Apocalyptic Hiss of MSPAINT
The Mississippi band's debut album 'Post-American' is a seething synth-punk rallying cry
Photo by Libby Zanders
Music
Features
MSPAINT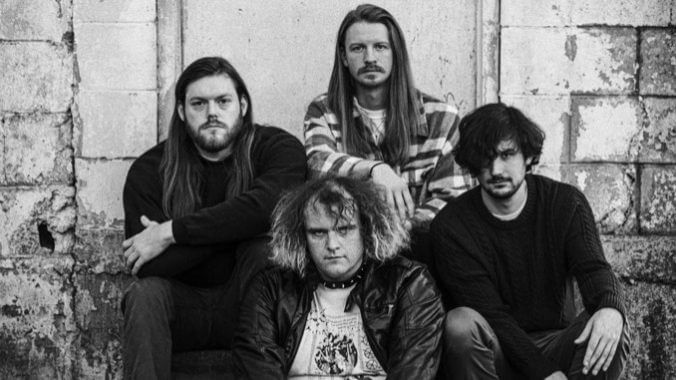 America is littered with towns that are both aggressively ordinary, quaint communities and pressure cookers of ugly, unresolved history and modern-day "culture war" disputes. Mississippi is home to a lot of these places, as it touts the highest poverty rate and one of the lowest COVID vaccination rates of any U.S. state, and it also has a brutal legacy of racist lynchings and hate groups. When you drive into Mississippi, its welcome signs don't acknowledge these realities or pay respects to the countless victims of anti-Black atrocities, they contain the slogan "birthplace of America's music," the one part of the state's history most Mississippians can probably agree upon and wear with pride. Some of America's most beloved and influential musicians were born in Mississippi, from Robert Johnson, B.B. King and Muddy Waters to Elvis Presley, Charley Pride and Bobbie Gentry. And crucially, Black sharecroppers from the northwest sliver of the state—the Mississippi Delta—spawned a sound known as Delta blues, an essential precursor to rock 'n' roll and a beautifully raw art form in its own right.
Hattiesburg, a college town in southern Mississippi named after the wife of a Confederate army captain and located just north of Camp Shelby—the largest state-owned military training site in the nation—also has its own rich music history. In 1936, inside a Hattiesburg hotel, a trio called the Mississippi Jook Band recorded some of the earliest examples of traditional rock 'n' roll riffs and rhythms. Today, almost 90 years later, Hattiesburg is a refuge for artists and outcasts who are interested—first and foremost—in making weird music to perform for friends in each others' houses. One of the city's most exciting bands is MSPAINT, a fiercely political and self-described "pseudo-hardcore" group who are set to release their debut album Post-American on Convulse Records.
The band adores their Hattiesburg home base, frequently captioning their social media posts with the phrase "Hattiesburg world," but they know Mississippi is a complicated place. In one sense, they're critical of its outright fascism and quick to acknowledge that they're not personally at the receiving end of racism, but they also believe these hateful ideologies are so endemic to America itself that it's hard to associate them with certain places. Still, they manage to find hope and inspiration in their surroundings.
"It's so full of trees," synth player Nick Panella says of Mississippi. "There really aren't that many people. There's not that many cities. It's a very poor state, but I've always had hope for it. And I've always had a belief that someday someone is going to come along and see the potential that exists here."
"I've seen a million unknown, really good musicians here my entire life," lead vocalist Deedee says, "whether that's some guy playing blues guitar at a park with a bunch of his old friends or a band that started last year. We're so immersed in the roots of music that we understand it comes from an emotional component … The only thing that I think stands out [about Mississippians] is the innate sense to want to be polite and show love."
Raw emotion is at the heart of MSPAINT's music—so much so that it practically explodes out of them. Their lyrics and album title, Post-American, refer to a post-apocalyptic world that's succumbed to grave threats currently posed by capitalism, state violence, religion, misinformation and technology. The title track describes a "cursed wasteland" of "broken glass beaches" and "powerless plants," while "Free From the Sun" paints a scene of "densely set fog," "bleak street lights" and "dead flower smell." But these images aren't nihilistic, they're urgent wake-up calls. Post-American suggests that it's imperative to grasp just how horrific things are in order to make change, and to keep the beauty that power brokers rob from people at the front of one's mind. Deedee's stream-of-consciousness poetry is rather artful, mixing imagery from the natural world with seething political critiques, allowing listeners to interpret their tracks as both personal emotional awakenings and broader societal ones. But that doesn't mean their political messages are subtle, as they spout lines like "Guillotine will decide who's separated in classes" and "Burn all the flags and the symbols of man."
"I wanted to set this catastrophic fucking scene and talk about burning everything and then get around to how that's all a part of us," Deedee says. "We're just as connected to destruction as we are the creation of shit. I tried not to be too heady with it. I tried to keep it to real shit you can see and touch and experience, while also emulating—not a hope that doesn't exist, but a hope that's not easily perceived."
Their lyrics are a reaction to the glut of anxieties, information and warning signs being fed to us everyday—conditions that could only result in emotional decay and subsequent explosion. So it's only fitting that their music sounds explosive, too—so much so that it would make a Cold War-era child take cover under their desk in fear of nuclear war. MSPAINT's rabid synth-punk sounds like the future, as weirdo synths converge with blown-out basslines and emphatic, vein-popping vocals that fall somewhere between hip-hop MC and hardcore frontperson. Their moody melodies, leftfield grooves, barreling energy and rumbling hiss place them somewhere at the intersection of dance-punk, post-punk, egg punk and industrial music, but their lack of guitars really throws a wrench in things.
Panella's world-building, video-game-like synths also set them apart. Listening to MSPAINT is like wandering through a Ratchet & Clank game or some other digital universe that's descending into hellish, oppressive dystopia, though you can still detect the invigorating beauty that once flourished—a reminder of what the fight to resist is all about.
"I actually wanted to make video games," Panella says. " I was programming shit on my computer in high school, and I eventually ended up leaving that because the reality of it was a bit grim. When you work for video game companies, the hours are ridiculous … The video game aspect of this music is super important to me, but obviously you don't want your music to sound exactly like the fight theme from Final Fantasy VII."
MSPAINT formed in late 2019 around the sole concept that no guitars were allowed, which is ironic, given that three-fourths of the band are seasoned guitar players. However, they eventually grew disillusioned with the instrument and wanted to be challenged. Panella, in particular, has been playing guitar for over a decade, having studied jazz at school and taught students everything from blues to Metallica.
"When you're starting to near that point where you can play a lot of the things you can hear, you don't ever have to work for it or discover anything new," Panella says. "It's not like there weren't new things to discover, it's just discovering new things on guitar costs a lot of money because you have to start buying amps and pedals. Also, we do these Halloween cover shows, and I'd recently done Devo, where I had to learn how to use a synthesizer and that made me really curious because it was so fun."
Deedee has primarily made guitar music up until this point—having learned how to play practically every Nirvana song as a teen and strummed power chords in bands like Pleather and Deedee Catpiss and the Fuzz Coffins. Bassist Randy Riley has also been in groups with Deedee, who describes Riley as a real punk head with an ear for aggressive music and experience playing in alternate tunings. Drummer Quinn Mackey first met Panella at school in a jazz lab band, and they later played in other groups together, including a two-guitar project that Mackey insisted would sound way better if they ditched the guitars. The four of them had never been in a band together until MSPAINT, and something clicked when Mackey and Panella began jamming during their first rehearsal.
"That first rehearsal, I was making printer sounds on the synthesizer and Quinn was playing some weird grooves along with it—Randy hadn't even joined the band yet—and Deedee walked in and was a little freaked out by what was going on," Panella recalls.
In March 2020, right when the world began to spiral into COVID-related chaos, MSPAINT released their self-titled EP via Earth Girl Tapes—beloved Hattiesburg label of Judy and the Jerks bassist Hampton Martin—and much to their surprise, it quickly gained traction outside of their friend circle.
"We woke up a week into April, and Randy was like, 'Bro, 80 people just subscribed to our Bandcamp,'" Deedee says. "Then it got to a point where it was like, 'Damn, it's really hard to self-mail out 400 tapes.' Initially, it was kind of gloomy. It was like, 'Man, maybe that was our moment when we could've gone on tour.' But then it was like, 'Let's just put more time into the band and work on songs and shit.' It kind of propelled us to stay motivated."
MSPAINT eventually got an offer to play Convulse Fest, a two-day hardcore festival in Denver, hosted by Convulse Records. A lot of DIY bands in Hattiesburg at that time existed somewhere on the egg-to-chain-punk spectrum, so the weekend was a bit of a whirlwind for MSPAINT, who were largely newbies to hardcore. But the festival allowed them to form an important connection in Ian Shelton, frontman of Militarie Gun—a band Deedee lovingly refers to as "hardcore Modest Mouse." Deedee is a big Militarie Gun fan, and after meeting Shelton at Convulse Fest, this musical appreciation became mutual.
Around that time, MSPAINT were hard at work on their debut full-length. They had just recorded nine tracks in a manner comparable to their EP, and they were satisfied with the results, figuring it was the best they could do with the resources they had. Following Convulse Fest, Deedee stayed in touch with Shelton and sent him the new recordings, but as someone who loved MSPAINT and saw their potential, Shelton thought they could do better. Shelton then flew to Hattiesburg to work on songs with the band, which meant a lot to them, as they still wanted to do things their way—plus, they got a kick out of seeing Shelton "sweat his ass off" wearing a hoodie in Mississippi.
"I remember when [Ian] flew in, he asked me what there was to do around here, and I'm just thinking to myself, 'Oh my god,'" Panella says with a laugh. "There's a movie theater, so he went to see the Bob's Burgers movie, which only took an hour and a half."
After they finished writing with Shelton, he arranged studio time for them with veteran heavy music engineer Taylor Young in Van Nuys, Los Angeles. The chance to re-record their album in L.A. came as a shock to the band, whose first thoughts were, "Recording in L.A.? Is that real? Do people really do that?" But they took the opportunity and ran with it, describing their time recording by themselves as a "clusterfuck" compared to the organized process that took place in L.A. with Young and Shelton at the helm as co-producers. New creative possibilities had suddenly opened up for them on Post-American, including vocal guest spots from Shelton himself and Soul Glo's Pierce Jordan—two of the most respected voices in modern hardcore.
Though the four members of MSPAINT would've happily continued making music for their small circle, it's been an exciting few years for them. They went from playing Hattiesburg house venues like Sin Den and Momo's—watching friends' bands play in musty living rooms, then hanging out in kitchens and ashing cigarettes into sinks—to touring the country with hardcore staples SPY and Gel, the former of which recently opened for the Grammy-nominated Turnstile and the latter of which are currently selling out shows all over Europe. It was on that tour that MSPAINT witnessed firsthand the visceral reactions to their music.
Their first show with SPY and Gel was at The Bug House in Fort Wayne, and something unexpected happened when Panella broke into the pulsing keys of their "Hardwired" intro—which they describe as equal parts "Coldplay chords" and "Mortal Kombat theme." If they weren't already accustomed to hardcore crowds from having played Convulse Fest, they were now, as they watched audience members stage dive while Gel soundchecked.
"There was a guy who, when 'Hardwired' started, freaked out and did a spin kick into the speaker and the whole thing went dead," Panella says. Though Deedee compliments the spin kicker's "perfect form" and says the tour was their "first moment of being excited to watch people watch a band."
MSPAINT may not win over the hearts of every hardcore diehard, but Post-American is a vehement document of Hattiesburg DIY and an invigorating call to prioritize love and justice in a time when virtually every part of society and culture encourages robotic mindlessness. And if nothing else, they'll continue to turn heads when they unleash their oddball electro-punk dirges at a punk venue near you.
"I often think about being a fan of the band," Deedee says. "Like, 'Oh, I really fuck with MSPAINT.' I'm like, 'That's a weird thing to say' … There isn't a band that I listened to in my past that reminds me of us, so that love that we're shown is such a driving element for me."
Post-American is out on March 10 via Convulse Records. Purchase the album here.
---
Lizzie Manno is a former Paste editor, with bylines at Stereogum, Pitchfork, SPIN, Billboard, Flood Magazine, The Recording Academy and Cleveland Scene. Follow her on Twitter @LizzieManno.