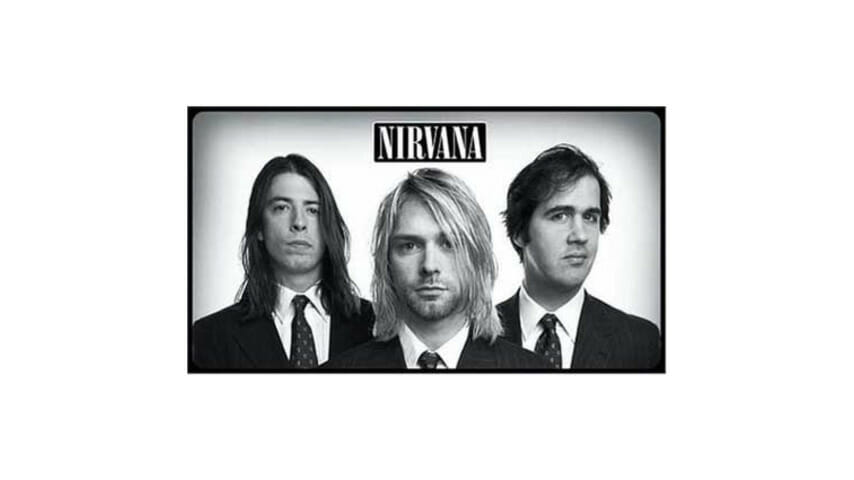 When authorities finally confirmed that the body was indeed Kurt Cobain's, the perhaps-too-influential LA radio station KROQ decided to pay tribute by playing all four Nirvana LPs back-to-back. As the marathon came to an end and "All Apologies" slipped into its coda, I figured it would peter out and then we'd have a moment of silence in the form of dead air. But instead, as the final notes played, they laid on a collage of people who'd called in during the day to grieve and share and vent. All talking at once, obscuring the music.
Which is pretty much how things have gone for the past ten years. Yahoo groups, post mortems, college essays and video tributes. Then there was the ongoing legal battle between Courtney Love and Cobain bandmates Dave Grohl and Krist Novoselic that kept a collection of rarities shelved back in 2001. But the dust has settled and With the Lights Out is here, complete with 81 songs (68 previously unreleased), and a DVD of videotaped shows, basement parties and on-the-road tomfoolery (grunge-style: unloading your own gear from the van, sleeping on foam pads, getting lost, etc.).
This set is clearly targeted at serious Nirvana fans (skimmers are directed toward 2002's Courtney-approved greatest-hits compilation), but its appeal extends to just about anybody who enjoys the sound of an electric guitar being strangled to death. See, for example, the opening track. Rising through a shitty house-party recording comes moaning amps and squealing feedback. Somebody shouts out "Heartbreaker!" and somebody else sheepishly admits: "I don't know how to play it."
What follows is the roughest, sloppiest, maybe worst rendition of the Zeppelin song ever—complete with solo! But the song rocks so thoroughly it staggers crossover-stepping into rawk territory. And that's what I'd forgotten over the past decade, what was drowned out by all the chatter. Admittedly, Nirvana was an Important Band. Yeah, they Changed Things. Yeah, he Killed Himself. But the reason a couple trillion people bought Nirvana's albums was because the music truly mattered, and With the Lights Out works hard to remind us.
The tracks run more or less chronologically, with each disc compiling the demos and outtakes and radio sessions and whatnot that cropped up around Bleach, Nevermind and In Utero. Disc One spans 1987-89, with the pre-Grohl band essentially beating the heads of Black Sabbath and punk together until somebody ended up with a concussion. (Though the trio of Leadbelly covers Cobain recorded with Screaming Trees frontman Mark Lanegan hint at other components of the band's blueprint.) There's plenty of album-worthy material here, like the unreleased "Help Me I'm Hungry," "If You Must" and "Blandest"—mid-tempo doomfests that would've felt right at home on the latter half of Incesticide.
Disc Two includes a number of Nevermind rough drafts: an early version of "Stay Away" called "Pay to Play," demos of "Drain You," "Breed" and "Lithium," and a stab at "Endless, Nameless"—the hidden track that people like me—who owned Nevermind's cassette version—missed out on (no big loss). Even the grotesquely lo-fi rehearsal tape of "Smells Like Teen Spirit"—a song we've heard so many times it doesn't really register anymore as it passes through the deeply worn groove in our brains—had me slowly, unconsciously, pinning down my middle and ring fingers with my thumb, then extending my index finger and pinky, proclaiming my full allegiance to Satan. (OK, not really.)
In Utero demos make up the bulk of Disc Three, with an extended jam of "Scentless Apprentice" and versions of "Rape Me" and "Milk It" that get at the rawness of Steve Albini's rejected mix of the album. There's also my favorite non-album Nirvana track, "Sappy," which appeared as "Verse Chorus Verse" on the No Alternative compilation, and the Grohl-sung "Marigold" (his smooth, mellow vocals almost a relief at this point).
But Cobain's solo acoustic tracks dominate the disc. (Overall, there are 17 in the box set, enough for home-burners to compile their own Kurt Megamix.) Accompanied only by his guitar and the rhythmic tick of spinning tape heads, these versions reveal the tightly wound craft of his songwriting, and somehow manage to sound catchy and harrowing at the same time. Album tracks I wasn't particularly crazy about, like "Serve the Servants" and "Very Ape," suddenly click in their pre-natal, stripped-down form.
And again the Nirvana marathon ends with "All Apologies," though this time it closes rightfully with the final chord, a guitar being set down, tape player being shut off, and then nothing. Like all the incessant yammering of the last ten years never happened.
So by all means pick up With the Lights Out, but go ahead and trash the curiously un-Nirvana-like packaging, discard the heat-sensitive (!) box, pitch the liner notes (red flag there: Neil Strauss concluding his essay by saying "with respect to Haruki Murakami for the literary device"), maybe even throw away the DVD. Because you can only stand so many posthumous attempts at context, at Importance, at History—when all that really matters is the trail of magnetic tape.