Chicago Band Ohmme Share Harmoniously Noisy New Single "Selling Candy"
Photo by Ash Dye
Music
News
Ohmme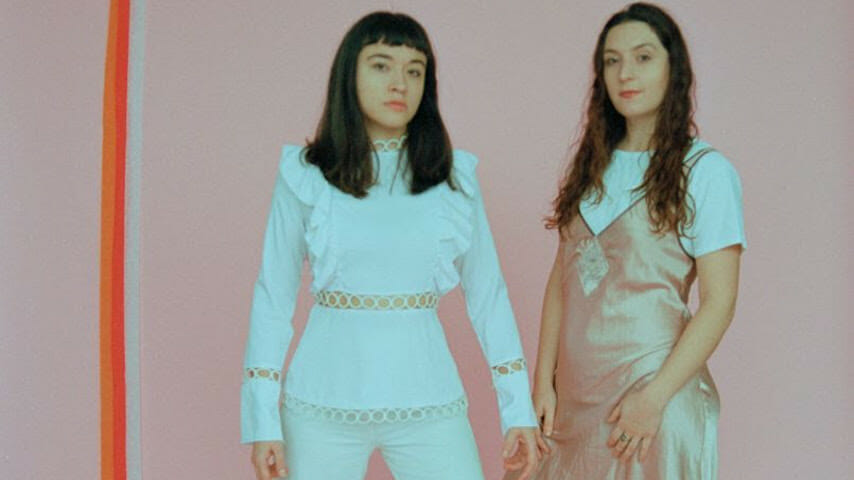 Ohmme, the moniker of Chicago duo of Sima Cunningham and Macie Stewart, share the third single from their forthcoming album, Fantasize Your Ghost, out June 5 on Joyful Noise Recordings. The latest single, "Selling Candy," is composed of six harmonized lines repeated by Cunningham and Stewart before the song concludes with a cacophony of colliding sounds.
"'Selling Candy' was pieced together from little snapshots of my childhood growing up on my block in Chicago," says Cunningham. "It felt like its own tiny world where I could explore my imagination, enjoy independence from my parents, and meet all kinds of people, including the pissed off hot dog vendor from whom I bought a boiled hot dog from as often as I could get my hands on a buck."
Ohmme previously released the singles "Ghost" and "3 2 4 3" from Fantasize Your Ghost, the band's sophomore effort following the 2018 album Parts. The band also announced that their North American tour with V.V. Lightbody has been postponed until January 2021.
Listen to "Selling Candy Below," along with a 2017 Daytrotter performance of "Fingerprints" by the band. Scroll further to check out the rescheduled Ohmme North American tour dates with V.V. Lightbody.
Ohmme Tour Dates:
January
09 – Kansas City, Mo. @ The Record Bar
11 – Denver, Colo. @ Lost Lake
12 – Salt Lake City, Utah @ Kilby Court
13 – Boise, Idaho @ Neurolux
14 – Portland, Ore. @ Doug Fir Lounge
15 – Seattle, Wash. @ Barboza
16 – Vancouver, B.C. @ The Fox Cabaret
18 – Reno, Nev. @ Holland Project
19 – Bolinas, Calif. @ Gospel Flat Farmstand
20 – San Francisco, Calif. @ Bottom of the Hill
21 – Santa Cruz, Calif. @ The Catalyst Atrium