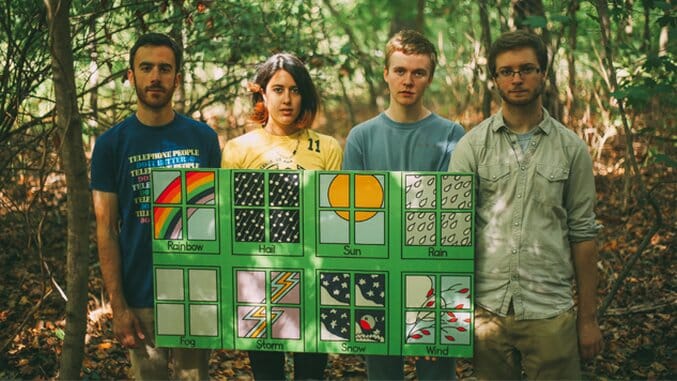 This is Evan Stephens Hall's story, and we're just characters in it. The 27-year-old singer-songwriter serves as the frontman for Pinegrove, a literary alt-rock band with country subtleties hailing from Montclair, NJ. And just a few hours before the band's sold-out tour finale at the Market Hotel, a small, discreet venue in Bushwick, Hall took a walk around the block with me to talk about his band and artistic ethos.
Within moments of leaving the venue through the back door on Broadway, Hall says with a smile that his mom, attending the show that evening, will be excited that Pinegrove will be in Paste. "She's very cool," he asserts. "She's a hip mom."
Walking out in the summer night, Hall arbitrarily plops down on the sidewalk at the diagonal intersection of Myrtle Ave and Broadway. The New York streets stink with the fly-infested dog shit that Hall points out for me to avoid, and the M train rumbles above us with regularity. As we sit facing each other cross-legged, Hall carefully brushes shards of glass away from us toward a rusted chain-link fence enclosing a vacated property.
Less than eight minutes into conversation, it dawns on Hall that he's referenced his mother Tracey Stephens once again. Considering this for a moment and a chuckling to himself, he verbalizes his own surprise: "Oh, I'm just thinking about the characters I'm introducing right now in this interview. It's just interesting to me that there are already recurring characters!"
Such is the way Hall's mind works, contextualizing his surroundings and experiences within a broader narrative. This idea of the frame manifests visually as an image of concentric or interlocking rectangles—on the cover of Pinegrove's label debut Cardinal, which snuck its way into our Best Albums of 2016 (So Far) list, and tattooed on Hall's upper right arm. And conceptually, it appears within lyrical fragments of songs.
Explains Hall, the imagery is, "a symbol for art, especially self-aware art because it is just the frame." In his work, in his songs, and in his interpersonal interactions he gravitates toward self-reflexivity and self-reflective art. Anything, he says, "that imposes the frame."
It's why the eight tracks on Cardinal teem with familiarity, even if Hall refuses to acknowledge how much is rooted in personal Truth (with a capital "T"). Bookended by the two songs "Old Friends" and "New Friends," again imposing this framing technique, Cardinal explores break-ups and letdowns, appointments and disappointments that encapsulate the experiences of our collective youth.
And it makes sense for a kid who studied English at Kenyon College—creative writing with an emphasis in poetry that later evolved into an interest in semiotics and modernist literature. While the melodies stand on their own, spotlighting the ranges of Hall's yelping voice in songs like "Aphasia" and "Visiting," his lyrics necessitate a further reading of the liner notes to untangle the linguistic subtleties. They range from the SAT vocabulary of "Cadmium" to the simple, honest realization of "Old Friends," in which Hall heartbreakingly admits, "I should call my parents when I think of them / I should tell my friends when I love them."
Musically, Cardinal finds its place in a strange void between emo and Americana. Its heaviest and most up-tempo songs could have fit in the early/mid-2000s (if considerably more lyrically intelligent and structurally varied) alongside The Hold Steady and self-proclaimed influences like Mount Eerie. Yet, discerning listeners will also hear faint banjo picking on half the record, integrating the twangy five-stringer in non-traditional ways akin to Modest Mouse.
While the band performed as a six-piece that night in Brooklyn, Pinegrove is more of a musical project comprised of Hall, drummer Zack Levine, and a rotating cast of musicians and friends. And really, musical iterations that would eventually become Pinegrove began as far back as when Hall and Levine were in middle school.
According to Stephens, who sat down during second opener Half Waif's set to chat with me, her son's interest in music came even earlier than that. At age two, she began encouraging Hall to hit empty Tupperware containers with chopsticks in the name of percussion. During his childhood, Stephens remembers taking her son to shows like the Warped Tour, Radiohead, The Decemberists and Sigur Rós.
Stephens, an interior designer based in Montclair, grew up listening to music, too. Her first show was Eric Burdon and The Animals in sixth grade and she saw Jimi Hendrix in Vienna when she was 16 years old. That's why, she exudes, "I feel so excited and so proud of [Evan]!" Even though "the music industry is such a crapshoot," she continues, "I don't worry about him…he would grow into whoever/whatever he was supposed to be."
As for Hall, he's pretty much living the dream right now, but in a fairly calculated, driven way. "We always knew that this was what we wanted to do," he reflects. "We knew that we had something special and there was pretty much no question about it when we graduated college we were going to make this happen."
He continues, "Right now, [we're] making enough money to keep doing it. I'm pretty sure it's fleeting, so I'm enjoying it while I can."