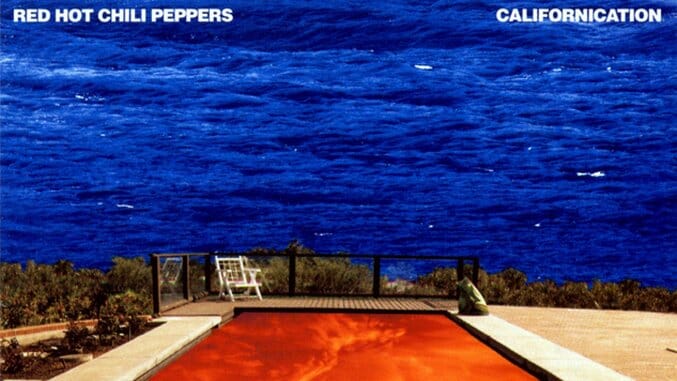 Welcome to The Playlist Project, where we'll be posing musical questions to Paste staff, interns and writers and then compiling their responses into a handy playlist before opening it up for discussion in our comments section.
With Thanksgiving coming up quickly, the holiday season is officially upon us. Whether Paste writers found their record-buying funds in the form of holiday checks slipped inside Hallmark greeting cards or hard-wrought summer jobs, many of us remember putting those dollars and cents to good musical use. So, this month's Playlist Project asks…
What the first album you bought for yourself?
Hilary Saunders, Assistant Music Editor
Temple of the Dog, Temple of the Dog
I honestly don't remember the first record I bought myself. I know it was on CD, not tape or vinyl. I remember asking for certain albums—AC/DC's Back in Black, Bob Dylan's Highway 61 Revisited, KISS' The Very Best of KISS— comprised one particularly classic rock-leaning Chanukah wish list. I also remember outright rejecting other albums that my mom bought for my cousin's bar mitzvah—Britney Spears' …Baby One More Time, Backstreet Boys' Millennium, and NSYNC's self-titled. Since my memory fails, I'm allowing myself the freedom of choice (an ode to Devo's 1980 album that I did eventually buy for myself on red vinyl at Sweat Records during college) to pick an album I do remember purchasing for myself at some point as a kiddo.
Middle school was a weird time for most, and life sure wasn't easy as bubblegum pop music-jeering adolescent in a suburban private school. I discovered the most commercial version of grunge through FM radio singles and VH1 music videos; Songs like Soundgarden's "Black Hole Sun" and Pearl Jam's "Alive" comforted me in a glitter-dusted world filled with baby doll pink crop-tops and blonde pigtails. When I started delving deeper into grunge, I discovered Chris Cornell's earliest records with Soundgarden, as well as a one-off project he did with members of Pearl Jam.
That album, Temple of the Dog, led me into rock's fuzz-filled sub-culture. I must have nabbed a CD version from the local Planet Music around in the early-to-mid-2000s, sometime after grunge left its mark. But even if I didn't understand the gravity of Mother Love Bone singer Andrew Wood's chemical addiction, the songs on the album made in his loving memory seemed to understand me at the time. Those 10 tracks encapsulate loneliness and fear on "Call Me a Dog" and "Say Hello 2 Heaven," but do not succumb to them. Songs on the album apologize as needed, but stand defiant when called to serve.
I realized pretty soon after discovering Temple of the Dog that this band, like The Replacements or The Beatles, would be one of those magical musical groupings that I was born in the wrong era to ever see live. A couple weeks ago, however, Temple of the Dog played a sold-out show at Madison Square Garden honoring the 25th anniversary of this album that played such a formative role in my middle school years. Check out my slightly more objective review and some sick photos here.
Rachel Brodsky, Music Writer
Green Day, Insomniac
The first album I ever bought myself was kind of an accident. Meaning, I was nine or 10 years old and obsessed with Green Day's radio hit "When I Come Around" (which is still my favorite Green Day song, by the way) and decided that I needed to own the track for myself on a proper tape or CD. Except that it hadn't occurred to me that bands can have more than one album out at a time, and instead of purchasing Dookie, which housed my track of choice, I mistakenly bought its follow-up, Insomniac. I mean, I love Insomniac—I will always love Insomniac, but my pre-adolescent self couldn't handle its sharp edges and bleak lyrics. I was horrified to learn that not only was "When I Come Around" not on the tape, but the tape itself had a song about waiting for your parents to die so you can collect your inheritance (the snot-punk quickie "Brat"). My tender heart was not yet punk enough to appreciate Green Day's puerile humor. I put the tape back in its case, put the case in a shoebox in my closet and refused to listen to it for another three-to-five years.
Scott Russell, News Editor
Enema of the State, Blink-182
I will never forget the way my grandmother laughed in my face, standing in an f.y.e. in the Avenues Mall in Jacksonville, Fla., when I asked her to buy me a copy of Blink-182's Enema of the State. I would have been nine at the time, "the time" being the summer of '99, and between the album's toilet-humor title and the porn star posing luridly on its cover, I get where G.B. (short for Grandma Barbara) was coming from. But I wanted that album badly, and I was going to get it with or without her help. Walking out of a Target with my mother, the slick plastic-wrapped CD in hand, felt like a coup. Of course I loved its inescapable first two singles, the impossibly hooky pair of "What's My Age Again?" and "All the Small Things," but oddly enough, it was the album's third single—easily its darkest cut—the suicide note-evoking "Adam's Song," that had convinced me I had to have it. I just about wore out my boom box chain-playing that album; wincing, yet feeling the adrenaline rush of youthful rebellion every time Tom DeLonge sang the word "fuck" in "Dumpweed" or "Dysentery Gary," being gripped utterly by the opening bass notes of "Adam's Song," totally failing to grasp the raucous rager depicted in "The Party Song," and most of all, readying to hit play again each time the distorted guitar blasts and echoing "I time bomb" of "Anthem" faded out.
Lucas Iberico Lozada, Books Editor
Red Hot Chili Peppers, Californication
The first album I ever bought was the Red Hot Chili Peppers' Californication. My mother, who unlike me knew the meaning of the word "fornication," scrutinized the lyric booklet with a magnifying glass before handing back the CD case with a disapproving frown. I thank the music gods that she couldn't make sense of Anthony Kiedis' nonsense-eroticisms, as the melodies and rhythms of that album carried me into my early high school years in suburban Ohio—though she can rest assured that it wasn't until much later that I unraveled Kiedis' adolescent sexual metaphors. By then I'd moved onto GG Allin.
Holly Gleason, Contributing Writer
Carole King, Tapestry
I had the coolest babysitters. Hippie chicks rebelling against Midwestern parents, they listened to "serious" music – and made sure I knew the difference. They were older, cooler and I wanted to be a mini them.
Sometime when I was about five or six years old, I came into enough money to buy one of those "big records." The ones with more songs than the fat little '45s with the big hole. I clutched my five-dollar bill, walked through the arcade at Shaker Square and through the door at John Wade Record Shop. Not sure what I quite what I wanted, I stood staring at a wall of peg board with a litany of albums floating above me in their holders.
With no idea who most of the faces on those floating albums were, I recognized Tapestry from the Leiningers' house. With frizzy hair, blue jeans, bare feet, Carole King looked like my babysitters. She was doing needlepoint (my favorite "grown up" hobby) and I knew the parents and the daughters liked it. I vaguely remember her voice—slightly nasal, a bit reassuring in its plainness—but not the songs.
As I was pointing to the one I wanted, I saw The Partridge Family Songbook, the first album from the cast of the hit sitcom. Those kids were my age, and I never missed a show (though I thought David Cassidy was preening and dreadful). I liked the songs; they were peppy and pop. "Come On, Get Happy" still tambourine shakes through my mind when I think about that Mondrian painted school bus Shirley Jones and her "kids" rolled around in.
I felt a twinge of "something my age," then a wave of knowing my babysitters were always right. That notion swayed me, and I wanted Tapestry. Over time, I would come to know every note of the Brill Building teen who provided so many '60s hits—"I Feel The Earth Move" (obviously about California!), the upward reach of "(You Make Me Feel Like A) Natural Woman," the flat sadness of busted relationships "It's Too Late" and the bright inviting "You've Got A Friend" served as the four corners of my childhood world. As I grew up, those notions remained cornerstones, and Tapestry continues being a classic in my collection.
Robert Ham, Contributing Writer
The Smiths, The Queen Is Dead**
I owned a decent amount of music prior to 1986, including the smattering of singles and LPs that were either handed down by family members or that my mom would pick up for me. But my clearest memory of buying something on my own for the first time was at age 11 at a record shop in the mall where I used my birthday money to pick up a copy of The Smiths' The Queen Is Dead and a '45 of Sigue Sigue Sputnik's "Love Missile F1-11." My reason for buying the latter was simple: it said on the cover that the song was featured in Ferris Bueller's Day Off. That was more than enough of an endorsement for this little John Hughes fan. To this day, I'm not sure what led me to grab The Smiths record. My gut tells me it was an attempt to impress my older brother, the arbiter of all things cool. He was not only impressed; he managed to convince me to give him the LP with the promise that he'd dub it for me onto a tape. Thrilled at the attention, I giddily handed it over…and never owned a physical copy of it until about six years ago.
Jaimie Cranford, Editorial Intern
Michelle Branch, The Spirit Room
I will never forget buying my first album. It was the summer of 2002 and I had just received my first portable CD player. (It was the no-skip kind! I thought I was fancy.) My family and I were on vacation and visiting Washington D.C. for a few days. We pulled up into a music store and my mom handed me a $20 bill and told me it was enough to buy one CD. As I carefully labored over my decision, I remembered that one song I kept hearing on the radio that I loved. It was "Everywhere" by Michelle Branch. I made my way over to the "B's" and picked up a copy of her only album out at the time, The Spirit Room. Fourteen years later, it's still one of my favorite albums.