Radiohead's Kid A Was Almost Produced by Dr. Dre
Photos by Kevin Winter/Getty, Mike Coppola/Getty
Music
News
radiohead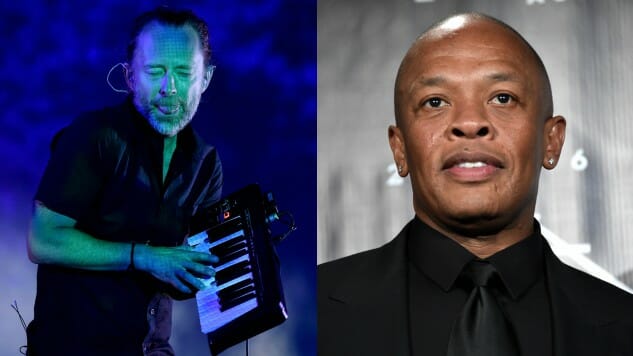 There's no way around it: Radiohead's Kid A is an iconic album. It's a perfect blend of strange, ethereal and unearthly rock, and it almost had a hip-hop bigwig as its producer.
In the scraps of an interview with Rolling Stone that marked the 20th anniversary of OK Computer, Guitarist Ed O'Brien revealed that he was pushing to have Dr. Dre work on Kid A. Yes, you read that correctly. The former NWA member's name was brought up in the creative process for a Radiohead album.
"I kept on saying, 'Oh I'd love to work with Dr. Dre,'" O'Brien told RS. "I knew it would likely be shouted down or laughed at. Also, it might have been a little forced. But at the time, in my head, it made perfect sense." The problem that O'Brien feared would arise was creative differences because "Dr. Dre works a certain way." O'Brien also questioned if he "could handle a rock band." The question he should have been asking himself is if Dre could handle Thom Yorke.
Other fun facts that were discarded from the final RS article include the fact that Radiohead's efforts to make the Spectre theme song messed up their creative process when making A Moon Shaped Pool and that "Thom just doesn't work like he used to," according to producer Nigel Godrich.
Listen to a Radiohead performance (sans Dr. Dre) from the Paste vault below.