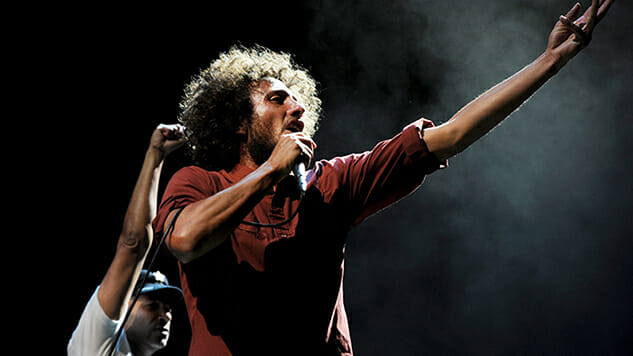 Rage Against The Machine are no strangers to politics; the hard-hitting rock group has never been known to shy away from letting their ideology be heard in their music or in their personal lives. They're notably anti-right-wing, with songs like "Bulls on Parade" condemning oppressive world leaders and aggressive U.S. military tactics. So just imagine how pissed the band was when they found out a conservative pundit was using their name for a podcast.
In response to right-wing U.K. politician Nigel Farage's outright jacking of their name for his podcast Farage Against the Machine, the band has issued a cease-and-desist order to the LBC digital radio station host, demanding he change the show's name and disassociate himself from the group. RATM's lawyer Howard King states that Farage's use of the bands name and logo without their consent constitutes unlawful exploitation. In documents obtained by The Blast, he specifically notes that "implication of any endorsement by our client of you or your policies is particularly abhorrent."
Farage is the co-founder and former leader of the conservative U.K. Independence Party, and has become an outspoken anti-immigration figure and critic of the European Union. He's also a Fox News contributor—big surprise there, we know. "As you should know, RATM has publicly denounced the type of right-wing ideology you espouse for decades," reads the cease-and-desist notice. "Your anti-immigrant rhetoric, lack of social compassion and barely disguised racism and xenophobia are the antithesis of what RATM stands for."
The letter continues by suggesting a different outlet from which to draw inspiration.
Thus, your surprising attempt to associate yourself with RATM is wholly inappropriate and completely inexplicable, unless it's part of some kind of bizarre cleansing ritual. Whatever the motivation, please stop. Stop using RATM's name and logo, change the name of your podcast and find some other target to troll. We suggest President Trump.
We're glad to see that RATM is still raging against the man.