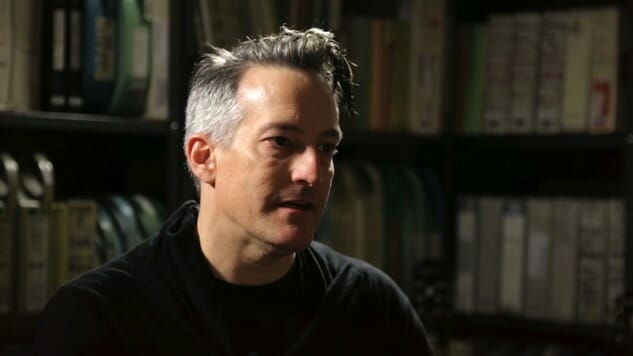 Richard Patrick is the founding member and frontman of the industrial rock group, Filter. Patrick, previously touring guitarist for Nine Inch Nails, formed the band in 1993. Filter subsequently released their platinum debut album, Short Bus, in 1995.
The band, well known for their highly successful singles "Hey Man Nice Shot" and "Take a Picture," are gearing up to release their seventh studio album, Crazy Eyes, on April 8 via Wind-Up Records.
"There's a lot of just anger in it," Patrick told us of the new album. "When I first started out, we were up in arms against hair bands…and I think that in today's music, especially with everything that's out, it seems so friendly and so sugary and sweet, and I understand that we're in darker times, but to me it's almost like we should be more focused on the real stuff that's happening in the world. You know, it's great to say I love you, and it's great to say I miss you and stuff like that, but at the same time, it feels like music doesn't reflect reality. And I think that all of my favorite bands were always reflective of that kind of anger, and I didn't necessarily want to write a record that was specifically political, because I do that on my Facebook page, but I wanted to write a record that reflected the insanity that the world is going through right now."
Watch our full interview with Patrick above.
Filter "Make America Hate Again" Tour Dates
4/13 — San Francisco, Calif. @ Slim's
4/15 — Portland, Ore. @ Dante's
4/16 — Vancouver, British Columbia @ Venue
4/17 — Seattle, Wash. @ Studio Seven
4/20 — Minneapolis, Minn. @ Mill City Nights
4/21 — Arlington Heights, Ill. @ Home Bar
4/22 — Cleveland, Ohio @ Agora
4/23 — Pontiac, Mich. @ The Crofoot
4/24 — Toronto, Ontario @ Opera House
4/26 — Philadelphia, Pa. @ TLA
4/27 — Boston, Mass. @ Middle East
4/28 — Amityville, N.Y. @ Revolution Music Hall
4/29 — Virginia Beach, Va. @ Shaka's (no Orgy)
4/30 — Jacksonville, Fla. @ Welcome to Rockville (Filter only)
5/1 — Atlanta, Ga. @ Masquerade Hall
5/3 — New York, N.Y. @ Gramercy Theater
5/4 — Washington, D.C. @ Howard Theater
5/5 — Knoxville, Tenn. @ The International
5/6 — Charlotte, N.C. @ Carolina Rebellion (Filter only)
5/7 — Athens, Ga. @ Georgia Theatre
5/8 — Nashville, Tenn. @ Exit/In
5/10 — Houston, Texas @ House of Blues
5/11 — San Antonio, Texas @ Aztec Theater
5/12 — Dallas, Texas @ Gas Monkey
5/13 — Tulsa, Okla. @ Cains Ballroom
5/14 — Omaha, Neb. @ Bourbon Theatre
5/15 — Denver, Colo. @ Hermans Hideaway
5/17 — Tempe, Ariz. @ Marquee
5/18 — Las Vegas, Nev. @ Brooklyn Bowl
5/19 — San Diego, Calif. @ House of Blues
5/20 — Pomona, Calif. @ Glasshouse
5/21 — Los Angeles, Calif. @ Roxy