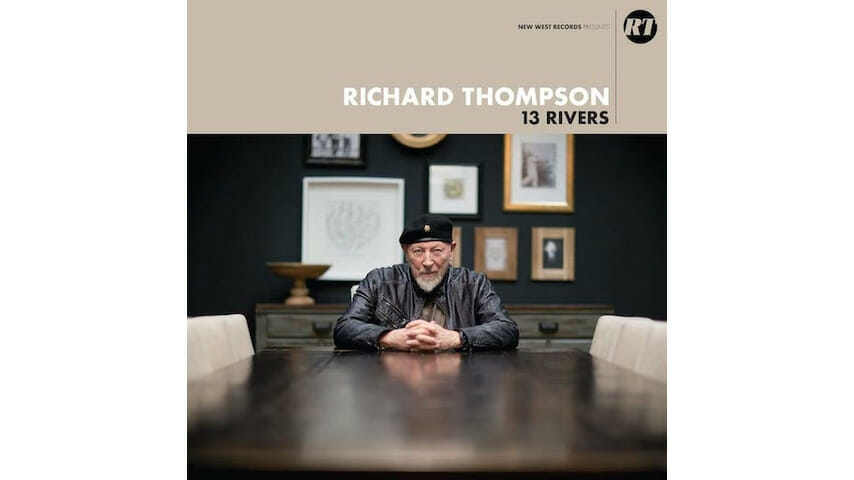 Richard Thompson is a curmudgeon. It's a style that's typified him ever since his days at the helm of Fairport Convention, through to a topsy turvy solo career (which includes the unlikely distinction of being responsible for the worst selling album in Island Records' history) and the establishment of an enigmatic presence that's set him apart from his peers in far more positive ways as well. With his austere vocals and heightened sense of sarcasm, satire and sentiment as applied by his remarkable songwriting and exceptional guitar prowess, his charmingly cranky ways remain firmly entrenched even some 50 years on.
13 Rivers affirms that stance, and while there's no songs that stand out on first hearing like, say, "Galway to Graceland," "Dimming of the Day" and "Vincent Black Lightning," the pondering gravitas that he instills within re-affirms his strength as a songwriter par excellence. Tempered perhaps by personal upheavals on the domestic front, Thompson's droll insights take on a more ominous turn. "I am longing for a storm to blow through town, blow these sad old buildings down," he moans on the teeming "The Storm Won't Come."
The lilting ballad "My Rock, My Rope," one of the few tender moments that grace the album, finds Thompson even more pointed in his anguished intent. "In my pain/In my darkness/Is my comfort/And hope/In my loss/In my sorrow/Is my rock/Is my rope." The plea for comfort is typical Thompson as applied to the characters in his songs, but this degree of personal despair is extreme even for him. It's scary sounding, even hinting at suicidal ideation. Likewise, when he turns up the heat on the song that follows, "You Can't Reach Me," the energy is intensified, but the feeling of alienation and disillusionment pronounced and vivid.
Thompson doesn't stop there either. "O Cinderella," "No Matter," "Pride," "The Dog In You," "Trying" and "Do All These Tears Belong To You" stay true to their titles, addressing the subject of the songs with scorn and a bitter riposte that offer no quarter. Even the assertive declaration of love and devotion implied in "Her Love Was Meant for Me" ("Cupid shoots just like a baby/Now Romeo won't let her be") suggests more than a hint of tempestuous tidings.
That is the twisted sentiment Thompson brings to the table, a contemptuous approach that sometimes leaves his listeners unsettled while testing his charms until the end. "What's my name/My name is trouble/Trouble of the tender kind," he declares on the suitably feisty "Bones of Gilead." That song in particular sums Thompson up succinctly. 13 Rivers may be the most hazardous crossing Thompson's ever had to make, but it's also one of the most telling.
Listen to Richard Thompson at the Newport Folk Festival circa 1988 via the Paste vault below: