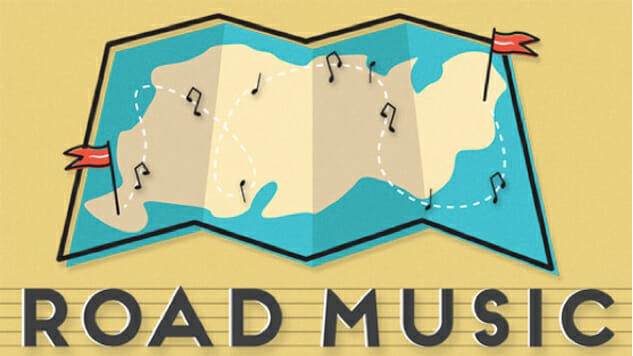 For this series, we'll be following Paste's own Curmudgeon, Geoffrey Himes, as he sets out on a massive road trip across the South, exploring musical landmarks, traditions and history along the way. Ninth stop: Austin, TX.
I gambled three times at the South by Southwest Film Festival on Sunday, and I won every bet.
The first gamble was on the listing for the day's last showing at the Alamo Ritz on Sixth Street in downtown Austin. It was listed as "Secret Screening," and rumors were that it was T2: Trainspotting. But it could have been two hours of smoke rings or two hours of chainsaw massacres. It could have been anything.
The second gamble was getting in. As soon as I got out of the 6:15pm screening for the wonderful Baltimore documentary Rat Film, I got in line at 8:10pm for the 9 o'clock "Secret Screening." But the line was already so long that the white queue cards that guaranteed admission were gone. Instead I got a red queue card that indicated the waiting list.
Did I really want to wait around for 50 minutes with a very real possibility I wouldn't get in? After all, I'd already been burned once that weekend, when I waited 50 minutes to get into Terrence Malick's Song to Song, only to get turned away half a block from the front door. But what the hell, that's what film festivals are all about for the non-VIPs. So I decided to stay.
The line moved and then stopped, moved and stopped. When it stopped again, right in front of the theater's door, my heart stopped, too. But finally we got in, took our seats, and there was director Danny Boyle on stage with Ewan McGregor, acknowledging that this was indeed T2: Trainspotting.
That presented the third gamble: Was there any way this sequel could be as good as the original?
Boyle himself acknowledged the risk in his opening remarks. "People keep coming up to me and saying, 'This better not be shite, Danny.'"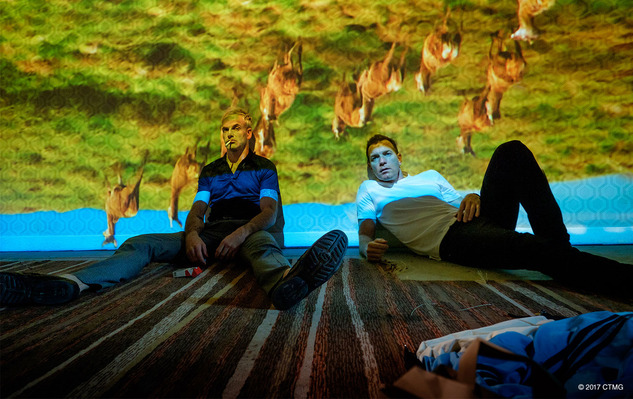 Jonny Lee Miller and Ewan McGregor in T2: Trainspotting (courtesy Sony Pictures)
I won that gamble too. T2, which opened last Friday, may well be better than the original. That 1996 movie, based on Irvine Welsh's 1993 novel about four young Edinburgh heroin addicts, is much beloved, and rightfully so, for vividly portraying the self-absorbed hedonism of young males in is most extreme forms.
But how much more interesting it is to see those same child-men as the self-absorption starts to rub off and they begin to see the consequences of what they're doing? While there's still a lot of sex, drugs and violence in the second picture, what's most interesting are the children at the edges of the story.
There's Begbie's college-age son, who finds the criminal life far less enticing than his old man (Robert Carlyle) expected. There's Spud's estranged teenage son who watches from a second-floor window as his funny-shaped father (Ewen Bremner) goes wobbling down the front walk. There's the two children that Mark (McGregor) claims to have left behind in Amsterdam, but who don't really exist. There's the daughter that Veronica (Anjela Nedyalkova) embraces after a successful scam.
Boyle spins new twists on the visual delights that made the first film so memorable. Right at the beginning there's an unforgettably gross image of a suicide attempt going very wrong. But there are also quiet moments, when the characters are isolated on the Scottish landscape—at the top of a grassy hilltop or in the bowels of a blue-lit street—that allow the characters to ponder the interest accrued on debts they've left unpaid.
"I originally wanted to do the sequel 10 years after the original," Boyle said in the after-film Q&A, "but not enough time had elapsed. The actors hadn't aged enough, and the characters hadn't aged enough. But 20 years seemed right, because then the audience can immediately see the difference…What's amazing about movies is they're about time. What you do in making a film is you expand time or contract time or make it stop."
T2 and Song to Song were the exceptions to the rule at the SXSW Film Fest this year, in which the obscure indie films outnumbered the interesting big-budget pictures by a greater ratio than usual. One of the best small-budget narrative films was Lucky, which does feature a legendary actor—Harry Dean Stanton.
But you can tell it's not a mainstream Hollywood movie by how patiently it builds. The 89-year-old Stanton plays an 89-year-old loner in a tiny desert town in Arizona. His name is Lucky, but that luck seems to be running out after he passes out in his own house.
Not much happens as he makes his daily rounds of watering his cactus, buying cigarettes and milk at the bodega and drinking cocktails at the local bar. But as he gradually comes to grips with his looming deadline, he discovers that he's not nearly as alone as he thought he was. The story starts slowly, but just as you're about to give up on it, you realize how much you've come to care about the town's eccentric characters.
In the post-screening Q&A, director John Carroll Lynch revealed that screenwriters Logan Sparks and Dragan Sumonja based "about 80%" of the script on Stanton's own unromantic musings about aging and mortality. So, though it's a fictional film, there's a lot of autobiography in there, too.
In Lucky, filmmaker David Lynch plays Howard, another old-timer who hangs out as the same local bar as Stanton's character. But Lynch featured in another of the festival's better documentaries, as well, David Lynch—The Art Life. This picture, directed by Jon Nguyen, Rick Barnes and Olivia Neergaard-Holm, takes the unusual approach of devoting the entire soundtrack to nothing more than music and the sound of Lynch's voice telling the story of his life.
Only rarely is that voice matched to visuals of him talking; the footage is mostly of him working on his paintings (the film explains in detail how he started out as a painter before turning to the cinema without ever leaving the painting behind). This mismatch between sound and image creates a two-level story that makes this much more interesting than the usual documentary of an artist.
My favorite documentary, though, was The Untold Tales of Armistead Maupin. Every good movie needs a compelling lead character and a charismatic performer to play the role. Directors Jennifer M. Kroot and Bill Weber found both in Maupin himself, the novelist and journalist who has not only lived a fascinating life but has also developed the dramatic skills to tell that tale entertainingly.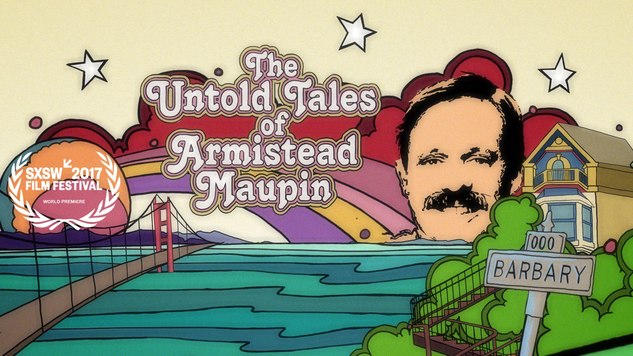 He grew up in North Carolina as a conservative who worked for Jesse Helms and who was invited to the White House to be praised by Richard Nixon. But when he finally admitted to himself that he was gay, he moved to San Francisco and became a reporter to write about the burgeoning counter-culture scene there. Early on he hit on the idea of a lightly fictionalized serial story to reveal the aspects of that culture that the participants refused to reveal on the record. And he found an editor at the San Francisco Chronicle who allowed him to write a new chapter every day, five days a week.
The "Tales of the City" series quickly became must-reading in the Bay Area—either because you loved its insight into bohemian and gay culture or because you hated that. It was turned into a successful novel and then into a controversial PBS mini-series. It wasn't merely the subject matter that made Maupin such a successful writer; it was his way of getting inside characters and summing up their quandaries with meme-like aphorisms.
Perhaps his best known aphorism is, "We moved beyond our biological families and found our logical families." For anyone who has dreaded Thanksgiving dinner with homophobic or fundamentalist relatives, that phrase sums up the opposing pulls of the home one grew up in and the home one found as an adult. That was true of Maupin's life, which this movie captures with the same kind of detail, anecdote and wit as the writer himself.
When I asked Maupin after the screening how he shifted from reporting in newspapers to writing fiction in newspapers, he said he was inspired by two things—the serialized stories of Charles Dickens and Jan Struther in the London newspapers and the Mary Hartman, Mary Hartman alternative soap opera on TV. Untold Tales suggests that we need more such storytelling in our media.