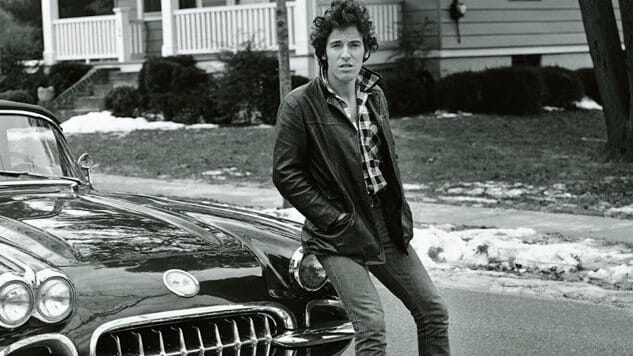 Road trip season is upon us. Whether you're driving across the country or just down the road, it's always better to be prepared with some music to make the trip go smoothly. Scrounging through digital playlists, sifting through friends' iTunes libraries and revisiting high school mixtapes can give you some great ideas, but the task of isolating the best driving tunes can be daunting. To ease your travel stress and make the trip just a little bit easier, here are 50 essentials that will work wonders on your next road trip. —Paste Staff
1. Bruce Springsteen, "Born to Run"
The Boss' 1975 rock jam is the definitive road trip song. With its fist-pumping melody and Springsteen's rough, rebellious vocals, it's an ideal tune to throw on before speeding down the highway with that I-don't-care attitude. If anything is going to get you pumped up for your next trip, it's this. (Just don't blame us when you get pulled over.) —Rachel Haas
2. Bob Dylan, "Like A Rolling Stone"
Bob Dylan's 1965 hit is a message that anyone can become a vagabond. So, pay attention to those around you and feel some compassion for the less fortunate because some day that could be you. At one point or another, we'll all know that feeling to be on our own, with no direction home, a complete unknown, like a rolling stone.
3. Willie Nelson, "On the Road Again"
"On the Road Again" is about a performer's life on the road and was used as the theme song to Honeysuckle Rose, a story about an aging musician who travels with his band/family across the U.S. It's one of the country legend's most popular tunes and an iconic travel theme. —Rachel Haas
4. Prince, "Little Red Corvette"
Prince, we still can't believe you're gone, but we're so thankful that you will live on forever through song and penned one of the greatest road trip pop tunes of all time. "Little Red Corvette" is the perfect track for those long stretches of flat farmland. You can daydream your basic coupe is a shiny sports car as you speed past fields of corn, just don't drive too fast: Those farmland cops have nothing better to do than pull over cruising daydreamers.
5. Iggy Pop, "Passenger"
Everyone needs a little punk on a summer road trip playlist, and Iggy Pop is here to deliver. "Passenger" is said to be about the spirit of the wandering punk outcast and the lyrics are clear-cut descriptions of a nomad passenger and the cityscapes he sees from the car window. It's stark and moody and, after sitting in a car for a couple of hours, you just want a little gruff. —Rachel Haas
6. Wilson Pickett, "Mustang Sally"
Okay, so this song is not actually about a car. The grandfathers of rock 'n' roll did not have the luxury of speaking (or singing, rather) freely about sex, so for some reason they decided to fetishize cars. The Beach Boys had their deuce coupes, and Wilson Pickett had his Mustang (ride Sally, ride).
7. Ray Charles, "Hit The Road Jack"
In 1961, Ray Charles released a song that would soundtrack numerous TV shows, movies and commercials for decades to come. "Hit The Road Jack" is every lady's "I'm fed up with my man" anthem, and its catchy simplicity makes it the perfect road trip song. Just make sure it's not the last one on your playlist, or it may stay stuck in your head forever.
8. Allman Brothers Band, "Midnight Rider"
Is there a driving montage that doesn't use "Midnight Rider?" Maybe a few, but any car commercial or road trip film or television show scene could easily be dubbed over with this Allman Brothers Band's Billboard Top 100 hit. It's been covered by a multitude of artists, featured on a Geico insurance ad and has appeared on the soundtracks for films like Wild Hogs. Even if the original doesn't make it onto your playlist—although why wouldn't it—you should probably have at least a cover or two. —Rachel Haas
9. Talking Heads, "Road to Nowhere"
Even in the age of GPS systems, you're bound to get lost. Sometimes you don't update your maps, or your GPS is unaware of roadblocks, detours, etc. And then there are those frustrating "Acquiring Satellite" moments where you just drive around hoping it'll come back. Whether lost on the road, in life or both, it's times like these where "Road to Nowhere" is appropriate. —Rachel Haas
10. Grateful Dead, "Truckin"
This 1970 tune was penned communally by Jerry Garcia, Phil Lesh, Bob Weir and Robert Hunter, and its lackadaisical, bluesy vibe could give us all a lesson on what life's all about—constant changes. Though the lyrics are about the band's misfortunes on the road, lyrics like "You're sick of hangin' around and you'd like to travel / Get tired of travelin' and you want to settle down" can speak to anyone who's having a hard time figuring out what they want.
11. Simon & Garfunkel, "America"
The ultimate wanderer's love song, "America" is about two lovers' journey on a Greyhound bus as they "look for America." In true Simon & Garfunkel fashion, the two masterfully tell a story of the duo's quest as they smoke cigarettes, read magazines and create profiles for the odd passengers they encounter on their adventure across the country.
12. Matt & Kim, "Daylight"
Matt & Kim's danceable, yet dreamy track is a summer jam that's somewhat of a hitchhiker's anthem. At Boston Calling one year, Matt said the song is "about a time I hitchhiked right past here on my way to Maine." It's a tune for the wide, sun-in-our-eyes wanderer in all of us and will give you a burst of adrenaline when your eyes are tiring. —Rachel Haas
13. Tracy Chapman, "Fast Car"
"Fast Car" isn't literally about a speedy cruiser; it's a song about a couple working to build a better life together somewhere else. It's a song about wanting change, about escaping your situation. If a tune encapsulates that feeling of wanting to get out on the road and run, Chapman's 1988 song is up there on the list. —Rachel Haas
14. Tom Petty, "Runnin' Down A Dream"
You can't have a road trip playlist without a Tom Petty song, and "Runnin' Down A Dream" is the perfect addition. The jangly 1989 rock tune begins with Petty singing, "It was a beautiful day, the sun beat down / I had the radio on, I was drivin'." Just imagine listening to that, on a beautiful day, with the sun beating down, and you're drivin'. Perfection.
15. Bright Eyes, "Another Travelin' Song"
Conor Oberst's jaunty track is a fine dose of indie rock for a playlist. It boasts a stellar upbeat tempo along with catchy string parts and, although we all love his sadder stuff, this is the Oberst you want to take along on your travels as he sings, "Well I'm changing all my strings / I'm gonna write another traveling song / About all the billion highways and the cities at the break of dawn." —Rachel Haas
16. Stone Temple Pilots, "Interstate Love Song"
If you grew up in the '90s, you probably know this song by heart. Stone Temple Pilots were a staple in the era of flannel and Dr. Martens, and this track is the one that put them on the map. Sure, Scott Weiland is singing about leaving on a southern train and not in his car, but the sentiment is the same. Just try not singing along with that chorus.
17. Broken Bells, "The High Road
The Shins' James Mercer and Danger Mouse's Brian Burton have some slick beats on their hands with "The High Road." The song isn't so much about navigating the road, but life, which can sometimes feel strangely similar. The duo reminds us that sometimes a lot of wrong turns have to be made to reach that high road. —Rachel Haas
18. Saves The Day, "Shoulder To The Wheel"
We all have a little emo inside us, and what better place to let it out than on a road trip (in this case of this Garden State band, on the Jersey turnpike)? There's nothing more cathartic than screaming "The radio's playing Queen / And we're rocking out!" alongside Chris Conley's nasally vocals. Plus, there's no better emo road trip line than "Get us as far as far can be / Get us away from tonight!"
19. The Beatles, "Ticket to Ride"
Any trip should involve a little Beatles and "Ticket to Ride" is some groovy early-Beatles that should satisfy your need for John, Paul, George and Ringo while en route. This Lennon-penned song from Help! takes all the catchy pop elements of early Beatles songs and amps it up through Ringo Starr's driving beats. It's one of their heaviest pop songs, its upbeat melody contrasting with Lennon's lament for an imminent break-up. —Paste Staff
20. Fastball, "The Way"
The premise of this late '90s wanderlust anthem is about packing up and leaving behind the life you created—house, job, kids and all. The lyrics "They won't make it home / But they really don't care / They wanted the highway / They're happier there today, today" encompass that carefree spirit of following the road wherever it leads. Unfortunately, the real-life couple that inspired this song was eventually found dead in an Arkansas ravine, so if you're going to follow your whimsical dream, please be safe.
21. Tom Cochrane, "Life Is A Highway"
This 1991 tune is the perfect one to crank up to 11 after you've been on the road for hours and need a little jolt. Is it a masterpiece? No. Is it cheesy AF? Absolutely. But if you don't sing along to the chorus, you don't deserve to be on this road trip.
22. Roger Miller, "King of the Road"
Roger Miller may have wrote the most iconic song about a vagabond in 1965, and it's a song you can sing with your parents, because people of any age knows "I'm a man of means by no means, king of the road!"
23. Dr. Dre, "Let Me Ride"
Old school West Coast hip-hop is the perfect soundtrack for cruisin' through the city, and Dr. Dre's "Let Me Ride " is the ultimate anthem. When the world was getting introduced to Dre and Snoop, everyone was singing, "Swing down, sweet chariot stop and, let me ride… Hell yeah." That deserves an extra hell yeah.
24. Rihanna, "Shut Up And Drive"
Old rock 'n' rollers used cars for not-so-subtle euphemisms sexualizing women in the '60s, '70s and even '80s, and Rihanna used them to sexualize herself in 2007. The lyrics to "Shut Up And Drive" are less than eloquent, but dammit if this song isn't fun to sing along to!
25. Queen, "Bohemian Rhapsody"
Okay, so "Bohemian Rhapsody" has nothing to do with driving or being on the road, but there is something undeniable about singing along with a group of friends to the epic Queen anthem, Wayne's World style.
26. The Beach Boys, "Good Vibrations"
We could have added "Little Deuce Coupe" to this playlist, since "Good Vibrations" has nothing to do with cars neither literally nor metaphorically, but come on, it's a classic sing along (and longer than a minute and 36 seconds). Blast this while cruising down a coastal highway with the windows down, and you won't care that it has nothing to driving.
27. DJ Jazzy Jeff & The Fresh Prince, "Summertime"
"Summer summer summertime / Time to sit back and unwind." True words of wisdom, and a song that deserves a place on your road trip playlist for those sunshine-y patches of road, where you've got your window rolled down and your hand catching the wind.
28. Sheryl Crow, "Everyday Is A Winding Road"
Sheryl Crow's "Everyday Is A Winding Road" may not literally be about driving, but it's a metaphor we all could benefit from remembering. We're all getting a little bit closer to feeling fine, after all.
29. Cyndi Lauper, "I Drove All Night"
In 1989, Cyndi Lauper went from proclaiming that girls just wanna have fun to declaring her love to someone who lives far, far away. This is your road trip love song, but some words of advice: Maybe don't drive all night and then creep into someone's room and wake them up to make love to them. .
30. U2, "Where The Streets Have No Name"
We've all wanted to get away at one point or another, and who knows, this road trip of yours could be a means of escape. But whether or not that's the case, U2's 1987 single off The Joshua Tree is a special road anthem. That dreamy, sparkling, nearly-two-minute-long intro builds up anticipation until Bono declares, "I want to run, I want to hide / I want to tear down the walls that hold me inside."
31. Smashing Pumpkins, "1979"
"1979" is every '90s misfit teenager's anthem. There's something so carefree about this song that makes it the perfect choice to blare from your car stereo while driving on cruise control down a vast stretch of country highway, headlights pointed at the dawn.
32. Brand New, "Soco Amaretto Lime"
If you are a Millennial, chances are you and your friends used to belt out this song in your car while skipping class in high school. It's the quintessential emo ballad about staying 18 forever and living life without a care. Though if the low fuel light's been on for days, you should probably get some gas because you don't want to be breaking down on a highway in the middle of nowhere.
33. Death Cab For Cutie, "Grapevine Fires"
This Death Cab song is about a series of wildfires that burned through southern California all the way down to the U.S.-Mexico border in 2007. Even though that was a decade ago, if you drive through the path of the flames, you can still see the scars it left amidst the fresh, new greenery, and there's something beautiful about that.
34. Angus & Julia Stone, "Big Jet Plane"
Sometimes when a car can't get you where you want to go, you turn to the skies. And a song about flying should be as free as a song can get. The now defunct Angus & Julia Stone (both brother and sister have gone solo), pieced a beautiful song about running away on big jet planes. It's a little sleepy, but the uplifting, no-attachments feeling is worth it. —Rachel Haas
35. Don McLean, "American Pie"
Okay, we know this song is a depressing ditty in honor of the late Buddy Holly, but if any summer road trip playlist has gotta be heavy on the sing-alongs. Most everyone knows this iconic chorus: "Bye, bye Miss American Pie / Drove my Chevy to the levee but the levee was dry…" Is the rest stuck in your head now?
36. Sufjan Stevens, "Chicago"
This is the ultimate indie road trip song. Driving to Chicago for love then to New York City in a van with your friend, Sufjan Stevens' "Chicago" is a magical tune with some whimsical instrumentation that lets your mind take the wheel. And just in case it needed any more indie cred, it was featured in Little Miss Sunshine, the ultimate indie road trip movie.
37. Chuck Berry, "Route 66"
If you were ever in a choir class in middle or high school, chances are you sang this song. There were so many covers and iterations of the track originally penned by Nat King Cole, and for this playlist we're going with Chuck Berry's 1961 version. That bluesy guitar and piano and Chuck's nonchalant delivery make for one helluva ride. We recommend listening to this while cruising the song's namesake.
38. Modest Mouse, "Interstate 8"
At times, Modest Mouse possesses a desolate, lonely vibe, emulating those feelings of navigating your way down dusty, isolated roads, no cars in sight. "I spent the same 18 hours in the same damn place / I'm on a road shaped like a figure 8 / I'm going nowhere, but I'm guaranteed to be late." Isaac Brock's Interstate 8 appeals as both a figurative and literal highway, but regardless of interpretation, you could drive in circles to this one. —Rachel Haas
39. James Taylor, "Carolina In My Mind"
This song could calm even the most rage-fueled road-ragers and, whether on a sunny Sunday drive or an epic cross-country adventure, there always seems like a good time to play this song. It's perfect for anyone with a hint of homesickness. —Rachel Haas
40. Coconut Records, "West Coast"
Jason Schwartzman hasn't penned a particularly cheerful tune here, but "West Coast" is still catchy enough to keep you entertained on the road. The twinkling keys and fun little noises would lead you to believe that this sing-along wasn't about heartache, but it is. That doesn't mean it shouldn't be blared from your stereo, though. —Rachel Haas
41. Led Zeppelin, "Going To California"
This song is about traveling to California via airplane, but the sentiment remains the same. Sometimes we go on road trips to find something, and in Robert Plant's case it's a girl with love in her eyes and flowers in her hair. What a beautiful thing.
42. Phantom Planet, "California"
While it's hard to listen to Phantom Planet's "California" without thinking of The OC, we won't hold that against it. The tune predated Augustana's similar-sounding relocation ballad "Boston," but does so with more indie-rock oomph amidst those chillaxed vibes. Ideally, listen to it on your way to California, but it'll work just as well anywhere. —Rachel Haas
43. Albert Hammond, Jr., "101"
There's something effortless, lazy and reminiscent of '90s lethargy in "101." There's nothing cooler than throwing on your sunglasses behind the wheel and thinking you can do it all. The Strokes's Hammond, Jr. crafts a great tune with infectious riffs and a melody that will help pass the time. —Rachel Haas
44. LL Cool J, "Going Back To Cali"
If you're driving in California, this song is kind of a must-play. LL Cool J's 1989 jam is the perfect pick me up if you've been on the road for a while. Imagine yourself living out the lyrics: "Vroom engine's blowing, the chrome, is shining / Passing all the cars on the way / Movement of the wind, back wheels spin" as you cruise down the 5. You just might not be popping in a cassette and pushing play (unless you're driving a really old car).
45. Jackson Browne, "Running on Empty"
According to Rolling Stone, Brown wrote this while he was commuting to the studio each day to create The Pretender. "I was always driving around with no gas in the car," he said. "I just never bothered to fill up the tank because — how far was it anyway? Just a few blocks." It's a track written on the road, for the road. —Rachel Haas
46. John K. Samson, "Cruise Night"
This song is what your high-school years should sound like—when driving around in your older sibling's car and getting late-night ice cream with your friends was still your favorite thing to do on the weekend. It's both nostalgic and exciting—like remembering your first couple of cruise nights and discovering just how awesome simply rolling along the road could be when you were doing it with friends. —Rachel Haas
47. Cake, "The Distance"
Yes, there are other songs on Cake's Fashion Nugget that are about driving too ("Race Car Ya Yas," "Stick Shifts and Safety Belts"), but for playlists like this, you've gotta go with the single. This song was all over alt-rock radio stations in the late '90s, and it's just so fun to single along to John McCrea's slightly monotone voice. And those horns! Gotta love those horns.
48. Arcade Fire, "No Cars Go"
Arcade Fire, for all their calming indie tendencies, are totally and outstandingly capable of writing some wonderful driving anthems. From the pulsating beat to Win Butler and Régine Chassagne's powerfully intertwined vocals, "No Cars Go" is equal parts heavy and soft, ideal for a night drive or one to simply clear your mind. —Rachel Haas
49. Anderson .Paak, "Parking Lot"
The 2017 Grammy nominee stole the music industry's heart with his latest album, Malibu, and one of the most upbeat songs on the record is perfect for any road trip. "Parking Lot" isn't necessarily about driving, but it's got a line we can all relate to: "I don't remember the parking lot / I just remember the song we sang." If you don't have a memory like that in your cerebral archives, you need to dig deeper. It's there.
50. Edward Sharpe & the Magnetic Zeros, "Home"
While firstly a love song—"Home / Let me come home / Home is wherever I'm with you"—it also serves as a great coming-home anthem. For Jade and Alexander, home is each other, but home is a subjective term with many meanings. So really, if you going home, missing home or anything in-between, "Home" is what you need. —Rachel Haas