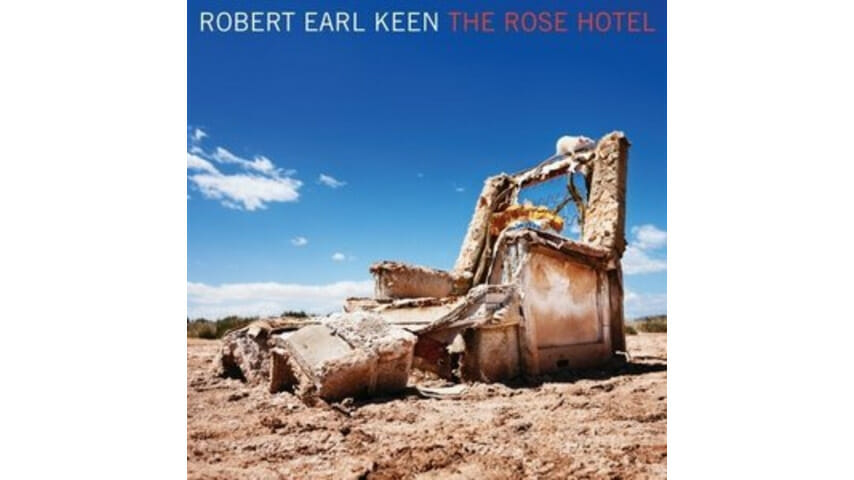 Robert Earl Keen practices two very different kinds of Texas music. On one hand, he has a gift for the kind of understated, skeptical, literary songwriting pursued by his mentors Townes Van Zandt and Guy Clark, and friend and neighbor Lyle Lovett. On the other, Keen has become a hero to Lone Star State fratboys who sing along lustily to Keen choruses celebrating guns, alcohol and squandered hours. As a result, some folks blame him for Pat Green.
It's tempting to claim that the first is the good Keen and the second is the bad, but that's too easy. Creating a chorus that's so obvious, so contagious, so pleasurable that people want to sing along is a rare pop-music talent, and he's got it. On his new album, The Rose Hotel, you can hear Keen's two sides wrestling with each other, as they have for much of his career. Only when those two sides accommodate one another does his music truly work.
He strikes the right balance on the new disc's title track. The rousing, infectious chorus sounds like an ode to drunken excess: "Sometimes you run, sometimes you stall, sometimes you don't get up at all." But the verses boast the kind of detailed, detached observation that would do Van Zandt proud: A man hangs out in an alley with wild dogs, a woman listens to oldies radio in an old hotel—both wondering if they should try to connect one more time. As the story slowly unfolds, we realize that the chorus isn't about a raucous keg party but about our often-doomed attempts to find love, making it sadder and richer than we'd thought. The song wouldn't be half as good if it had lacked either the disarming universality of the chorus or the bittersweet particulars of the verses.
Something similar happens with "On And On." The first verse offers the splendid image of a boy running around a fenced ring where his teenage sweetheart is riding a strawberry roan through the purple twilight. Subsequent verses offer similar rites of passage—a young man playing old blues tunes, a married couple in a harbor cabin, a man asking unanswerable questions in a cemetery—and the chorus ties it all together by simply repeating the title as if the cycles of life were endless.
And it's not just the lyrics. The music of "On And On" marries the mundane and the mysterious, too, adding an undercurrent of swirling, otherworldly guitar to the bouncy country two-step. When Keen remakes Van Zandt's "Flying Shoes," he adds a fat, funky bottom, as if he were singing it with the E Street Band. And Danny Barnes' prickly banjo and Bill Whitbeck's groaning harmonica give the slow blues of "Goodbye Cleveland" the necessary weight to pull together stray lines about dead bluesmen and drinking.
Without that weight, Keen becomes the Texas equivalent of post-1978 Jimmy Buffett, a panderer to the escapism of hedonist slackers everywhere. This is most obvious on "Something That I Do," but it also leads to the easy jokes of "Wireless In Heaven" and perfunctory Levon Helm tribute, "The Man Behind The Drums." Worst of all, it leads to "10,000 Chinese Walk Into A Bar," which tries to mock drunks telling jokes badly and becomes a badly told joke itself.
"Throwing Rocks" threatens to be another such song. It begins with commonplace phrases about holing up in a shack with a new lover and watching time crawl by like the nearby river. But when the singer's lover runs off with another man, the song's mood flips. Now time is slowed by despair, not infatuation, and the chorus about throwing rocks in the river has a new, different meaning.
It's the kind of switcheroo Van Zandt might've appreciated, but Van Zandt never came up with a chorus so lusciously singable, so likely to lead into a dizzying coda of soul-diva wailing and banjo scratching. When Keen links those two sides of his talent, he's like no one else.