Jesse Skyes and The Sweet Hereafter: Jesse Sykes and The Sweet Hereafter – Oh, My Girl
Music
Reviews
SKYES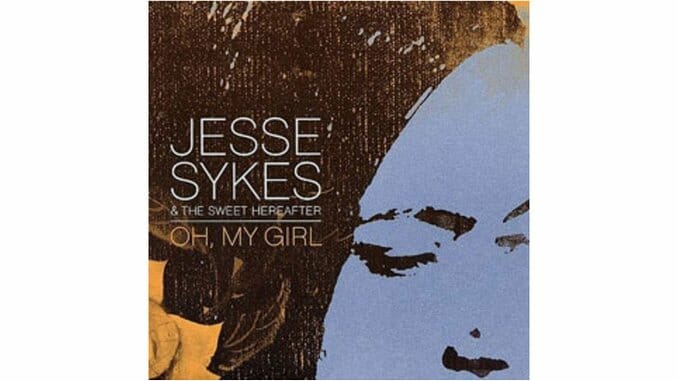 Leave it to a band called The Sweet Hereafter to discover musical reincarnation. The late, great Sandy Denny might be my favorite female vocalist, and on those early Fairport Convention and Fotheringay albums she conjured the kind of quiet soulfulness that conveyed the deepest, most searing psychic wounds. Jesse Sykes, with her dusky, rich alto and devastatingly aching delivery, sounds like the reincarnation of Sandy Denny, and she's transplanted that miraculous voice to desolate and desperate alt.country territory. Yee haw, pass the razor blades.
Oh, My Girl, the second album from Seattle-based Sykes and the Sweet Hereafter, is, if anything, an improvement over 2002's impressive debut Reckless Burning. Phil Wandscher, former Whiskeytown foil for the mercurial Ryan Adams, is Sykes' guitarist, and he turns in a revelatory performance here that's part Duane Eddy twang and reverb, part Neil Young sonic squall, and all slow burn. He's the perfect complement to Sykes' supple voice, and the less-is-more aesthetic of his expansive, winding solos sets off these 10 tales of loss and dislocation like glittering jewels.
Sykes is an oblique lyricist and it's occasionally hard to tell just what she's so sad about, but there's no denying the melancholy that drapes over these poetic tales like a shroud. "You Are Not Gotten Here" and "The Dreaming Dead," with their hushed, world-weary vocals and overpowering sense of alienation and loneliness, are typical. But even relatively upbeat, optimistic tunes such as "Tell the Boys" move at their own dirge-like pace, and in truth these 10 songs are of a piece.
There are no standout tracks, no obvious singles, no breakout songs just waiting for heavy rotation on MTV or CMT, and yet they all stand out in their own insistently understated fashion. Oh, My Girl is the soundtrack to loneliness, and rarely has a record sounded so quietly riveting or intense. This kind of raw, naked vulnerability can be fraught with navel-gazing perils, but Sykes, to her credit, manages to steer a steady course that avoids self-pity and narcissism. The glacial tempos and languid arrangements may suggest Cowboy Junkies or Portishead, but the weeping pedal steel, the downhome viola flourishes (yes, there are such things) from former Walkabouts standout Ann Marie Ruljancich, and Sykes' songs of inconsolable hopelessness are pure cry-in-yer-imported-beer collegiate country dreampop.
Oh my, girls and boys, this is a beautiful, heartbreaking album. Country gothic at its bleakest and most starkly poignant.