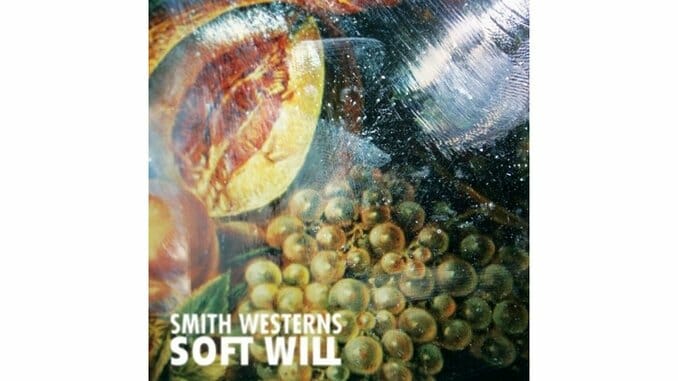 Only four years separate Soft Will, Smith Westerns' third studio album, with their buzz-worthy debut. But the difference—sonically, compositionally, spiritually—is astounding. They started out as snotty, garage-rock teens (Smith Westerns), quickly graduating to glam-rock wise-asses (2011's Dye It Blonde) as their critical stock swelled. But with Soft Will, they enter the real world disillusioned, drowning their loneliness and insecurities (earned, naturally, from Life on the Road) in lush space-rock soundscapes.
This progression makes sense. Smith Westerns are no longer hard-partying, basement-crashing teenagers; expressed in Roman numerals (as in the title of the album's Pink Floyd-styled instrumental), frontman Cullen Omori is now "XXIII"—old enough to be a post-collegiate, even though he and his bandmates skipped out on degrees in pursuit of rock. After touring behind Dye it Blonde, the band returned to Chicago—but not the Chicago they knew. Their friends were growing up, moving on, chasing careers. And while they likely didn't realize it, Smith Westerns had done the exact same thing: Soft Will is the band's bold leap toward maturity.
Working again with studio whiz Chris Coady (Beach House, Yeah Yeah Yeahs, Grizzly Bear), they've maximized their potential as sonic craftsmen: Every snare drum cracks like a whip; every guitar fill glistens with echo and cavernous reverb. Most importantly, Omori's nuts-and-bolts songwriting has grown sharper and more elegant—these songs are laced with diminished chords, vocal harmonies, major/minor swells. Opener "3am Spiritual" is the jaw-dropping peak—an ornate slice of Beatles-esque psych-pop, glowing with organs and "whoa-yeah" chants and dreamy atmospheres. But there's no shortage of prettiness elsewhere, from the sugary mag-fantasies of "Glossed" to the Britpop effervescence of "Varsity."
But even if this sudden maturity results in deeper sounds, it doesn't always result in deeper songs. The album's wide-screen dreaminess grows into a crutch, rarely masking the blandness of the "woe-is-me / maturity sucks" lyrics. Instead of sounding emotional, Omori mostly sounds bored: "Chain smoke my days away," he sings on "White Oath," "Wrote my poems even though no one would ever read them." Their loneliness—as real as it may be—often sounds manufactured. ("I know it's hard to be alone," goes another daydream, "Count the days, count the nights.")
For a rock band, prettiness isn't a given—it's a gift. But, as Soft Will proves, prettiness can only get you so far.