Spotify Launches Program Allowing Indie Artists to Upload Music Directly to Platform
Images via Spencer Platt/Getty, Spotify
Music
News
Spotify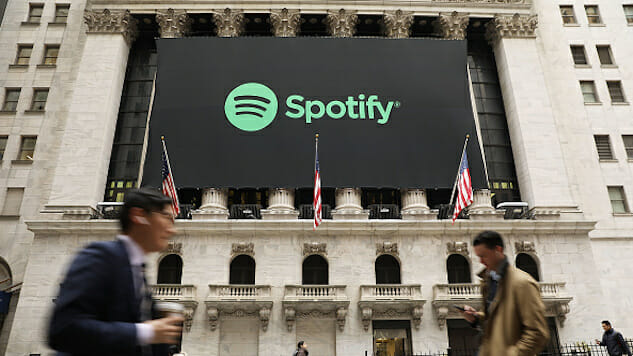 Once again shaking up traditional music distribution methods, Spotify announced Thursday that it is launching a program allowing independent artists to upload their music directly to the platform.
Beginning today, Sept. 20, "a few hundred U.S.-based independent artists" will have access to the program. The process is done entirely through an artist's Spotify for Artists account, and it's as easy as uploading the music, adding in the relevant metadata and scheduling a time for the release to go live.
"We've focused on making the tool easy, flexible and transparent," Ken Anoliefo, senior product lead for Spotify For Artists, told Billboard. "There will be no limit or constraint on how often they can upload. We think that can open up a really interesting creative space for artists to begin sharing their music to their fans on Spotify."
Prior to this, independent artists generally used distributors like DistroKid, TuneCore and CD Baby which, for a fee, allocate the artist's music to the various streaming platforms, dole out royalty payments and track various analytics regarding the release's performance. In contrast, Spotify's program allows independent artists to upload music for free, receive payments on a monthly basis, rather than deal with the multiple-month delay associated with traditional (if they can be called that, considering streaming is still really new) distributors, and view all data and analytics right on their Spotify for Artists dashboard.
Spotify is using payment processing company Stripe to handle all royalty payments, which will be accounted for on a monthly basis. In an email to Billboard, a representative from Spotify said that 50 percent of the company's net revenue on a release will go to the artist, as well as 100 percent of the royalties. The company will also handle any payments to music publishers. Because Spotify is eliminating the middle-man in these transactions, artists will now be able to see a historical transaction of previous payments, track when a payment is expected and anticipate future payments all within their Spotify for Artists accounts.
"One of the things we've heard from the tests is this level of transparency really helps artists be able to plan and budget for the future as well as connect their overall performance on Spotify—how their music is performing, how their fans are discovering their music—using all those existing tools along with these additional tools to release music and get paid," said Anoliefo. "There's not that much information needed other than the music and the metadata associated with it, and then we'll take care of the rest."
Of course, this decision really only affects independent artists who own their own copyright, and are previously unaffiliated as far as label and distribution deals are concerned. Major label, or even indie label, signed artists will continue to use the same distribution method as before (for now).
This is the beta launch of the program, which has only been tested—discreetly—with a few artists prior. It is currently available by invitation only, though artists not yet invited can sign up to receive further information in the coming months.
You can check out Spotify's blog post announcing the program here.