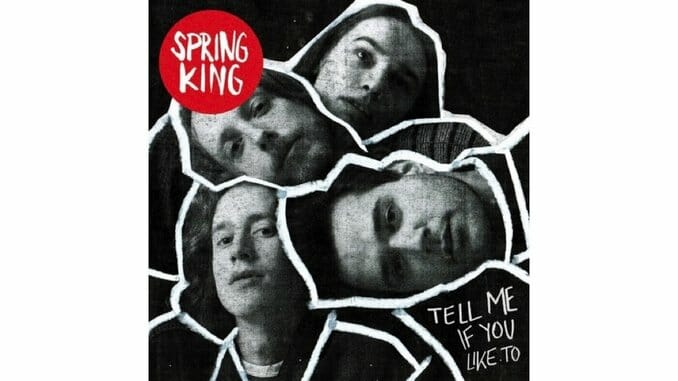 Manchester-based four-piece Spring King should consider a change of scenery soon. While the UK is revered for the music it breeds, especially around Manchester, Spring King's raucous brand of rock 'n' roll recalls some of the best bands to come out of the grimy Detroit rock city scene of yore. On their debut album Tell Me If You Like To, Spring King have put together an ageless collection of rollicking guitar licks and chaotic drum tempos, making for an album that is equal parts MC5 as it is FIDLAR. Though without a signature sound to call their own, Spring King's debut acts as one of the most genuine examples of rock 'n' roll of the year.
If there is one word to describe Tell Me If You Like To, it's "unrelenting." While the music itself is driving and rowdy, the band does not shy away from a few calmer moments. It is the melancholia in the lyrics of lead vocalist and drummer Tarek Musa paired with the melodic disorder that makes the band so unrelenting. Midway through the album is the closest the band gets to a "slow" song in "Demons," which perfectly exemplifies the juxtaposition of debaucherous rock and personal strife. "Woke up in the morning to the face of broken dreams," Musa delivers with his strongest convictions even in his worst moments. He reassures himself, "My heart's bleeding, I'm still breathing," proving that Spring King is a force to be reckoned with. Never down for the count, Tell Me If You Like To puts up the good fight and emerges victorious with the help of its rawness, both personally in its lyrics and musically in its dirty garage edge.
Even in the face of adversity, Spring King manages to make sad songs into feel-good anthems with their boisterous chaos. Torn between caring too much and not caring at all, the opening track "City" has Musa pondering over his place, "If only I could cry just for one minute, I'd be gone in the end of time searching for a world in which I feel fine," all before casting it all off with an agitated "What does it matter?" Spring King's energy is kinetic in the way rock 'n' roll should be, instilling good vibes into the worst of times. Tell Me If You Like To often finds the band kicking and screaming, both in downtrodden passion and in high spirits. What makes Spring King one of a kind is that they do not feel the need to differentiate the two.