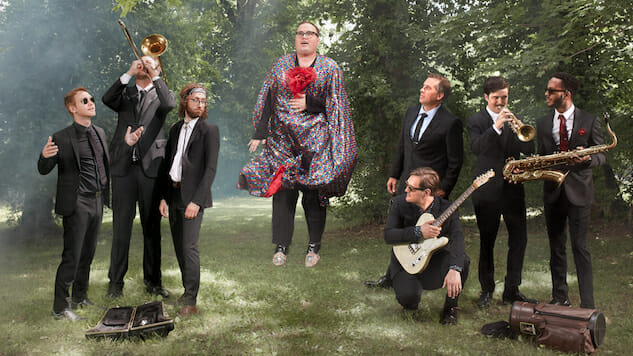 Paul Janeway, energetic ringleader of the eight-piece, Alabama-based band St. Paul & The Broken Bones, doesn't read fiction. Rather, he opts for rotund reads about cancer or science, or, while falling asleep, he listens to folktales, like those told by Alabama storyteller Kathryn Tucker Windham, on audiobook. Right now, he's digging into a text about the history of the Gulf Coast.
"It actually literally started with the Pangea," he emphatically explains over sweet tea and fried catfish at Niki's West buffet in Birmingham, Ala. Janeway's wife, Caroline, has a masters in literature, so it's ironic that Janeway should forgo novels for oceanic biographies, especially since his own music is almost always narrative-based. And Young Sick Camellia, the band's third LP out now, might be the most literary of them all.
"You always try to create some sort of place in your mind that you're writing from, and really it's always going to be symbolic," Janeway said. "And this record especially is pretty personal and kind of direct in certain spots."
Young Sick Camellia is many things. It's Janeway's self-reflective concept album, a disco experiment (the results of which are readily discernible on its juicy centerpiece, "GotItBad") and the first record in a planned three-part series about Janeway's family. It's also something of a spoken-word manifesto via his late grandfather, whose voice tracks the album's four interludes. Young Sick Camellia, whose title is a reference to Alabama's state flower, was originally slated as the first in a trilogy of EPs, but after a lot of troubleshooting in the studio, the project bloomed into a full-length album.
That may seem like a lot of ideas for a singular 50-minute offering, but Young Sick Camellia accomplishes all Janeway and co. intended, while simultaneously serving up plenty of the grooves, energy and Southern soul that defined their first two albums: their unfussy, but powerful, 2014 debut Half the City and 2016's sweeping Sea of Noise. With some help from hip-hop producer Jack Splash—who's best known for working with artists like Kendrick Lamar, Solange and Alicia Keys—St. Paul and his disciples create on Young Sick Camellia a modernized, multifaceted tracklist, one that maintains both sonic diversity and conceptual cohesion. There's even some dance beats in there, too.
Janeway wrote two of the songs—"Convex" and "Concave"—while staring at himself in a mirror. Inspired by Italian Baroque painter Caravaggio, he propelled his self-reflective aims to a new level. "I was obsessed with this idea of Caravaggio painting himself in a mirror," he says. Thanks to Janeway's many trips to Italy with his wife, the Renaissance was a key influence on the album's aesthetics, but Young Sick Camellia also projects outer-space imagery, harkening back to some of Sea of Noises's more galactic elements. One track, literally named "NASA," is a psychedelic space ballad. "Moondust stuck inside the air I breathe," Janeway sings. Another, the funky, trumpety love song "Apollo," fades out to the sound of a beeping satellite.
"What I always find fascinating about space is that it's somewhere not here," Janeway said. "Sometimes I think we all have that feeling of 'How the hell do I get out of here?' For me personally, this is one of the weirdest jobs because you can be surrounded by people and feel so isolated. A lot of it is symbolism for being isolated and feeling like you're not a part of the mass."
Janeway covets the symbolic, space-referencing or otherwise, though his lyrics aren't always interpreted as such. Even Jesse Phillips, Janeway's longtime friend and the band's bassist, is unclear on some of the record's more meaty metaphors.
"I'm still learning about alternative interpretations of the last record," he joked. "I actually just thought [space] was something to do with the cosmic insignificance of the self or something."
St. Paul & the Broken Bones' live shows seem to transcend space and time, reality and fiction. Janeway assumes a rambunctious character, scaling stage equipment and sometimes abandoning the stage altogether. At their show in Tuscaloosa, Ala., on the day of the album's release (Sept. 7), Janeway donned an outrageous glittered cape as he commanded the stage, somehow at once channeling Elton John and James Brown. "I think whether there's seven people or 7,000, it's my therapy for the day," Janeway says. "I get to be reckless and stupid and also entertaining. I get into my own world."
Not only are the shows therapeutic for Janeway, but also for everyone in the room.
"Paul's able to summon a collective catharsis between him and the band and the audience," Phillips says. "And I think that's why people like the show so much. The crowds keep getting bigger. But it does take a lot of lifeforce to summon this event."
The band has come a long way since playing to virtually no one at Alabama venues like Tuscaloosa's Green Bar (this time they headlined the much larger Druid City Music Hall), but Janeway is still apprehensive about performing. "We can have a sold-out show, and I still think nobody's gonna show up," he says. "It's just terrible. Like the show's sold out, Paul. Why would they not be here?"
He needn't worry about empty rooms. Since their inception in 2014, the band has procured a devoted following, through their reputation as live performers, song placements in movies and TV shows like Fifty Shades of Gray and Big Little Lies and their status as musical moguls in their home state. Ties to Alabama are strong: Janeway, who wore his brand new Alabama Crimson Tide hat to the interview ("Everyone kept thinking my other one was a Braves hat"), is a lifelong fan of the college football team, perhaps an inevitable devotion considering he was named after legendary coach Paul "Bear" Bryant. Last December, as Alabamians prepared to vote in a closely watched senate special election between Roy Moore and Doug Jones, the band performed at a last-minute benefit for Jones in Birmingham. Janeway doesn't always tout his politics, but this was a dire occasion. Jones' victory became an international news story.
"I'm not naive enough or arrogant enough to think that we made this gigantic difference or anything like that," Janeway says. "But there are certain times that I think when you gain that capital and your audience trusts you, that you use that platform. That was important for us because it was going to be an embarrassment."
They've only just kicked off a tour behind Young Sick Camellia, but Janeway is already eager to start work on the next chapter. He hopes to get back in the studio early next year. After he writes the anticipated three albums in the series, however, Janeway fears his creative juices will stop flowing.
"I feel like some point I'll feel like I have nothing left to give to people and I'll just become a banker or something, a grocery store clerk," Janeway said. Phillips chimed in with his prediction: "A jaded dad rocker."
No matter what happens following the releases of Young Sick Camellia's descendants, the band is more than content with their journey thus far.
"By our standards we're immensely successful," Phillips says. "We're beyond where we thought this would go."