The 8 Best Summer Concert Tour Pairings of 2017
Kurt and Courtney is just the tip of the iceberg.
Photo of Sylvan Esso by Julia Drummond
Music
Lists
Summer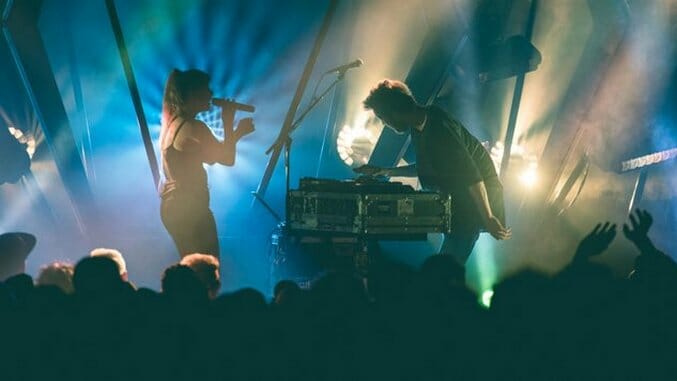 The recent Kurt and Courtney tour announcement got us thinking (no, not that Kurt & Courtney): Summer concert tours aren't really much different from blockbuster summer movies. They're both big ticket events that people look forward to, and promoters generally make a concerted effort to push the best of them during hottest months of the year. And with concerts, unlike movies, you might even get lucky enough to see some of your favorite acts outdoors. After searching through this summer's touring teams—from those that seem to compliment each other to those that sound totally random—we found eight concert tour pairings you should check out in the coming months. One ticket, two acts, here it goes.
1. Kurt Vile with Courtney Barnett
There's a new Kurt & Courtney in town and we'd be remiss if we didn't start off with the very bill that inspired this exercise. The pair has a collaboration album in the works and will be playing new songs backed by their band, The Sea Lice featuring Sleater-Kinney's Janet Weiss on the drums. Here's hoping they each do a set of solo material before the full collab (like that first Run The Jewels tour, when El-P played Fantastic Damage cuts and Killer Mike coursed through R.A.P. Music before tracks from their joint self-titled debut). Full dates can be found here.
2. Sylvan Esso with Flock of Dimes
Sylvan Esso are at the top of their game on stage. The electronic energy felt on their two albums comes to life through Amelia Randall Meath's contortionist dance moves and Nick Sanborn's synth bounciness. But what really sets this bill apart, is a chance to see Flock of Dimes's Jenn Wasner. Yes, that's the same Jenn Wasner who fronted Wye Oak for many brilliant years, and she's just as spectacular with her solo endeavor, Flock of Dimes. Full tour dates and tickets here.
3. Lionel Richie with Mariah Carey
Aptly titled the "All The Hits Tour," Lionel Richie and Mariah Carey's tour is a long-awaited one, as it was previously cancelled when Richie needed knee surgery. Between them, these two storied singers have too many hits songs to count, and they're planning on sharing them at some of the biggest venues in the country (From MSG to the Hollywood Bowl). Whether you're in it for enjoyment or irony, lock down your tickets here.
4. Tycho with Todd Terje & The Olsens
Tycho's live band electronica meets Terje's leisure suit-clad alien dance beats, which sometimes feels like what would happen if Disneyland's Main Street Electrical Parade happened at a techno party. This is the show where you show up ready to get weird for Terje, only to burn some herbs for Scott Hansen and Tycho's trippy audiovisual journey. Check out the limited dates here.
5. James Taylor with Bonnie Raitt
James Taylor and his unique brand of bittersweet folk rock is joined by blues guitar goddess Bonnie Raitt. Taylor has so many classic sing-alongs and Raitt's immaculate guitar playing is still a tour-de-force. Go ahead and file this as the best tour to take your parents to for their anniversary, while still enjoying it yourself by checking out those dates.
6. Beck with Thundercat
Beck's puppet show set during 2006's The Information tour was one of most creative live sets I've ever seen. The man is an incredible performer, whether he's taking creative leaps making live music videos with puppets fashioned after him and his band on stage, or just standing front and center with his guitar, playing songs spanning his his storied 24-year, 12 album career.
Credit Beck for bringing one of this year's best live performers,Thundercat, along for the ride. Perhaps the best bass player making music today, Thundercat's 23-track Drunk is a genre-transcending opus. One catch, the pair have only two shows together in the midst of their own extensive tours, one at Berkeley's Greek Theater and the other at Oakland's Fox Theater. Besides that, you'll have to catch Thundercat's Drunk tour here and Beck's solo tour here.
7. Willie Nelson with Kacey Musgraves
Willie's West Coast run of shows with Kacey Musgraves is a great example of the classic old guard ushering in a bright young star. It's the King of Texas (sorry, not sorry Bush family), taking Nashville along for the ride with him. Oh, what's that? You don't live on the West Coast and you're bummed? Don't worry, Willie's got an even more star-studded cast along for the ride in the touring Outlaw Music Fest this summer, which features anyone from Bob Dylan, My Morning Jacket, Sheryl Crow, Father John Misty, Jackson Browne, Van Morrisson and more depending on the dates.
8. The Shins and Spoon
The two indie rock titans have four shows together amidst incredibly thorough tours of their own. Spoon kicked off a tour for their ninth studio album Hot Thoughts at SXSW this year and those sets were among our favorites of the week. The Shins and James Mercer are a low-key incredible live band; even though some of their material is mellower, they can still rock it on stage. Check out Spoon's dates here and The Shins' dates here.