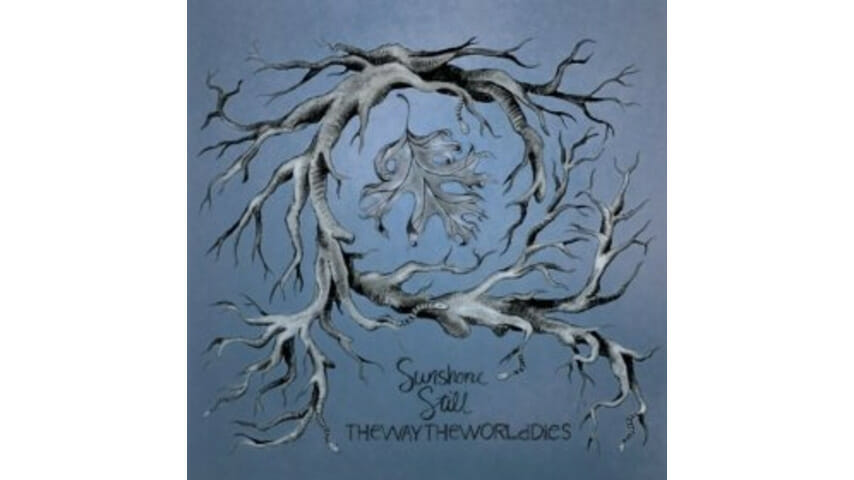 On July 1, 2010, Chris Smith lost his only brother to suicide. That death — or at least Smith's struggle to make sense of it — leaves a heavy impression on ThewaytheworldDies, Smith's third album as Sunshone Still.
Smith let his narrative and conceptual chops loose on 2007's Ten Cent American Novels, inspired by Hampton Sides' non-fiction book, Blood and Thunder, about frontiersman Kit Carson and the conflicted notion of Manifest Destiny in the American West. And it's tempting to read ThewaytheworldDies as an album-length eulogy, despite its best efforts to be something beyond just that.
Indeed, Smith addresses his brother's suicide directly. But he mostly saves his eulogizing for the album's back half, where "Old Snakes" smolders and flashes with detailed memories and dramatic musical shifts reflecting the mix of sadness and anger grief fuels; and where "Boy Superman" uses Sunshone Still's sepia-tinged folk aesthetic as a vehicle for melancholic celebration of a life that was.
But ThewaytheworldDies isn't always so forthright with its inspiration. Opener "Someone to Call Home" is a Calexico-worthy desert ballad, narrating the meeting of two lovers. Smith's narrator though suggests he's more than a little preoccupied with his own troubles, watching these two dancing. "When your heart breaks/ Like a wishbone/ You just somewhere/ To call home," he sings in a hushed rasp.
And even as the album highlights Sunshone Still's dusky folk rock, it expands the band's sonic palette without reservation. "Jesus From A Chain" finds Smith dabbling in more turbulent rock waters than he typically favors, too. Slow piano plinks and Smith's unhurried whisper threaten to drown beneath guitar lines shuddering through a thick crackle of distortion, and cinematic slashes of strings, creating a moody and exciting vision of a more upbeat Sunshone Still. And that vision is even more fully realized on the charged country-rock of "I Would Kill."
And then there's "Boot." Here, Smith takes a sharp and sudden left turn, spinning into Sebadoh-y fuzz-pop and Blakroc-esque hip-hop. As a song, it's an exciting detour, but "Boot"'s inclusion on the otherwise somber LP is a bit puzzling.
Still, nothing fully escapes dramatic undercurrent of Smith's grief. From the title's subtle homage to Sparklehorse (whose leader Mark Linkous also committed suicide in 2010) via its aversion to spaces between words, to "Boot"'s rap interlude declaration that "Freedom is something you have to do for yourself," the spirit of Smith's brother permeates the album — and makes it all the more powerful for it.