The 15 Best Albums of 1968
Fifty years ago, a historically difficult year produced historically important music from the Beatles, Stones, Hendrix, Aretha, and more.
Photos: Getty Images
Music
Lists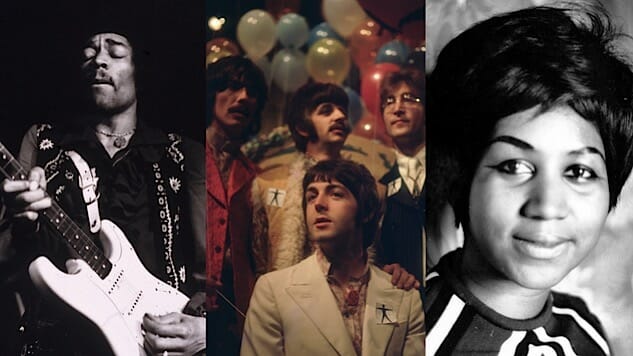 If 1967 was a year of introduction and innovation in rock 'n' roll—from Monterey Pop to to the release of Sgt. Pepper's Lonely Heart's Club Band and the launch of Rolling Stone Magazine—1968 was a proving ground, when a handful of the stars who had sprouted in the Summer of Love came to full flower in the psychedelia age. Artists from both sides of the pond, including The Jimi Hendrix Experience, Aretha Franklin, Cream, Traffic and Jefferson Airplane felt free to chip further away at old molds and pursue a daring musical muse. It was an epochal year for established artists as well. The Beatles splintered in the studio, but their individual contributions to a self-titled double LP, the so-called White Album, amounted to some of the band's greatest work and, in retrospect, unlocked a few imminent solo careers. The Rolling Stones grew out their roots with Beggar's Banquet, while The Kinks and The Zombies took giant leaps forward with new and imaginative masterpieces that forever altered their trajectories.
Rock 'n' roll was at its most free in the pre-Woodstock glow of 1968. The Beatles went to India, Johnny Cash went to Folsom, the Stones put a mobile studio in a truck, The Monkees went off the air. But it couldn't ignore what was happening at home—drugs, riots, assassinations, war, a doomed election, space travel, poverty, Civil Rights, women's liberation. All of it seeped into the art of the free-love counterculture with that strange combination of militant idealism and comical self-regard, as though it were clear that humanity would one day look at 1968 for a generation's heroes and villains. Fifty years later—in the midst of a modern drug epidemic, a tarnished presidency, a growing underclass and a renewed vigor for social progress —that's exactly what we're doing, starting with the soundtrack. Here are the 15 best albums of that momentous year.
15. Otis Redding, The Dock of the Bay
Release: Feb. 23
In some ways, 1968 began with a great sadness. On Dec. 10, 1967, the blossoming soul star Otis Redding was killed in a plane crash in Wisconsin that also claimed the lives of four of his band members. The tragedy had taken not just one of the era's most distinctive singers, but an artist standing at a new horizon for R&B music. Days before his death, Redding had recorded a new composition "(Sitting On) The Dock of the Bay," a lilting ray of sunshine that found a winsome Redding unwinding his tight groove sound and opening up new worlds for his soul. Released posthumously in February 1968, The Dock of the Bay showcased Redding for the mainstream audience he had courted at Monterey Pop the previous summer. "Let Me Come on Home" was the hard-driving, horn-happy rocker; "The Glory of Love" the arpeggiated slow burn; "Tramp" the naughty call-and-response with Carla Thomas. It wasn't the album Redding was supposed to make in 1968, but it nevertheless served as the crossover breakthrough he always had in him.
14. Big Brother & Holding Company, Cheap Thrills
Release: Aug. 12
Cheap Thrills, the second album featuring Janis Joplin, marked the emphatic emergence of the Texas-born singer in the San Francisco band that had already found some local success without her. Propelled by a star-making appearance at the Monterey Pop Festival in 1967 that netted the band a deal with Columbia, Joplin's wavering, powderkeg voice quickly dominated the band's psych-blues repertoire and raised the bar for practically every fiery vocalist to follow. Album entries "Summertime" and "Piece of My Heart" became signature songs, the vehicles with which she stunned the pop world with her grit and femininity, fusing her inner torment and strife with her public persona. Cheap Thrills topped the charts, one of the few products of San Francisco's emerging underground to earn a mainstream embrace. The album's cover, by illustrator R. Crumb, remains one of the most iconic of the era.
13. Small Faces, Ogden's Nut Gone Flake
Release: May 24
Marking a definitive break from Small Faces' early mod and R&B underpinnings, the two-act Ogden's Nut Gone Flake was a bold move into the realms of stylish psychedelia and the eccentric affectation of late '60s English invention. Although more than a hint of Steve Marriott and Ronnie Lane's Cockney humor was inescapable—the whimsical "Rene" and "Lazy Sunday" being obvious examples—two bold anthems, "Song of a Baker" and "Long Agos and Worlds Away," predated Led Zeppelin's arch bombast by several months. At the time, the round album cover, made to resemble a tobacco tin, and the sidelong gibberish of "Happiness Stan," a pseudo fairytale narrated by English actor Stanley Unwin, also garnered plenty of attention. One of the first concept albums ever envisioned (and basically unplayable live), Ogden's remains a little appreciated musical masterpiece. Small Faces would disband the following year.
ICYMI: The 10 Best Singing Drummers in Rock History
12. Cream, Wheels of Fire
Release: August
Wheels of Fire had a hard precedent to follow, coming as it did on the heels of Cream's 1967 sophomore breakthrough, Disraeli Gears and the blues-embossed psychedelia that preceded it. Nevertheless, laden with such classics as "White Room," "Politician" and a sterling remake of the Robert Johnson classic "Crossroads" that became a microcosm of Eric Clapton's entire career as a blues-nicking guitar deity, it managed to express the full potency of this startling supergroup (with Jack Bruce on bass and Ginger Baker on drums) and ensure their immortality. By taking the idea of a double disc to a new level of productivity—half live, half studio—Wheels of Fire also made full use of the trio's songwriting chops and their ability to improvise onstage. Rarely has there been such a sprawling effort capable of bringing out that ability with such flourish and finesse. This was Cream's last real album-length musical document, with only 1969's abridged Goodbye to follow.
11. Traffic, Traffic
Release: October
A follow-up to their excellent and eclectic debut, Traffic's eponymous sophomore set found a fully congealed ensemble. The on-again, off-again participation of Dave Mason was now fully present, if only temporarily for this effort. Indeed, this was the album that represented Traffic's transition from woodshed romanticism to forerunners of new iconic invention, a sound simultaneously purveyed by The Band in their early Americana guise. Several of the standout songs—"40,000 Headmen," "Who Knows What Tomorrow May Bring," "Pearly Queen"—offered druggy swirls of hippie-rock and tight soul embodied by Steve Winwood's preternatural tenor and organ playing. Mason's highlight, "Feelin' Alright," would become a rock-radio smash for Gospel-tinged covermeister Joe Cocker the following year, and remains a mainstay in Mason's live repertoire to this day. The definitive Traffic album, Traffic is another underrated monument of 1968.
10. The Zombies, Odyssey and Oracle
Release: April 19
One of the '60s great unsung masterpieces of that hallowed decade, the Zombies' Odyssey and Oracle followed on the heels of the group's early hits "Tell Her No" and "She's Not There," while marking a giant leap forward. It was a set of songs flush with bold experimentation and baroque innovation, a concept not unlike that of Sgt. Pepper and other ornate musical ventures of the day. Ironically, The Zombies had broken up by the time Odyssey came out, and with its eventual smash hit, "Time of the Season," it became a sad swan song that failed to reap the appreciation it deserved. Al Kooper championed its release in the U.S., but tepid label support doomed it to the cut-out bins practically from the get go. The original band recently reconvened (sans the late guitarist Jim Atkinson) to play the album live in its entirety, helping regain the critical kudos that evaded it originally.
9. Johnny Cash, At Folsom Prison
Release: May
When Johnny Cash arrived at Folsom Prison in California on Jan. 13, 1968, he was fortunate that he was there to perform for inmates and not join them behind bars. Cash had spent much of the previous few years in a drug spiral, watching his career and his life circle the drain. He was looking to revitalize his waning career, and a prison concert seemed the ideal vehicle—if Cash had always empathized with jail-bound convicts and the lonely despair that comes with the life, now he felt he could speak directly to them on terms everyone could understand. He had recorded the "Folsom Prison Blues" single back in 1955, and here was an opportunity to put faces to names. Proving that the concert was directed at a very specific audience, Cash performed a set of songs (two sets actually, which were combined into one 15-song album) that resisted self-help bromides and spiritual guff. "Dark as a Dungeon," "The Long Black Veil" and "25 Minutes to Go" evoked the cynicism and gloom of living in captivity. Little did Cash expect, it also resonated loud and clear with a global audience who for one reason or another felt the sting of living in bondage even as they walked free.
8. Van Morrison, Astral Weeks
Release: November
After attaining his initial success back in Belfast with the band Them and a couple of hits ("Gloria," "Here Comes the Night"), Van Morrison launched his solo career with a bang in the form of the ubiquitous soul-blaring 1967 hit "Brown Eyed Girl," off his debut LP Blowin' Your Mind! But it was the followup that proved to be his magnum opus. Charting new experimental terrain, he initiated a sound that was open-ended and had more to do with jazz, folk, elegiac imagery and pure stream of consciousness. "Cyprus Avenue," "Sweet Thing," "Ballerina" and "Astral Weeks" are unbound folk songs lit up with bells, strings, flutes and Morrison's assured wail. All but ignored in Northern Ireland, the album struck a chord with critics who admired Morrison's meditative musings and the songs' cerebral settings. Today, it's widely recognized as one of the most influential albums of the era and an adventurous chapter in what would be a long and varied career.
7. The Kinks, Are the Village Green Preservation Society
Release: Nov. 22
The Kinks were never rabble-rousers in the truest sense of the word. For every proto-punk attempt at slash and burn with songs like "You Really Got Me" and "All Day and All of the Night," Ray Davies and Co. were able to offer softer laments like "Waterloo Sunset" and "Set Me Free." With an astute eye for detail, Davies could probe the absurdities of life and turn them into woeful tales of middle-class misery. He found full flourish with the lovely and graceful Village Green Preservation Society, a wonderfully wistful song cycle about idyllic England in more innocent times, flush with nostalgia, nuance and a gentle chiding of civility and sentiment in a storybook world. If Davies chose to look at life through rose-colored lenses, no one could blame him for attempting to engineer this imaginative escape.
ICYMI: The 10 Best Rock Bassists of All Time
6. Simon & Garfunkel, Bookends
Release: April 3
The most fully realized album of Simon and Garfunkel's middle-period career, Bookends showed that the duo were capable of more than merely poignant, introspective balladry. Only their fourth studio effort, Bookends was fashioned as a concept album that imagined life's progression from youth to old age. "Old Friends," a song that more or less became synonymous with the duo's often stormy relationship, encapsulated that trajectory, but several others stood apart as future standards, including "America," "A Hazy Shade of Winter," "At the Zoo," and an encore performance of "Mrs. Robinson," culled from the soundtrack to The Graduate, released the year before. At the same time, Bookends would prove an ideal lead-in to Bridge Over Troubled Water, which would follow two years later and elevate the duo to their grand crescendo.
5. The Band, Music From Big Pink
Release: July 1
By the time The Band released their debut full-length, they were already a well-known, road-tested outfit who'd played behind Dylan during his infamous electric breakout. But their emergence as architects of archival Americana arrived with Music From Big Pink, an album borne from jams, rehearsals and songwriting sessions at the album's namesake house in upstate New York. Though elevated in stature at the time thanks to the presence of a few Dylan compositions, the finished album found Robertson, Helm, Hudson, Danko and Manuel tossing off their musical shackles, mixing up instrumental and vocal duties, and creating a vintage variety of folk and country that seemed as effortless as it did brilliant. It was that emphasis on rural roots—the band boasted four Canadians and and Arkansan—that inspired the souped-up backwoods persona they purveyed in both sight and sound. The songs stand the test of time, and indeed, "The Weight," "This Wheel's On Fire," "Tears of Rage" and "I Shall Be Released" stand among the most indelible expressions of heartland music ever recorded.
4. Aretha Franklin, Lady Soul
Release: Jan. 22
It says something about how rare and electrifying Aretha Franklin was in 1968, as a 26-year-old singer making her third album for Atlantic, that she could claim the title Lady Soul and not only pull it off, but then wear the crown undisputed for the next 50 years. Franklin had scored a defining hit—for both herself and women everywhere—the previous year with her cover of Otis Redding's "Respect," then mourned Redding's death in December. Her mix of exuberance and despair, crying and shouting with every twist of a wounded relationship that haunts the album, courses through Lady Soul. There's gospel bliss on "(You Make Me Feel Like) A Natural Woman" and down-hearted blues on "Good to Me As I Am to You." She also fearlessly reimagines songs by her most famed male contemporaries, including a simmering cover of Curtis Mayfield's "People Get Ready," which had been a hit for The Impressions. Franklin's once-in-a-century siren of a voice—always powerful, always under complete control—is backed all the way by a crack New York headlined led by organist Spooner Oldham, saxophonist King Curtis and guitarist Joe South.
3. The Rolling Stones, Beggar's Banquet
Release: Dec. 6
Following 1967's critically panned Their Satanic Majesties Request, attempt to cash in on psychedelia, the Stones revealed their essence on Beggar's Banquet—a dirty, raw, set of originals that injected some country twang into the band's R&B obsessions and set the mold for the iconic Stones sound that would stretch on for another 50 years. Containing at least three certified Stones classics—"Street Fighting Man," "Salt of the Earth (featuring a rare lead vocal from Keith Richards) and the signature song "Sympathy for the Devil"—Beggar's Banquet marked the first entry in a four-album run—followed by Let It Bleed, Sticky Fingers and Exile on Main Street—that would go down as maybe the greatest winning streak in rock history. Sadly, it also marks the final album with Brian Jones's full participation, and his reliability at the time was clearly in question. The original cover image, featuring a graffiti-strewn lavatory, was rejected by the record label and replaced with an unadorned invitation image that drew instant comparisons to the Beatles' White Album, which had come out three weeks before. Nevertheless, the inner gatefold, depicting an enthusiastic food fight, ensured the Stones' depravity wasn't diminished.
2. The Jimi Hendrix Experience, Electric Ladyland
Release: Oct. 16
Jimi Hendrix radiated genius from the get-go with Are You Experienced? and Axis Bold As Love, his first two albums with the Experience in 1967. On Electric Ladyland, he took that extraordinary innovation into entirely new realms that were difficult to define then and remain so now. The trio, with its British rhythm section and American frontman, was perfectly suited to their era, and with a supporting cast that included Traffic's Steve Winwood, Dave Mason and Chris Wood, as well as drummer Buddy Miles and Jefferson Airplane bassist Jack Casady, Ladyland redefined the concept of modern rock within a progressive posture. The album boasts everything that Hendrix (who produced it) did well: slinky psych-soul ("Burning of the Midnight Lamp," the title track), explosive electric blues ("Voodoo Chile"), melodic pop ("Crosstown Traffic," "Long Hot Summer Night") and tripped-out sonic explorations that take the listener under the sea ("1983… A Merman I Should Turn to Be") and into the heavens ("And the Gods Made Love"). His version of Dylan's "All Along the Watchtower" showcased his ability to put an indelible mark on any popular music of the day, making it little wonder that even now, half a century later, the final studio effort recorded in Hendrix's lifetime continues to set an almost unattainably high bar.
1. The Beatles, The Beatles
Release: Nov. 22
After the critical success of Sgt. Pepper's Lonely Hearts Club Band and the rapid follow-up of the equally colorful and hallucinogenic Magical Mystery Tour, this expansive double-disc allowed the four Beatles both to stretch out artistically and reconnect with their roots in a way that would be further explored with the barebones concept for their 1970 swan song, Let It Be. A series of solo excursions made by an increasingly fractured band, the so-called White Album collected songs composed while the Fabs were meditating in India with the Maharishi Mahesh Yogi. It mostly resisted the pressure to address the social upheaval swirling outside the doors of EMI Studios (later called Abbey Road) and focused instead on wide-ranging song craft, with each member managing to create some of his most lasting work despite—or maybe because of—the infighting and tension that plagued the recording sessions. Lennon emerged with "Dear Prudence," Happiness Is a Warm Gun," "Sexy Sadie" and "Revolution 1"; McCartney composed "Martha My Dear," "Blackbird," "I Will" and "Helter Skelter"; and Harrison contributed "While My Guitar Gently Weeps," "Long Long Long" and "Savoy Truffle." Taken together, they form what many consider to be The Beatles' greatest collection of songs.