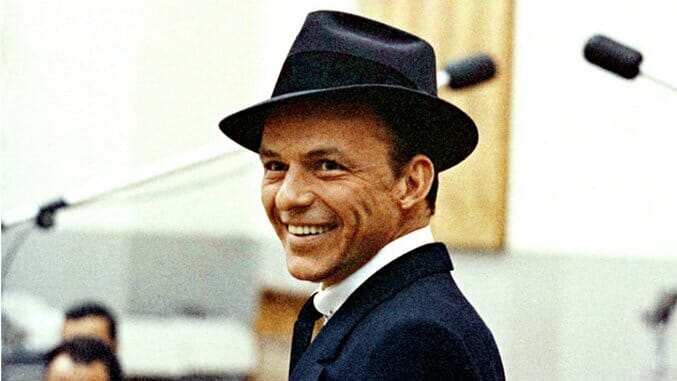 Welcome to The Playlist Project, where we'll be posing musical questions to Paste staff, interns and writers and then compiling their responses into a handy playlist before opening it up for discussion in our comments section.
Although fall doesn't officially start for another week or so, the feelings of the season are already here. Summer's humid weight is already dissipating. Pumpkins are beginning to line the streets (if not yet doorsteps). School is back in session and football has already kicked off its first few weeks of contents. In this seasonal Playlist Project, we checked in with our staff, contributors, and interns to see…
What's your go-to song for fall?
Josh Jackson, President/Editor-in-chief
The Smiths, The Queen Is Dead
Fall is all about endings. It's a melancholic feeling, but also my favorite time of the year, so of course I have to pick The Smiths' The Queen Is Dead. If you have to ask why, you've never experienced a beautiful sadness or the strange comfort of suffering. My god, are you even alive?
Bonnie Stiernberg, Music/TV Editor
The Ramones, "Rock 'N' Roll High School"
I can't remember when I decided that fall is punk weather, but I know exactly why. It's a two-parter—the first being the natural, obvious pairing with jacket weather. (Am I supposed to listen to a different genre when I break out Old Faithful, my favorite moto jacket, for the first time this year?) The second is a weirder, more specific reason: Every October, I watch the Ramones' Rock 'N' Roll High School at least once, usually around the same time I watch Halloween for the gazillionth time. (It's a PJ Soles double-feature!) Every October I toy with the idea of going as Riff Randell for Halloween (mostly so I can have an excuse to find a cool red satin bomber jacket like the one she wears…jackets are a thing for me, in case you couldn't tell), but every year I ultimately decide against it, fearing no one will be able to figure out who I'm supposed to be. Still, that annual viewing always sends me into a big Ramones phase, and what better way to celebrate back-to-school season than cranking "Rock 'N' Roll High School"?
Emily McBride, New Music/Multimedia Editor
XTC, "Then She Appeared"
I grew up on an island off the coast of Georgia, so I didn't really grow up with true seasons. My first real Fall experience happened my freshman year of college at Sewanee in Tennessee. I remember being obsessed with the crispness of the air and the orange falling leaves. I was also going through a serious XTC phase at that time. When I think of Fall, my mind immediately goes to sitting in the quad with a giant latte blaring XTC's "Then She Appeared" in my headphones, pretending to study but inevitably losing focus and people watching. On a much less romantic note, if we're talking football season, my mind immediately goes to ScHoolboy Q's "Man Of The Year" because my friends are dumb and played that song at every tailgate we ever had.
Jim Vorel, Staff Writer/News Editor
Harry Chapin, "A Better Place to Be"
Autumn—true autumn, when it actually starts getting cold—seems like the most pensive and introspective time of the year to me for whatever reason. In such times, I always end up drifting back to the great Harry Chapin, the American folk icon best known for "Cats in the Cradle" but writer of so many other brilliant, dramatic and yes, oft-times schamltzy songs. One of my favorites in that mold is "A Better Place to Be," a fairly epic story song about a depressed "little midnight watchmen" and the dream woman he takes home from the bar one night. It's a sobering, heartbreaking and somehow affirming song that builds to a huge, satisfying conclusion.
Shane Ryan, Staff Writer/Politics Editor
Left Banke, "Walk Away, Renee"**
Looking over this list, the one that speaks to me the most, if I have to pick a favorite, is the last one: "Walk Away, Renee" by the Left Banke. It's such a mysterious, sad song about a secret love that is definitely ending, definitely going unfulfilled, and definitely locked in time. It will never feel this intense again, but you get an echo of that perfect heartbreak each time you hear the song.
Here's a second one I should have included on that list: "Sunshine On Leith" by the Proclaimers. It's a pretty simple love song, but it's written from the wisdom of experience, sung by someone in the fall of their romantic maturity who is past the drama and uncertainty of spring. "While I'm worth / my room on this Earth / I will be with you / While the Chief / puts sunshine on Leith / I'll thank him for his work / and your birth, and my birth." Also, it was pretty fucking cool when an entire stadium of Hibernian FC fans (a team from Leith itself) sang it in unison moments after their team won the Scottish Cup for the first time in 114 years.
Sarra Sedghi, Assistant Food Editor
Sonic Adventure 2, "Pumpkin Hill Theme"
Fall feels like a joke in the South since it doesn't start cooling down until Halloween. But people want to be in on it already so they don sweaters in 80-degree weather, go to corn mazes in shorts and eat any pumpkin-flavored item they can find. Fall doesn't even remind me of fall anymore, it just reminds me of unmet expectations and getting irked at the grocery store from the pumpkin overload.
So my pick is the "Pumpkin Hill Theme" from Sonic Adventure 2, because it's probably the last time I saw a pumpkin that wasn't part of a trend.
Charles McNair, Contributing Writer
Clannad, Magical Ring
Before she was Enya, Eithne Pádraigín Ní Bhraonáin sang with her sister Moya Brennan,and her brothers in the Celtic group called Clannad, as important in its own way as The Chieftains, but for taking Celtic trad into that electronic shape-shifting that ultimately made Enya so famous. Moya and the boys didn't go quite so far from home as their sister, but they did plenty to morph the old music of Ireland and lead the way toward much else you hear today, a lot of it captured on Compass Records.
This one Clannad album, Magical Ring, evokes the mysterious stone rings and druidic atmosphere of that little island where it is always autumn, if Joyce and Heaney and Yeats were right, at least about souls and spirits. Fall means change, and change is ever present in Ireland – one minute a mountain shines in golden light, and the next it's blue with rain and something like a mysterious smoke.
A singular, haunting, one-of-a-kind melody on this album got worn out, exhausted, overplayed. "Theme From Harry's Game" (sung by Moya) even became the theme song to a Volkswagen commercial, but misuse like that doesn't, in the end, take away its yearning beauty. Give it a listen with fresh ears, and hear not just the leaves blow, but the stones rattle along after them. Winter's coming. Hope you had a good life.
Stephen Deusner, Contributing Writer
Pinetop Seven, "The Fear of Being Found" or "Our First Drunk Dream"
My ultimate autumn band is Pinetop Seven—minor-key story-songs that remind me of Ray Bradbury's The October Country plus vocals that glow in the dark. So many songs to nominate in their catalog, but I'd probably go with either "The Fear of Being Found" or "Our First Drunk Dream," which are both as good as their titles suggest.
Holly Gleason, Contributing Writer
John Prine, "Storm Windows"
To a Midwesterner, storm windows mean the end of the warm months and the ensuing chill. For Chicagoan John Prine, it was the perfect metaphor for the alienation that comes with being driven inside, away from the easy company of warm weather. A former postman, his eye for keen detail and imagination married a montage of images, realities and emotions over an almost country lope that would invoke a true hillbilly group on the bridge that suggests the oncoming hibernation: Down the beach, the sandman sleeps/ Time don't fly, it bounds and leaps/ and a country band that plays for keeps."
Capturing the melancholy over a mournful melody, Prine's slightly nasal whine is the embodiment of seasonal depression, banging on the metaphoric glass trying to break the spell and somehow getting by in the falling leaves, snow and temperatures. It's hands down my most favorite Prine song of all.
Frank Sinatra, "September Song"
When port wine to take the chill off seems to be the order of twilight, fall is clearly in the air. If one song embodies the shortening of days, the crispness of the temperature, the drawing inward reflection and the sense of sorting through life's harvest, this classic bar room song is it.
Sulking, moody, stoic, the song yearns for what was—even as it faces what's head. The ponder and reflection are aged in hickory barrels, slightly smoky, redolent of woods and knowing. For Sinatra's version, clipped in its delivery, suggests the stalling or dawdling in the moment, then rushing to get home. Sarah Vaughan makes it smooth, Ella Fitzgerald makes warm, Willie Nelson makes it tang, and Chet Baker makes it slightly worn—all truths of the impending season.
Kenny Chesney, "Boys of Fall"
Going to an all-girl school where field hockey ruled when we got back for another year, the whole notion of "Football Friday" eluded me. Living in the South, where football is almost a second religion, I viewed those poor young men in their pads and helmets running drills, doing burpees, tackling stands as a former of a culturally sanctioned child abuse.
Leave it to one song, a descending melody line and the kind of lyric that brings essence to life to make it all make sense. Suddenly what happens in the huddle, during practice, becoming a team makes sense, and the things that bind them together have valor. Like the book Friday Night Lights, it takes something one needs to experience and makes it real.
Alex Bevan, "Autumn Melody"
Once upon a time a Cleveland folkie sold almost 35,000 copies of Grand River Lullaby on his own little label. Buoyed by the political fingerpicked talkin' "Have Another Laugh on Cleveland Blues" and the silken title track, the stand-out was "Autumn Melody." A Martin guitar echoes depth and warmth as his fingers spun a golden web of images that mourned summer's end, his own growing sense of knowing and the onset of harvest. A soft voice, half melancholy and half seasoned by the afterglow sings, "All the summer's memories/ Shine like children out of school/ Drink the wine/ Play the fool/ Sometimes you sing the blues," capturing that sadness from the fading of summer loves, dreams and fun. A quiet song reminding you the balance of living plays out like the seasons across a filigreed guitar, it's simple, earnest and seems to shoulder whatever lies ahead.
Adrian Spinelli, Contributing Writer
Gold Panda, "Autumn Fall"
Damn if the static at the beginning of "Autumn Fall" doesn't remind me of the sound of leaves rustling. The standout track on Gold Panda's most recent album, Good Luck And Do Your Best, doesn't just have the name of the season in the title, but it inspires the feeling of kicking through piles of foliage, or slowly navigating through a pre-winter meadow, cracking twigs on the ground while winding the path from one end to the other. The harmonic effects wrap a sonic sweater and scarf around me, that are merely for comfort rather than protection against extreme conditions. And comforting music is what Gold Panda makes again and again.
Laura Studarus, Contributing Writer
Yo La Tengo, "Autumn Sweater"
Droning electro organ groves, a driving drumbeat, and lyrics about an uncommunicative relationship. Its 1997 I Can Hear the Heart Beating as One single, "Autumn Sweater" hit upon simile so powerful they didn't even need to drive it home—a withering relationship is exactly like the changing of the seasons. Sometimes it's best just to hunker down, kiss them goodbye, and wait for spring.
Jaimie Cranford, Editorial Intern
Chris Whitley, "Big Sky Country"
When I think of fall, I am immediately taken back to high school afternoons spent driving on backcountry roads, windows down, surrounded by the changing leaves. Of course, that meant an accompanying soundtrack, which for me was often Chris Whitley. Every afternoon, I would play "Big Sky Country" on my way home from school. It's one of those songs that's so immense it requires a vast space to fill—forcing you to pause for a moment and appreciate your surroundings. Even though I now live in the city, I am always taken back to those fall afternoons whenever I listen to Chris Whitley's music.
Monica Hunter-Hart, Editorial Intern
Fleetwood Mac, "Gold Dust Woman"
I'm going with Fleetwood Mac's "Gold Dust Woman." Its slow, eerie main guitar riff brings on shivers just like a fall evening. The outro of the studio version on Rumours even features Stevie Nicks screaming! With lyrics that reference black widows and shadows, the song feels especially appropriate for Halloween (a holiday for which women have dressed up in witchy Stevie Nicks costumes for decades).
Arcade Fire, "Neighborhood #4 (7 Kettles)"
The delicately paced, quiet opening matched with the sound of a whistling teakettle evokes an image of cold, crisp air, lightly fallen leaves, and the bittersweet promise of colder months to come. Thematically about the passage of time and one's futility in changing its pace, "Neighborhood #4" captures the ephemerality of autumn.
Bob Dylan, "Don't Think Twice, It's Alright"
Dylan's song about moving from familiar places and setting out to an unknown destination reflects the transitional feeling that autumn brings with it. The leaves are falling from the trees, the summer sounds that once filled the air are becoming silent, and the days are growing shorter and colder.