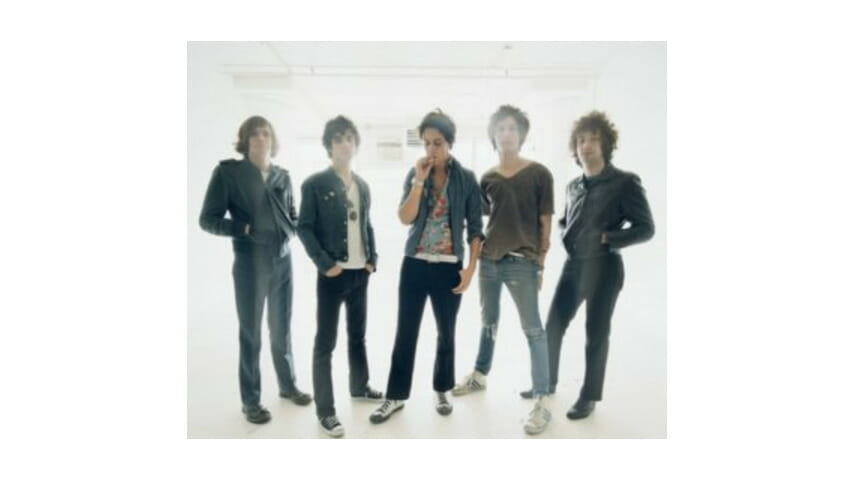 I've walked away from shows feeling cheated. I've walked away from shows impressed beyond belief. I've walked away from shows thinking, "I could do that." But I've rarely walked away from a show as early as 11:15 p.m.
True, I expected a longer set from The Strokes, but I didn't expect a better one. Throughout the night, the New York five-piece proved to the crowd at the sold-out Tabernacle that it was worth the hype. From the moment drummer Fabrizio Moretti and bassist Nikolai Fraiture started "Reptilia," it was clear the simultaneously raucous and calculated sound The Strokes have become known for on their records is not just the result of good production and engineering. The rhythm section, together with the sometimes-boisterous, sometimes-mathematical work of guitarists Nick Valensi and Albert Hammond Jr., created a tightly knit musical backdrop for singer Julian Casablancas' scratchy but soaring vocals. The frontman was dead-on, alleviating concerns he would repeat his trademark drunken behavior. Thankfully, Casablancas' worst offense during the performance was that his between-song banter sounded suspiciously like Rocky Balboa.
The Strokes' songs might be mechanical in some respects, but performed live, they somehow manage to come across with greater emotional depth. Energetic tunes like "Take It Or Leave It," the aforementioned "Reptilia," "The End Has No End," and the insanely catchy single "12:51" called less attention to their flawless delivery than to the intensity of Casablancas' voice. The tight rhythm section, deceptively simple chord progressions and expressive vocals on mellower songs like "Under Control" and "Alone Together" sounded like 21st century takes on classic Motown ballads and, as premeditated as some of their albums were, I don't think anyone would argue that Stevie Wonder and Marvin Gaye were lacking any emotion.
The band mainly performed material from its new album Room On Fire, but it also delivered a few tracks off most fans' radars. The first was "Modern Girls," a new song the band recorded with opener (and fellow New Yorker) Regina Spektor while on a tour break in Seattle. As interesting as a duet with a female vocalist could have been, the song itself was fairly bland, and Spektor's shrill voice was no match for Casablancas' crooning. The second was "New York City Cops," a song originally on the debut LP Is This It, but pulled at the last second from the album's U.S. release because it was feared the chorus —"New York City cops, they ain't too smart"—would seem insensitive after Sept. 11. Honestly, the track is probably better left on the cutting room floor—it wasn't great live and Is This It is a tighter album without it.
Those few speed bumps aside, the show was a perfect example of what a concert should be: tight, energetic, and filled with a sense that there's something bigger going on than just five sharply-dressed guys playing rock'n'roll songs. Even if only for an hour.