The 15 Greatest Weakerthans Songs
On the 20th anniversary of Reconstruction Site, we look back on the Winnipeg rock outfit's strongest offerings across four albums in eight years
Music
Lists
The Weakerthans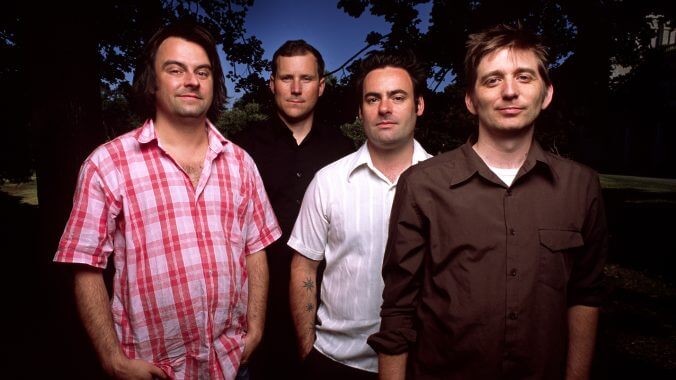 The Weakerthans don't make acquaintances. They are favorite band material. Indeed, they were the first "serious" group on whom I bestowed that title—my gateway from green pop punk to, in some ways, everything. It was their CDs perpetually whirring in the janky disc drive of my first car, their bright, crispy guitars and and John K. Samson's socially astute poetics that underscored the intense watercolor whirl of my late teens—when you saw your friends every day of the week and aimless night drives had movie-script endings, and you deluded yourself that you were the main character and this was all the preface to something special (which it was) and that you'd leave it all behind for better things (which you didn't).
The Weakerthans didn't leave either. Winnipeg, the gray, unassuming capital of Manitoba, was their forever home. Samson's stories were scraped off of its underpasses, apartment buildings and office blocks, and eulogized its sharp-elbowed citizens, fueling a four-album fire of quietly revolutionary fringe rock. Fallow came first. Released in 1997, it followed Samson's departure from riotous skate punks Propagandhi. He hung up his bass in order to co-found Arbeiter Ring Publishing (now ARP Books). But it wasn't long before he, drummer Jason Tait, and bassist John P. Sutton started a new band—a musical conduit for the kind of left-wing literature ARP was publishing at the time. "I try and take really small, detailed notes about the world, and hope that I can extrapolate a story, and therefore a politics, from that," Samson once said. And with a name that nodded to the 1915 trade union anthem "Solidarity Forever," the Weakerthans were no less political than Propagandhi. Rather, they resolved to balance rage with rumination, telegraphing their views more subtly.
Three years after Fallow came Left and Leaving. Due much to the addition of lead guitarist Stephen Carroll, the album furthered the Weakerthans' patient, intellectual approach towards life's impermanence and immorality—its songs are longer, slower and more considered. Reconstruction Site came third and was, arguably, the third bowl of porridge—certainly the band's critical and commercial peak—with high-budget music videos; that one song about the cat (which everyone and their dog has done a cover version of); a story arc that made it not exactly a concept album but very much conceptual.
Released on this day in 2003, Reconstruction Site is now 20 years old. Not wanting to let this anniversary pass unceremoniously, we've ranked the band's 15 greatest songs across all four albums—including Reconstruction Site's experimental, underrated follow-up Reunion Tour—to act as a guide for new listeners and to remind old ones of the sounds the band found for them.
---
15. "Our Retired Explorer (Dines with Michel Foucault in Paris, 1961)" (Reconstruction Site, 2003)
This irreverent short story—whose title leaves little to the imagination—presents a mealtime conversation between the venerable French philosopher and a retired member of Ernest Shackleton's Weddell Sea crew. Easily the silliest and most fun-loving Weakerthans cut, it's an inapt start to the best-songs rundown. But beneath John K. Samson's sincerity was always an undertow of humor. Here, on the anomalous single from the band's contemptive, quietly profound opus, he lets that humor take center stage, deferring to French-speaking penguins, hungry huskies, and jangling barre chords, who light the way back to dear old Antarctica.
14. "Fallow" (Fallow, 1999)
The beloved singalong "One Great City!" so perfectly encapsulates Samson's love-hate relationship with Winnipeg that it eclipses the other discussions of hometown disharmony that litter the Weakerthans' catalog. Take this title track from their debut, whose wintry sonics and despondent imagery embalm the feeling of returning to a place that will never be the same now that it has one less resident. Over a bed of diffidently plucked electric guitars undercut by a sighing drum groove, Samson considers leaving behind the rusty train track ties but he can't help returning, over and over, to the same conclusion: "And say that we'll stay for one more year." There's no place like home, the song confirms with a sigh.
13. "Elegy for Elsabet" (Left and Leaving, 2000)
On its surface, "Elegy for Elsabet" is a great (if not slightly ponderous) song. Once you delve a little deeper into the lyrics' meaning, though, it becomes a devastating song, and other than the "Virtute" suite, the one that most easily moves me to tears. Taking a narratorial role, Samson sings of a young hearing-impaired girl named Betta. He wills the clattering rain, the creaking doors, and braying horses to come to her aid, and concurrently illuminates the simple beauty in hearing (referenced later on the album during the "My Favourite Chords" lyric about the small bones in one's inner ear) and how we take for granted life's incidental sounds. The song's outro employs an instrument called the whirly tube (also known as bloogle resonator) whose atonal, high-pitched hum puts us squarely in Betta's shoes—as if we weren't already.
12. "Night Windows" (Reunion Tour, 2007)
It was during the Reconstruction Site track "(Hospital Vespers)" that Samson first registered his interest in the American painter Edward Hopper, whose unique portrayals of loneliness share commonalities with Samson's depictions of his city and its people. Reunion Tour took that propensity two steps further, featuring two songs inspired by—and named after—Hopper paintings. "Sun in an Empty Room" is a blithe farewell to the place you once called home. "Night Windows," meanwhile, is its broodier, after-dark companion piece, instead mourning the place someone else used to live. This is strangely more emotive, with icy guitars weeping over the group-sung refrain: "But you're not / Coming home again."
11. "(Manifest)" (Reconstruction Site, 2003)
Reconstruction Site is organized around three "anchor" songs: "(Manifest)," "(Hospital Vespers)," and "(Paste-Due)." As Samson explains: "Those three songs are actually sonnets, and they're all the same music—very simple, kind of hymn-like melody. So, I just had this idea of […] sign-posting the record with three sonnets that thematically elaborated on what the record is about." Together, these vignettes tell the story of a loved one's hospital stay and, eventually, their death. But the first—the album's jaunty, samba-inspired opener "(Manifest)"—focuses on the gleeful feeling of sharing your life with the person you love. The lyrics are slightly cryptic, but they conclude with a straightforward couplet from which one could reasonably extrapolate an entire life philosophy. "I'm permitted one act I can save / I choose to sit here next to you and wave," Samson grins before a triumphant blast of trumpet sends us skyward. Things are about to turn dark, the narrator seems to suggest, but we're together now and that's enough.
10. "Left and Leaving" (Left and Leaving, 2000)
The natural sequel to Fallow's title track, "Left and Leaving" is the closest the Weakerthans come to a straight-away breakup song. There's the imaginary competition of who's moved on first: who's left? Who's leaving? There's the way in which we map our emotions onto our surroundings: torn-down buildings, broken-glass-covered sidewalks. And there are the banal objects—blankets, matches, birthday cards—that become talismanic when they're all that's left. "I think the point is to recognize the details in your daily life and to recognize that they're important," Samson once said. "Hopefully it translates well and the songs make people look at their lives more closely." Every subtle murmur of guitar feels equally purposeful, and a stillness hangs in the air. Loneliness never sounded so peaceful.
9. "Utilities" (Reunion Tour, 2007)
The Weakerthans' ironically titled final album—not counting 2013's Falcon Lake Incident, a collaboration with Jim Bryson—closes out with this jubilant waltz. From its initial burble of keyboards, the song sounds like a goodbye, but there's an undertone of hope, confirmed by the elongated yawns of Carroll's lap steel, like a sunset made of putty. Samson sings unguardedly of wanting to be useful, returning, as on "Left and Leaving," to junk-drawer minutiae: "I just wish I were a toothbrush or a solder gun / Make me something somebody can use." After a playful guitar solo—one of few played by Samson rather than Carroll—we're left with a final, warbling organ chord. Although this may be the end, it feels as though everything is going to be okay.
8. "Confessions of a Futon Revolutionist" (Fallow, 1999)
My journey with John K. Samson's music reached its zenith in the Spring of 2017. Queuing outside London's O2 Academy Islington, I got talking with a guy from, of all places, Idaho, and recall telling him that the one song I want to hear, more than any other, was "Confessions," the light-speed, two-chord punk song from Fallow, which I was using as a self-help guide during my bedroom-door-slammed-shut/music-cranked-up late teens. Sure enough, Samson brought out the song halfway through his set, sandwiched between two from his new solo album. Idaho guy and I exchanged a "No fucking way!" before losing ourselves in the world's gentlest mosh pit. Fallow contains several concise, propulsive ragers of this ilk—see "Greatest Hits Collection" and "Wellington's Wednesdays"—but "Confessions" is the OG, injecting infectious energy into the dreariest of slumbers. Besides, "Enlist the cat in the impending class war" is surely the most Weakerthans lyric of all time.
7. "Tournament of Hearts" (Reunion Tour, 2007)
Reunion Tour, the least cohesive, most exploratory of the band's albums, eulogizes eccentric NHL goalies, victims of botched medical procedures, sasquatch spokespersons and—as though leaning into Canadian stereotypes—sets its radio single at the annual Canadian women's curling championship, using the sport as a metaphor for a faltering relationship. "Have to stop myself from climbing on the table full of empties to yell / 'Why, why can't I draw right up to what I want to say,'" Samson cries, balancing on the line (or table) between earnestness and sarcasm. With crunchy guitars and an absurdly catchy chorus, "Tournament of Hearts" is pop punk at its most satisfyingly studious.
6. "Aside" (Left and Leaving, 2000)
Knowing what we do about the Weakerthans, perhaps the least appropriate way to discover them would be via the jock-com Wedding Crashers, which stars Vince Vaughan and Owen Wilson as two obnoxious, womanizing con men. But that's exactly how it went: The end credits rolled around and those crisp, driving power chords hit me in the way color TV must have hit kids in the '60s. Occupying the punk end of the band's spectrum—and with its romanticization of cartography and thrift-store clothing—"Aside" was the perfect way in. I jumped over that broken fence between my past and present, never looking back. My own rose-tinted experience notwithstanding, however, "Aside" holds up: an essential, hooky paean to one's disaffected early adulthood. It covers alcoholism, depression and self-care with three simple chords that fill you with butterflies and make you yearn for something a highway or two away.
5. "Reconstruction Site" (Reconstruction Site, 2003)
Samson once said that Reconstruction Site is about "ideas of redemption, ideas of utility, of using the materials at hand to try and make a life that makes sense. I guess, in a way, it is a little bit more upbeat [than previous albums]." It makes sense that the album's nucleus—the song that most closely speaks to this thesis—is the joyous, sunkissed title track. "Reconstruction Site" is the band's take on "Sweet Home Alabama," and they use that breezy country rock template as a vehicle for variegated fragments of happy childhood memories, which flash past as though experienced during a warm, comforting fever dream: falling asleep in your new winter coat, stuffing your face with cake, sneaking under the table at a wedding. This is a painless song, the antithesis to misery, the kind that makes everything make sense.
4. "One Great City!" (Reconstruction Site, 2003)
It took me a while to realize Winnipeg could stand in for any town in which one chooses to stay. Of course, "One Great City!" is for the denizens of Manitoba's capital city—for the bussers, bakers, bus drivers, even the business boys who feast on the city's catatonic North End—but it's also for anyone left behind, anywhere. For the ones that disparage home but, like a homing pigeon, can't help but return. The theme tune to the TV dramedy Less Than Kind, "One Great City!" employs a simple yet inventive chord sequence outlined on an unassuming acoustic guitar. That's all Samson needs to get any crowd—but particularly a Winnipeg crowd (see the Live at the Burton Cummings Theatre version)—chanting along with goosebump-inducing adoration.
3. "Virtute the Cat Explains Her Departure" (Reunion Tour, 2007)
As much as we want to help the people we love, we can't help someone who doesn't want to be helped; ultimately, you have to put your own well-being first. That's what Virtute the cat comes to realize in this piercingly sad sequel to "Plea from a Cat Named Virtute." Taking the back lane, she leaves behind her depressed owner—"Your anger pleading in an uncertain key / Singing the sound that you found for me"—and sets out to find a new life. In contrast to the chirpy rock song that scores our first meeting with Virtute, this Reunion Tour cut is decidedly somber, with a waltzing tempo that gives the song a grand, funereal mood. If this development in the Virtute story is simply too much to bear, though, fret not: Samson's second solo album, Winter Wheat, delivers the closure these characters deserve.
2. "Plea from a Cat Named Virtute" (Reconstruction Site, 2003)
It's almost impossible to choose between "Plea from a Cat" and "Virtute the Cat." They come as a package deal—act one and act two. If one must edge out the other, though, it's the former, if only because its upbeat pop format is more palatable, not nearly as heartbreaking and features an endearing balance of humor and poignancy ("I'll lie down / And lick the sorrow from your skin / Scratch the terror and begin / To believe you're strong"). I can't listen to this song without thinking of my family cat Ziggy (after the Bowie album, of course). She was my best friend growing up, present for all the milestones in my young adult life. She was there when my first love unexpectedly dumped me after a Stornoway concert. She was at the bouncy castle parties and movie nights, the band practices and BBQs. She was there to play and relax together every evening after hard days at school, hard days at college, and then hard days at work. She was my Virtute, and this song thus means the absolute world to me—as it does to many others, a veritable fan favorite. (If in doubt, Google "Weakerthans tattoo.")
1. "My Favourite Chords" (Left and Leaving, 2000)
It's hard to beat the "Virtute" songs, but if anyone can, it's "My Favourite Chords." The penultimate track on Left and Leaving begins somewhere between a lullaby and a protest song, pared-back and acerbic ("The mayor's out killing kids / To keep taxes down"). Almost without our realizing, this rage against the machine transitions into a languorous, lilting love ballad. "You are a radio, you are an open door / I am a faulty string of blue Christmas lights," Samson sings, his anger entirely dissipating as he refocuses on the person he trusts more than any other. The band greets him here, too, with a scattering of brushed drums and blissful pedal steel, their provincial alt-country vibe emulating that "room near a truckstop, on a highway somewhere."
We can see that place: the maroon shag carpet and lumpy bedspread, a temporary shield from outside stressors, so long as that person is present. Indeed, to me, "My Favourite Chords" presents the Weakerthans' most lucid antidote to life's muck and mire. We can be angry, idealistic and tuned in to all the shit afflicting us, our town, our world—the murderous mayors and cold-blooded developers, runaway cats and hospital visits—but we need to share the load. We get our power from other people. And, as our favorite Weakerthans song confirms, there's also power in crowning something your favorite.
Watch the Weakerthans perform "Civil Twilight" at Flamingo Cantina in 2008 below.

---
Hadyen Merrick is a music writer from Brighton, UK. He contributes to Bandcamp, FLOOD, Pitchfork, Loud and Quiet and others, and was previously associate music editor for the cultural criticism site PopMatters. Please talk to him about music and let him on your podcast: @HaydenMerrick96