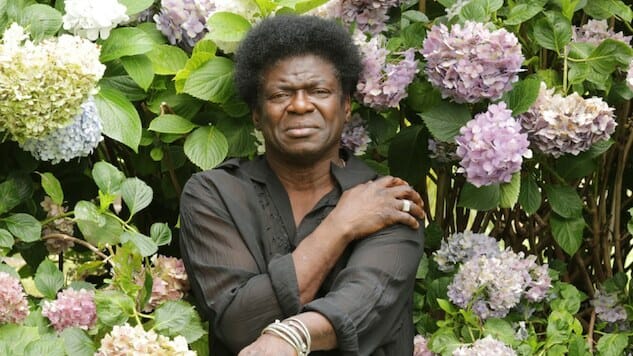 This week in music saw the announcement of a posthumous final album from one of Paste's favorite artists, Charles Bradley. In addition to Bradley's forthcoming album and his new single, "I Feel A Change," this week also saw great new releases from Anna Calvi, Thom Yorke, Mark Lanegan & Duke Gatwood and more, plus Paste sessions from Foxing and Native Sun.
BEST ALBUMS
Mark Lanegan & Duke Garwood: With Animals
There's dark music, and then there's With Animals, the new album from longtime collaborators Mark Lanegan and Duke Garwood that's pitch black, almost till the very end. The strengths of the two men pair up perfectly: Lanegan's gravelly baritone sounds like smoke slinking down a shadowy alley, and Garwood's tracks are the shadowy alley, no matter what he's using to construct them. On the duo's first album—2013's Black Pudding—Garwood's guitar flickered like a single candle in a dark room. Five years later, he has augmented his guitar with an electronic palette: drum machine, keyboards, synthesizers and sampled sounds, often looped and repeated into eternity. If nothing else, With Animals is an impressive monument to the power of sparse arrangements. The music is only half the equation, however, and that may be shortchanging Lanegan, who is best known as the frontman of Seattle grunge pioneers Screaming Trees and his affiliation with L.A. rockers Queens of the Stone Age. The man's voice is naturally distinctive, emotionally resonant, weathered by the years and always engrossing. On With Animals, he wields it like a skilled and patient guru, doling out bits of sullen poetry in slow motion. —Ben Salmon
Anna Calvi: Hunter
Anna Calvi garnered instant acclaim straight out of the box. Her self-titled debut earned her several prestigious awards, among them, a nomination for the Mercury Prize and the special distinction of being named British Breakthrough Act at the 2012 Brit Awards. Follow-up One Breath secured a second Mercury Prize nomination, no small accomplishment for an artist who once claimed she was too nervous to even sing in the shower. Apparently, her self-doubt's been banished for good, and given the evidence offered on her latest album Hunter, Calvi's clearly got the confidence needed to take her place among the echelon of Britain's new musical elite. Brian Eno has sung her praises and become a mentor. David Byrne and Marianne Faithfull have shared their support. A classically trained violinist, Calvi's won kudos for her guitar work, songwriting and unique style. Still, it's her voice that commands, courtesy of a delivery that rises from a whisper and then soars with startling effect. —Lee Zimmerman
BEST SONGS
Charles Bradley: I Feel A Change
There were few music stories in 2017 more devastating than the passing of soul icon Charles Bradley. A juggernaut of a live performer, whose passion for entertaining and joyously living every moment of his life were clear to anyone who ever watched him set foot on stage, Bradley was an infectious presence. It was impossible to wear a frown while watching him pour out his heart and soul to anyone who would listen—there have been few artists in the history of soul music, or popular music in general, who were so uniquely earnest. Consider us pleasantly surprised, then, to learn that there's more Charles Bradley tracks out there we haven't yet heard. Today, Bradley's former label Daptone Records, via its Dunham records imprint, announced the release of the singer's final, posthumous album Black Velvet on Nov. 9. Those songs include the single "I Feel a Change," along with material recorded during the periods of each of Charles' three albums. —Jim Vorel
Bill Ryder-Jones: And Then There's You
English multi-instrumentalist, singer-songwriter and producer Bill Ryder-Jones is releasing his fourth solo album, Yawn, on Nov. 2 via Domino Records. Ryder-Jones rose to prominence in the '90s as a founding member of Wirral pop band The Coral and he also recently played guitar on tour with Arctic Monkeys. In addition to his work in previous bands and his prolific solo career, the 35-year-old Ryder-Jones has also produced records for bands like The Wytches, Hooton Tennis Club, By The Sea and Our Girl. Tuesday, he released a new single from his forthcoming album, "And Then There's You," which was recorded and produced almost entirely by Ryder-Jones himself at his Yawn Studios in West Kirby, U.K. Following the lead single "Mither," this new track proves Ryder-Jones' classical music upbringing didn't wear off as its richness, attention to detail and emotional chord progressions indicate his uncanny songwriting skills. His status as crafty wordsmith is also apparent in his use of poetic devices in the song's chorus: "My mistrust / My mistress / Takes me home again / My mistress / My mistrust / We're alone again." —Lizzie Manno
Thom Yorke: Suspirium
Thom Yorke has shared the first song from his forthcoming score to Luca Guadagnino's horror reboot Suspiria, following the film's premiere at the Venice Film Festival this past weekend. Yorke's Suspiria score will be out Oct. 26 through XL Recordings. The song, titled "Suspirium," is one of 25 tracks Yorke wrote and performed for the film. "Suspirium," which Yorke teased last week, features the melodic theme that recurs throughout the film and its score. Fans of Radiohead's most recent album A Moon Shaped Pool will find plenty to love here, with Yorke's ethereal vocals gliding over a simple piano figure reminiscent of tracks like "Daydreaming" or "Codex." The song's accompanying video features color-shifted images of ballet dancers. 1977's original Suspiria, directed by Dario Argento, focused on a haunted ballet academy. Suspiria (Music for the Luca Guadagnino Film) marks Yorke's first foray into film scoring. —Justin Kamp
PASTE STUDIO
Foxing
St. Louis post-rockers Foxing recently released their third studio album, Nearer My God, via Triple Crown Records. The band stopped by the Paste Studio to play three tracks, all taken from their new LP: "Slapstick," "Heartbeats," and "Nearer My God."
Native Sun
New York rock band Native Sun made our list of 15 Young NYC Bands You Need to Know in 2018. The group came into the Daytrotter Studios to play songs from their debut EP, Songs Born from Love and Hate and some new songs.
FEATURES
Inside The Lemon Twigs' Wacky Power-Pop Musical, Go To School
The Lemon Twigs announced that their next LP, Go To School, would be a high-concept musical or rock opera of sorts, all about a monkey named Shane who was raised as a human by his parents and attends school. Even the biggest Lemon Twig diehards probably stopped for a minute after reading the album announcement news and made sure that they hadn't inadvertently spiked their morning coffee. The announcement coincided with the release of the album's closing track, "If You Give Enough," and if anyone was still skeptical of the concept after hearing that song, they were surely in the minority. Though it might sound a bit overly ambitious, Michael says they both believed they could execute a musical-based album successfully. —Lizzie Manno
This is Arkansas?! Fayetteville Roots Festival Shows A Vibrant And Progressive Community
I had it all wrong. I thought I'd be navigating my way through cowboy hats and rodeo belt buckles while drinking a Budweiser all weekend. I thought it'd be all biscuits and gravy every day. But a trip to Arkansas for the Fayetteville Roots Festival in late August showed that maybe not all Southern states are cut from the same cloth? More than likely, perception simply does not equal reality. Fayetteville Roots Festival and the people in attendance showed the power of festival culture in bringing together not only like-minded people, but also those with differing ideologies. In the end, they all accepted each other by their very nature. And through music, food and culture, a perfect community was formed, if only for a weekend. —Adrian Spinelli
Love Them or Hate Them, Pale Waves Are Unstoppable

British pop quartet Pale Waves are one of very few bands to achieve a certain feat nowadays—they've managed to polarize listeners into either dedicated, passionate disciples or harsh, cynical critics. Without delegitimizing their adoring fans and while acknowledging the band's uncanny ability to churn out sprightly, infectious pop hooks and Baron-Gracie's flawless live voice, it would also be irresponsible to not address the common qualms leveled against them, which have been equally as loud as the passionate singalongs at their shows. People have accused them of being a manufactured, nostalgic money grab in the way that bands like Greta Van Fleet have been similarly derided. If Greta Van Fleet are merely riding off the coattails of Led Zeppelin, are Pale Waves doing the same with sad '80s British pop bands? Or are Pale Waves updating the synth-pop canon for a new generation of fans with their modern pop sensibilities, goth and emo aesthetic tendencies and the perennial appeal of lyrics that recount late-night drives and the drug-like high of being young and in love? —Lizzie Manno